The beauty of GX Australia, in fact its reason to be, is its diversity. Not every booth holder is here to show off a single game, or peddle a single kind of art. Some, like Sav Ferguson, are here not only showing off their current and future gaming creations, but also other creative works. Immediately drawn by their punk style and eclectic wares on display I was welcomed to try one of their games and stay for a chat.
On offer were two completed games: Climb, a Twine-based text adventure about pulling yourself up through hardship, strikes a chord with those who have ever found it difficult to keep going.
While Gender Prison is a game about the trans experience and the world outside of the perceived gender binaries. Teaching that life is not all about being one of two things.
Also on display is a staggering number of Zines, booklets, patches – with such slogans as "Gaymer" "Capitalism Kills" and "Bees?" – and rainbow stickers. Unable to get away without having a chat to such an enthralling character I hunch down at a glitter-strewn table and ask for an interview: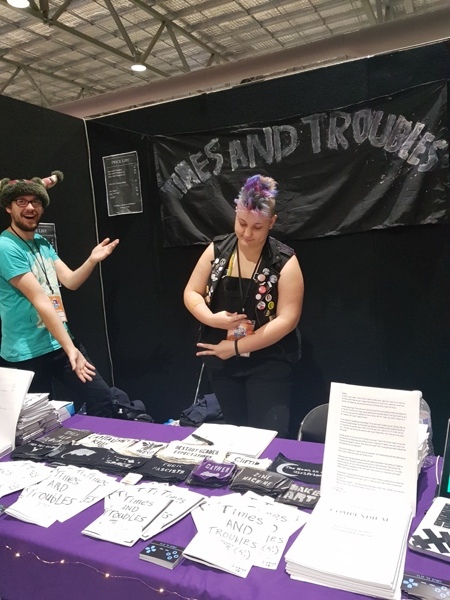 Jamie: Please introduce yourself and the name of your projects.
Sav: My name is Sav. I have couple of projects on here, some games I've previously released, and I have Times and Troubles which is my Zine about being a queer games developer, and I have the Character Compendium which is a collection of characters for systems that don't exist and stories for worlds that haven't been written yet.
Jamie: So your current project at the moment at the moment, describe it in 13 words or less.
Sav: 13 words? That's specific.
Jamie: Do your best, you don't lose points for going over.
Sav: At the moment I'm making a horror interactive escape room that is psychological in nature. I don't know how many words that is.
Jamie: We'll cut it down, don't worry. And who's that targeted at?
Sav: Everyone over the age of 15, there are some more adult themes in it but apart from that we've made it as accessible as possible. Puzzles of every type, smell, sound, feel, that kind of thing. And absolutely no riddles because nobody likes riddles.
Jamie: I love riddles
Sav: Really?
Jamie: I grew up with Betrayal at Krondor and games like that where all the chests have riddles on them. Riddles were fantastic.
Sav: Really? That's wild, cause everybody I've play-tested with has said "Take the riddles out, I hate the riddles. I don't want to do the riddles."
Jamie: They just didn't grow up being lateral thinkers.
Sav: Apparently.
Jamie: What was your primary motivation?
Sav: Basically I've been wanting to create a horror game for a while, and I think if there's cool environmentals it's a particularly interesting one. I just really love horror.
Jamie: Great answer. What's something you've had to learn in this project or past projects? One thing that stands out.
Sav: I think in total don't overwork yourself. I was recently in hospital for bronchitis and into a viral infection over the top of it I couldn't stand or talk so I ended up in hospital. Basically because I had been working solidly for three weeks. Up at 6 am, showering in between meetings. Don't overwork yourself. You can't make good art if you can't stand. And also if you end up in hospital they will make you stay in bed and not work.
Jamie: If resources weren't an issue, time, money, whatever, what would you put in your game that you can't now?
Sav: I think I would hire an incredible amount of space and high amounts of technology because the way my escape room works at the moment your group is split into two, one group in one room and one in the other and the puzzles correspond with the other room's puzzles. So you have to solve it for the other room. But the Skype call went out last time and they didn't know they could turn it back on and everyone was all "How do I solve these?". I would love to set up a room where you have a glass screen between a hole, where you could hold the puzzle to the other side.
Jamie: Almost a Keep Talking and Nobody Explodes thing, you need the cooperative element or else everyone loses.
Sav: Pretty much.
Jamie: How's community support been?
Sav: Very very good. Whenever I have any questions on anything I'm making I know about 50 places to turn to. Whenever I'm having a bad time or I'm in hospital I've got sixty supportive tweets about it. The community is great. It's something I write about in Times and Troubles. It's kind of part of being a queer games developer. I was not expecting as many other incredibly queer folk as me. But it turns out most of the industry is, especially in Australia.
Jamie: We're all a pretty queer bunch. And proud to be a queer bunch. We go hard or go home. On that line how do you think the games industry can help with diversity?
Sav: I think the big trouble with the conversation around diversity in the industry at the moment is it's very focused on the male/female binary dichotomy. The trouble isn't that we don't have enough females in gaming, it's that we have too much of any one kind of thing in gaming. Like you need more disabled folks making games,  you need more people of colour, more queer games, more poly games. The first polyamourous game I ever played I made myself.
Jamie: I don't think I've ever played a proper poly game.
Sav: For the Global Game Jam my group and I made a this game called L Waves, and it's basically lesbian waves, and it's a joke on the robotics language Wave. And basically you are lesbian robots wandering around trying to keep all your relationships with your girlfriends active. So you have to text them every night and talk to them properly and remember what they like. But that was the first polyamorous game I ever played. We need a lot more than just the idea of male and female in the industry. We need more non-binaries, we need more trans representation. We need more actual diversity rather than the two ideas.
Jamie: Do you think that's slowly happening with steps places like Bioware have taken.
Sav: I know Bioware gets a lot of criticism, especially like I adore Krem (from Dragon Age: Inquisition). Krem is my baby. But Krem's whole character is the fact that they are trans. There isn't anything else to Krem.
Jamie: This is the thing that defines them.
Sav: Yeah, this is a baby steps kind of thing. And Bioware is very good at taking those steps. It's just that they get a lot of vitriol for it that a lot of other places aren't willing to take those steps as well, but I think they are helping to lay the ground work for other people to do it. Also I do think it's something that's happening a lot more because apart from a few very angry in face reviews of Gender Prison I've heard nothing but positive feedback and that's primary about being non-binary rather than a binary gender.
Jamie: And where and how do people get hold of your work?
Sav: I can be found on twitter. There is a pinned tweet with my Climb game which is my text based one and if you tweet at me you can find a link to my Itch.io which has Gender Prison up which is completely free, partially because it's a Games Jam game, partially because we want to get the message out there a lot more. Pretty much every game I've ever made has been completely free.
Jamie: That's wonderful. Final question: Would you like a hug?
Sav: Sure, I'm down with that.
RELATED: Read all of GGA's GX Australia coverage, here!
You can follow Sav's work at @TimesNTroubles
Climb is available at philome.la/TimesNTroubles/climb
Gender Prison can be found at timesandtroubles.itch.io/genderprison
And L-Wave can be downloaded from globalgamejam.org/2017/games/l-wave
Latest posts by JamieMarriage
(see all)