Happy New Year everyone! 2018 gave us incredible games and memorable moments, but it's looking like 2019 will be taking the game releases to an 11. With titles like The Last of Us II, Control, Bloodstained: Ritual of the Night, The Division 2, Days Gone, Cyberpunk 2077, Kingdom Hearts III, Wolfenstein: Youngblood, we have a lot to look forward to.
With all these games scheduled to be released this year, it was a challenge for each of us to choose our top 3 most anticipated games of 2019. Luckily the video game writers at Geek Girl Authority are used to making difficult decisions and overcoming impossible challenges.
Here are the games we are looking forward to in 2019. While we know that some of these games do not have a set release date, we went with a few games that are rumored to be released this year because we're optimists.
Renee's Picks
1. ANTHEM
With a gamertag like BioWareFangirl it should be no surprise that this game is on my list. After Mass Effect Andromeda's lukewarm reception, BioWare shifted their focus, removed key players from ME:A and put everything into Anthem.  Needless to say, the studio needs this game to be successful.
Personally I am looking forward to this game. After playing the Alpha, I have to say that it has peaked my interest. Judging by the gameplay trailers, the combat style and overall look is reminiscent of Mass Effect with some of the open world aspects of Dragon Age: Inquisition. As for the characters and the story, that is still a little vague but I don't mind that at this point. About the only thing that I not so keen on is the fact that game will not have BioWare's signature romance options.
Anthem is slated to be released on February 22, 2019 for PC, PlayStation 4, and Xbox One.
RELATED: GGA's Top Trailers from The Game Awards 2018
2. ORI AND THE WILL OF THE WISPS
If you had the chance to play Moon Studio's beautiful 2015 game Ori and the Blind Forest, then you should consider this an a top 10 most-anticipated game for the upcoming year. It was announced at E3 2017 so having to wait 2 years for its release has been a test in patience.
There is little information that we know about the game, but players will once again play as Ori, but this time we move beyond the forest of Nibel. A lot of the game mechanics will be the same, such as the soul links and abilities. Of course we will be treated to the same amazing aesthetic and music as we did in the first game and for alone I am really excited to get my hands on this game.
Ori and the Will of the Wisps is scheduled to be released in 2019 for Xbox One and PC.
3. DEATH STRANDING
I know The Last of Us Part II should be on my list and it is, but I can't not have Death Stranding on my list of one my most anticipated games of this year. While I have not played a Metal Gear game, the legacy of Hideo Kojima cannot be ignored. It is still unclear what this game is actually about, but the imagery from the various game trailers is enough to keep me invested in this game. Also, the stellar cast of Norman Reedus (Sam), Mads Mikkelsen, Troy Baker, Lindsay Wagner, and Guillermo del Toro adds to the growing anticipation.
What we do know about the game is that it will be open world, with perhaps some survival and stealth aspects. There also seems to be a strong connection between life and death. "Death Stranding" being the obvious connector, but there is also the character of the baby that is entrusted into Sam's care. The baby appears in all the trailers and it seems that it will be a focus of the game. As a balance there is also a black sentient goo that seems to house invisible creatures that kill quickly.
This game has been rumored to be release in 2019 and it is on a lot of different lists right now, but the date has yet to be announced. Still, this game is my 2019 and I have all my fingers and toes crossed that we will be seeing this game this year.
Julia's Picks
4. DEVIL MAY CRY 5
Seriously after what seems like forever (and let's be real here it kind of is) Devil May Cry 5 is just on the brink of being released. The series has been a long time favorite of mine and we are finally getting a chance to get back into the action. Being able to play between three different characters will be such a treat while also keeping the feel of the originals. Every trailer I have seen up until this point have been a nonstop adrenaline rush. I am also looking forward to seeing how players will be able to interact with each other during live game play.
Devil May Cry 5 is set to release on March 8, 2019 for Xbox One, PlayStation 4, and PC.
RELATED: Game Awards 2018: Capcom Announced Exciting News for DEVIL MAY CRY 5
5. RESIDENT EVIL 2
While it is not a new game, the long-awaited remakes for Resident Evil 2 is coming out in 2019. My childhood is full of memories of attempting to escape Raccoon City and never look back. They updated so many different things in order to re-release this classic including graphics, controls and overall gameplay. The biggest difference we will see? The game is now played in a third person shooter point of view style similar to Resident Evil 4. Capcom is really bringing the nostalgia this year by bringing back some of our long time favorites.
Resident Evil 2 will be released on January 25, 2019 for Xbox One, PlayStation 4, and PC.
6. GEARS 5
During E3 2018, we got our first glimpse at Gears 5. Dropping the "of war" part of the title was not the only surprise we received. A rather big one was for the first time in the franchise's history, we are going to have a female-driven story line as you work to help unravel Kait Diaz's past. I am excited to see this story unfold and am happy that in a time where royale/player versus player games are at an all time high, Gears 5 will still have a focused story line to play through plus all the fun co-op stuff. I am a simple girl and as long as a game has a good story, I'm in.
Gears 5 is set to release in 2019 and it will be an Xbox One and PC exclusive.
Emily's Picks
7. METRO EXODUS
If you're like me and are fascinated by the post-apocalyptic genre, then get ready for Metro Exodus! This game is the third installment in the Metro series and takes place two years after Metro: Last Light. It's been 23 years since the nuclear war devastated earth, and you must battle your way through a nuclear ruined Russia filled with mutated creatures, crazed survivors, and truly eerie scenes. 
The setting is what excites me most about the game. Throughout Metro Exodus, your home base & means of transportation is a locomotive named Aurora. You'll be able to travel to new and varied locations, and hey, what's cooler than a Train Base? I had the chance to play Metro Exodus at E3 2018, and it plays fantastically. The combat feels great, the crafting system seems detailed but not confusing, and the atmosphere of the game left me wanting to play more! Get your radiation ready for some more post-apocalyptic adventures in 2019!
Metro Exodus will be available on the PC, Xbox One, and PlayStation 4 on February 15, 2019!
8. THE OUTER WORLDS
Speaking of Post Apocalyptic, from the hilarious minds of Fallout 3 and Fallout New Vegas (Obsidian Entertainment)comes The Outer Worlds. 
In this action-adventure RPG, you play as the sole settler on a spaceship (the only one to wake up from cryogenic sleep) in a realm of corporation colonized space. Throughout your travels and missions, it's up to you to discover the true intentions behind these mega-corps. 
What I love most about Obsidian in their excellent writing and humor. Some of my favorite scenes and absurd moments in gaming come from Obsidian's Fallout games. And honestly, that excellent writing is something that Fallout 4 truly lacked. The detail and stories that Obsidian Entertainment is known for are definitely why I'm excited about this game. Also, it looks fun as hell! 
Players can look forward to exploring The Outer Worlds on the PC, Xbox One, and PlayStation 4 in 2019. 
9. PSYCHONAUTS 2
Prepare your psychic abilities for the return of a platforming favorite! Psychonauts 2, the sequel to Psychonauts (2005) is set to FINALLY come out in 2019. After the amazing trailer we received during The Game Awards 2018, I couldn't be more hyped for a sequel. 
Psychonauts 2 was announced through the crowd-funding site Fig and reached over 4 million dollars in 2016. And it looks like it's been worth the wait. 
From the trailer alone, it appears that we'll be diving deeper into the secret organization of the Psychonauts, as well as Raz's family backstory. All of your favorite characters are back as well: Raz, Lili, Sahsa, Mila, and even the ever helpful Cruller. Returning players can expect the classic Psychonaut abilities, and maybe even some new ones! What secrets lie in the corridors of the Psychonaut Headquarters? You'll just have to play and find out! 
Psychonauts 2 will be available for the PC (Windows & Mac), PlayStation 4, and Xbox One in 2019. 
What are you looking forward to in 2019? Let us know in the comments below or on social media!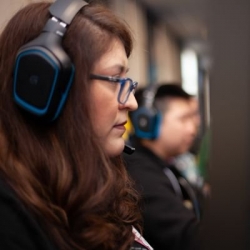 Latest posts by Renee Lopez
(see all)