Mother's Day in America is here and GGA thought it best to share some of our favorite mothers so we had our contributors each pick a woman of mighty measure. Sticking with sci-fi, we give our love to some of these great ladies. Of course we send our love to all the wonderful ladies and mothers of sci-fi. These are just a few that we thought extra special and wanted to highlight.
Sarah Connor (Terminator 2)
She is one hardcore woman. She went from a damsel in distress in the first film to a warrior by the second film. She sacrificed everything for her son wouldn't let anything stop her – not even machines from the future trying to kill them. We need more ladies out there like her! ~Audrey's Pick
Ambassador Lwaxana Troi (Star Trek: The Next Generation)
Daughter of the Fifth House, holder of the Sacred Chalice of Rixx, heir to the Holy Rings of Betazed, is Counselor Deanna Troi's mother. She is very smart, outgoing, loves getting her way, and loves attention, but none of this detracts from her desire to be a mother and ensure that Deanna finds someone to to share her life with. She goes about planning her daughter's future without listening to what Deanna wants, as many mothers tend to do, including finding ways to connect her with men of power and means or some way to keep Deanna happy and sheltered. Her overprotectiveness and flamboyancy can easily be forgiven as a lifetime of hiding from the pain of a lost child, which makes her relatable and more human than the show ever gives her credit for. Outbursts and all, Lwaxana is a mother anyone should be proud to have embarrassing them (unintentionally, of course) at every big event. – Talyna
RELATED: The Geeky Film Student Top 10: Favorite TV Moms
Jackie Tyler (Doctor Who)
Mother of Rose Tyler and sass machine. While her daughter Rose went off on adventures with a madman in a box, Jackie was always home to keep her grounded. Despite some scolding, Jackie was always there to support her daughter and even ended up in the middle of the action some of the time. While we know Rose got a happy ending, Jackie got one too and it was a very well deserved one. ~Kimberly's Pick
General Leia Organa Solo (Star Wars)
The one and only. How can I not pick her? She has a deep love of her son, despite all the bad he's done. She still believes in him and just wants him to come home. When she sensed he was troubled, she tried to do what was best for him, even though it turned out to make things worse. This revolutionary is a prime example of how you can love your children and try to do what's right but you make mistakes along the way. It's what makes us human.  – Erin Lynch
Dr. Maureen Robinson (Lost in Space)
She managed to handle such mom tasks as cooking, cleaning and providing the voice of reason in the wacky vastness of space. – Catherine Rose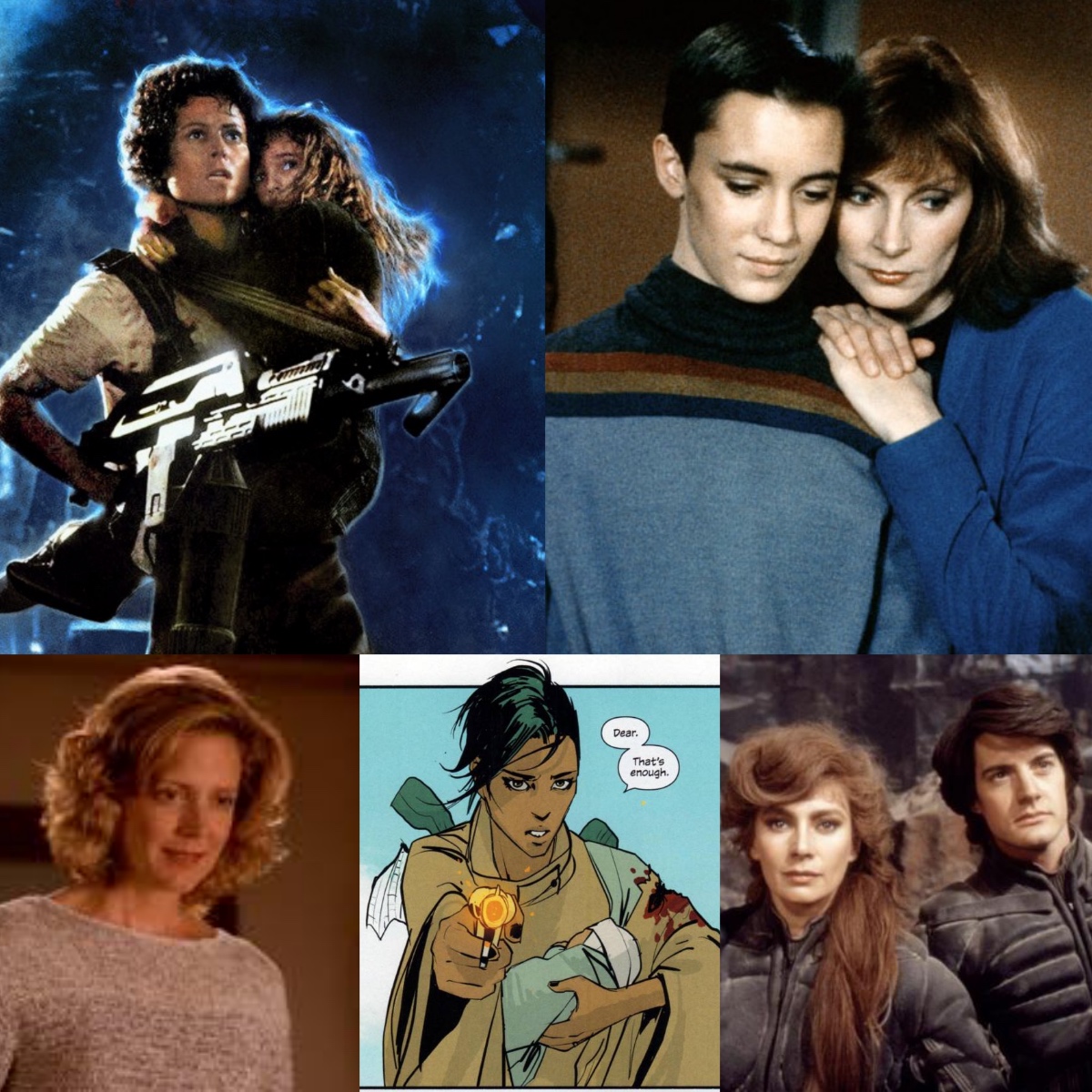 Shout outs go to Ripley and the Xenomorph (Alien), Lady Jessica (Dune), Alana (Saga), Moya (Farscape), Abby (The 100), Beverly Crusher (Star Trek TNG), Joyce Summers (Buffy the Vampire Slayer), Athena and Hera (Battlestar Galatica), Mary (Supernatural), Eliza Danvers (Supergirl) along with so many more.
And a very special shoutout to all the mothers out there, we hope you have a geektastic Mother's Day!
Latest posts by Erin Lynch
(see all)