One thing there wasn't a lack of in 2019 is television content. With the Big 4 television networks, cable networks and so, so many streaming networks, if you couldn't find anything to watch, it was on you. That's the nature of streaming right now.
In putting together this piece on the best television shows of 2019, I reached out to my incredible Geek Girl Authority crew because let's be honest, if I wrote about only shows that I liked, the list would be full of only show with space ships and wizards. 
Here is GGA's list of the best streaming shows of 2019!
The Mandalorian
Baby Yoda and Werner Herzog. Those are two names I never thought I'd write. But I feel that is all I need to say about The Mandalorian. But alas, I must be professional. 
This one is no surprise. All of GGA became fast fans. In fact, you knew it was going to be on the list. The Mandalorian was a gift that kept on giving. The series was Disney+'s flagship when the new streaming network launched. 
With the series created, written and executive produced by Jon Favreau with Dave Filoni also executive producing, and a string of incredible directors, fans thought they were ready. But they weren't. The show was jaw-droppingly beautiful, epic and had a myriad of strange looking characters. Classic Star Wars. While all the action was taking place, there was a parent/child relationship blooming which is always at the heart of Star Wars and this one between Mando and The Child (affectionately called Baby Yoda by fans) was perfect.
Also perfect, Werner Herzog saying this line, "Can I offer you a libation to celebrate the closing of our shared narrative." I'd like this stenciled onto my wall above my computer. Thank you. 
Fleabag
This is Phoebe Waller Bridge's year. The woman is an international treasure. In 2019,  the second season of Fleabag was released. I've always found it hard to explain Fleabag, other than saying, "WATCH IT!" GGA contributor Melody McCune found words though, "Boldly brilliant and unabashedly real."
Fleabag is a fourth wall breaking, dark comedy about a jaded, single British woman navigating her life after a tragedy and dealing with her equally jaded family. Waller Bridge's internal monologue to the audience throughout the series gives some wonderful laugh-out-loud moments and 'oh my gods' throughout the series. This season Andrew Scott joined the cast as "hot priest" and then there was that thing with foxes.
Also in the cast Olivia Coleman, Sian Clifford, Bill Paterson and Bret Gelman. WATCH IT!
RELATED: TV Review – Fleabag Season 2 Is a Darkly Comedic Tale of Heartbreak and Grief
Undone
In Undone, Alma (Rosa Salazar) discovers she has a new relationship with time after surviving a car accident that almost killed her. Created by Raphael Bob-Waksberg and Kate Purdy, the series is one of the most, creative, mesmerizing shows that came out in 2019.
Undone uses rotoscoping which is drawing over actual footage. In doing this, it really helps the audience jump into cosmic, time-traveling magic that happens during the series. The show itself is able to go from a scene with real characters into an otherworldly place and have it be totally believable.
The series at the core is about relationships and honesty. There are some wonderfully funny moments and some heart wrenching ones too. The cast is nothing short of brilliant. Joining Salazar are Bob Odenkirk, Constance Marie, Angelique Cabral, Siddharth Dhananjay and Daveed Diggs. 
The Dark Crystal: Age of Resistance
GGA Senior Contributor Noetta Harjo was a big fan of this series. She loved "that they expand the story of the Gelfling and were able to maintain the magic of the original movie."
And she is right. This Netflix series went beyond expectations and showed that puppetry can still transport an audience completely. The story was also rich with character and beauty. The Dark Crystal: Age of Resistance returned audiences to the world of Thra. When three Gelfling discover the horrifying secret behind the Skeksis' power, they set out on an epic journey to ignite the fires of rebellion and save their world.
Star Trek: Discovery
The second season of Star Trek Discovery came out swinging. Once again led by a stellar ensemble cast and featuring stunning visual effects, the sophomore season takes the Starfleet crew on a journey investigating seven mysterious signals. While doing this they realize that an equally mysterious 'Red Angel' appears at each signal. The investigation ends with an interesting twist which takes Discovery somewhere or some "time" they didn't expect.  
We also got a lot more Spock and Pike (Ethan Peck and Anson Mount respectively) this season which was rad. 
The Boys
The Boys came in insanely loud and went out insanely louder. What to say about this show – it is wild, clever, graphically violent, funny and it turns superhero genre on its bloody, crushed head.
In the series, 'Supes' have been committing atrocities, which keep getting swept under the rug because they are revered by the adoring public. Billy Butcher (Karl Urban) recruits The Boys who have all been wronged by The Seven, the world's most notorious superheroes, to bring them down and stop the corruption.
It's nuts. It's brilliant. Watch it. 
RELATED: THE BOYS Season 2 Teaser Is Insanely Good
The Expanse
The Expanse is arguably the best science fiction show on television right now. And, it will certainly be considered one of the best science fiction shows to ever grace the small screen for decades to come.
After three seasons of nail-biting action, stunning visuals, and solid world and character building, the critically acclaimed series got the ax from Syfy.  Enter Jeff Bezos and Amazon Prime to save the day. They not only picked up The Expanse for a fourth season, they renewed it for a fifth.
The Expanse's fourth season was released on December 13th and it was more than fans expected. With Amazon behind the hard science fiction series, there were more chances taken and the visual effects were amazing. 
In the fourth season, the crew of the Rocinante have to deal with a wild west situation. The Ring Gates have opened and there are new planets to be colonized. On one unexplored planet, the Rocinante crew gets caught in a violent clash between an Earth mining corporation and desperate Belter settlers.
The drama was still there and as real as ever – a classic story of the haves versus the have nots. The honesty of the series is one of the reasons it resonates. The characters are fully realized and, of course, the space scenes. The space scenes are brilliant.
Another thing to note about the series is the diversity in casting. It's how it should be now in television and definitely what our future would look like. 
GLOW
The second season of GLOW was an absolute delight. GGA Senior Contributor Melody McCune describes it, it is "A female-driven glitzy '80s nostalgia with a dash of heart and humor." She's right, there's a lot of big hair and awesome wrestling bits but at the center of the show are these ladies' relationships with each other. And, it reveals a secret that women already know but not many television series reveal — we got each other's back. Always. 
When They See Us
This poignant film from Ava DuVernay is based on 1989 Central Park jogger case that I remember all too well. It explores what a lot of us did not know though, the lives and families of the five male suspects who were falsely accused.
GGA Contributor Fallon Marie Gannon called it "A gut wrenching, heart breaking must-watch about the teenagers, dubbed the Central Park Five, wrongly accused and set to prison for the 1989 assault case. I can't remember the last time a series made me cry so hard."
The Witcher
From the trailers and first look images, The Witcher seemed like it would be an "okay" fantasy series. I was wrong. It is a high fantasy series and that is a great thing. Those expecting another Game of Thrones will be disappointed. This is more Lord of the Rings, Wheel of Time level where the lore is deep and there are many creatures – elves, dwarfs, monsters, dragons, sorcerers and so on. 
The story is complicated and it may take the viewer a couple episodes to finally get the gist of the many things that are brewing. 
After watching the series, I find myself grunting instead of saying 'Hm' when I'm trying to decide which coffee to order. Thanks Henry Cavill!
Contributor Tyler Boyce (and our The Witcher recapper) loves the show and in addition, "its fight choreography, great writing, and diverse casting."
RELATED: Tuck in and Let Henry Cavill Gently Read THE WITCHER to You
Schitt's Creek
Schitt's Creek is a must watch and the season that was delivered this year brought new adventures to the Rose family. There's a lot of commentary the approach to a same sex relationship on the show — which is that the relationship between David and is treated as any other relationship, as it should be. But, what I love even more is the approach to mental health. David has anxiety issues and the same approach to that is taken here. Anxiety happens. So does love. Schitt's Creek portrays both without putting giant After School Special magnifying glass on it. 
Now let's get real. The comedy. My goodness, there are so many laugh out loud moments to this penultimate season as the town gets ready to put on a musical. Catherine O'Hara's vocabulary alone is note worthy. 
This show will surely be missed. May we all continue to get a little bit Alexis.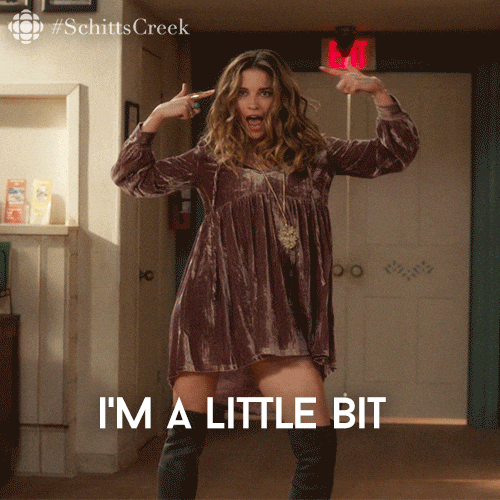 Russian Doll
Russian Doll may have been my favorite binge. There are eight quick episodes that can be consumed in one sitting. I say that because that's what I did and I don't feel bad about it. 
During the first episode, I thought, 'Oh no! Not Groundhog Day!' But the series take the time loop premise and crafts a brilliant story about a woman (Natasha Lyonne) who keeps dying on the evening of a party in her honor and then having to return to it so she has to find some way to escape the loop and stay alive. 
Dead to Me
Dead to Me was a breath of fresh air. The premise was incredibly creative and original. From creator Liz Feldman, the series follows the friendship of two women who meet during a grief support group. The two, Christina Applegate and Linda Cardellini are very different women whose circumstances of grief have brought them together. Or so you think. The truth of their relationship begins to unfold for the viewers before the characters really know and it is a wild, funny and heartbreaking ride which is only made more amazing because of the acting chops of the cast.
Watchmen
Yeah, yeah, I know this isn't from a streaming network. Watchmen is from HBO. But I'm going to use the loophole that most folks watch on HBO Now or HBO Go. I have to because this was hands down the best television series of the year. 
As a fan of the graphic novel, I was floored. HBO and Damon Lindelof used the graphic novel as a jumping off point, a framing device if you will. It took place in the world of the original Watchmen but boy, did they make it their own. 
It was a tough world, a racist world. a world that made people want to wear masks to hide their identity where Robert Redford is the president, the United States won the Vietnam War and made the country a state, and Dr. Manhattan is still on Mars. The story was solid with twists and turns that you won't see coming.
GGA Contributor Emily Jacobson said about Watchmen, "The series that caught me by surprise this year. It masterfully blends conversations about current issues, cinematography, and amazing performances into a tight 9 episodes. I was at the edge of my seat during the entire season!"
Also, Regina King should get all the awards. ALL OF THEM. 
Latest posts by Audrey Kearns
(see all)