Welcome to Geeky Wedding Wednesday! Be here the first Wednesday of every month to learn how to geek out your wedding! This week, Classic Mickey!
Invitations
Subtlety is pretty key here since you're dealing with cartoons. It's easy to throw Mickey and friends onto some cardstock and call it a day, but you'll likely end up with something that looks more like a child's birthday party invite than a wedding invitation.
I love the Mickey and Minnie kissing silhouettes that are featured on this invite: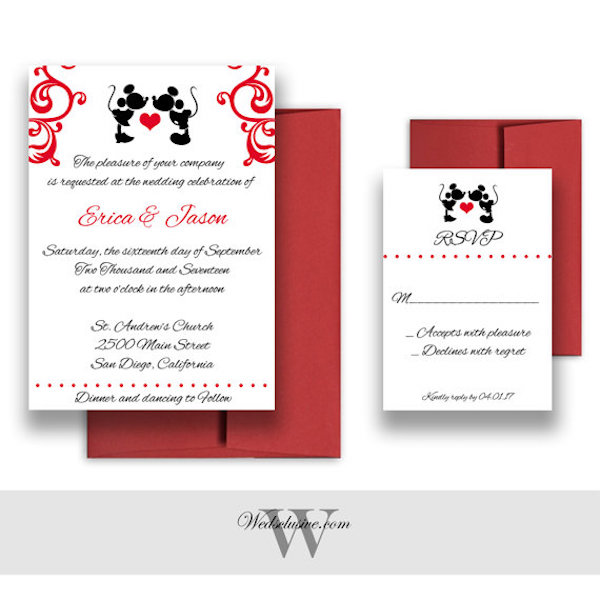 It's clear to see what the theme is, but still reads as a formal and elegant occasion.
You can be even more subtle by using Hidden Mickeys. The invite below is actually the one I used for my own wedding. As you can see, we also had a bit of a Doctor Who theme going on. (If you'd like to get more Whovian Wedding tips, check out my Doctor Who edition of Geeky Wedding Wednesday!)
Did you find the Hidden Mickeys yet? Let's zoom in on that tree branch…
There they are! A lot of my guests found them on their own and loved telling me about it! It was a fun way to add in a Disney touch without going way into Toon Town.
Wardrobe
Bride:
You would be surprised at how many polka dot wedding dresses you can find out there. You may be equally surprised at how beautiful and not overwhelming they are. So if you want to add a little Minnie to your dress, do try polka dots. You could also add a red petticoat underneath for a bit more color.
Groom:
When Mickey gets dressed up, he tends to wear tails. That can be overkill for some, but if you have it in you, go for it! A tux or at least a black suit would be perfect for this theme.
Bridal Party:
Bridesmaids could get in on the polka dots with a polka dot belt or sash added to their dresses. Something like a colorful polka dot sash on a black dress would pop and add a fun touch without taking away from the bride.
Groomsmen can follow suit, literally, by wearing black suits to match the groom. It's easy to change up the accessories so that the groom stands out from the rest, but having them all in the same basic get up adds unity.
Accessories
This is where you can have fun with Hidden Mickeys again. Pretty much anything can have an HM tucked in somewhere.
Bride:
Have a Mickey sewn into your veil like this:
Or you can sneak them into the beading of your dress:
There are even little "hair swirls" with Mickey heads on them that you can add to whatever 'do you're sporting.
Groom:
A bowtie in a Mickey color would be great if you're wearing a suit. Probably my favorite would be to do a bowtie or tie with polka dots AND Mickey heads. That way you get some HMs in there and pull in the polka dot pattern.
If you're feeling really daring, pair some bright yellow Converse with your black suit and red bowtie. It's a definite nod to the Mouse and will seriously stand out in pics.
Bridal Party:
Bridesmaids can wear sparkly Mickey shaped jewelry on the day. I always thought it would be a great idea to give each person Mickey earrings with their birthstone. They sell these at the Disney store and it's a great way to personalize their gift while keeping it tied to the theme.
Groomsmen could keep it simple with a solid tie or bowtie so the groom stands out, but still rock the Mickey's on their socks.
And be sure to pick up some wedding ear hats from the Disney Store! Either wear them at some point during the night (could be a fun grand exit accessory) or use them as decoration at your sweetheart table.
Flowers
More fun with Hidden Mickeys! Color can play in here, too. Opt for a traditional white bouquet and set your bridal party up with colorful buds like red roses and sun flowers to match the theme. THEN…the HMs:
On a boutonniere…
Or in the bouquets…
OR the actual bouquet itself!
Music
Hot dog, hot dog, hot diggity dog! Can't you see yourself walking down the aisle to the Mickey Mouse Clubhouse Hot Dog Song??
JK, JK. But you can still add some Mickey magic to your music.
You can find a loop of the music that plays when you walk down Main Street USA at both Disneyland and Disney World. It would be so fun to have that type of music playing while your guests are arriving and getting seated. They would get the same feeling of hearing those tunes when you first walk into the park.
To go really classic Mickey, grab a piano version of the Steamboat Willie whistle for your bridal party entrance. It's a bit jaunty and will be a good transition from all the fun Main Street music.
For the bride entrance, go with something a little different by using one of the Disney fireworks songs. You can find instrumental versions of these online, like "Wishes." Of course, something like this will have different clips of other famous Disney songs, but with a bridal entrance you don't need to use the whole thing. Just pull your favorite minute and set your walk to that!
Decor
MORE Hidden Mickey's!! I love this idea of using faux flowers to create Mickey shaped pomanders.
You can easily incorporate whatever colors you'd like and hang them around your venue or stand them up to use as centerpieces.
And speaking of centerpieces… See a familiar face hidden in those glass beads? Anything that's round becomes a Hidden Mickey!
Red and yellow are great colors for a Mickey wedding. To dress it up a bit, go with crimson and gold instead.
Just don't forget to set the tables properly… HMs!!
Cake/Cake Toppers
Oh the ways you can hide Mickeys in the cake design. Go with a dot pattern to mix in with the polka dots.
Or  get some serious filagree going and swirl in some Mickey shapes as well.
If your baker is willing to go the extra mile, have a surprise Mickey print on the INSIDE of the cake!
You can always add pops of color by adding ribbons, colorful rhinestones or going full color icing and white accents.
There are tons of Mickey cake toppers available on Etsy, many with personalized options. But this Mickey love topper is probably my all-time favorite.
It's simple and sweet and the metallic gold is perfect for the color scheme.
Wedding Date
Mickey Mouse was first introduced in Steamboat Willie which premiered on November 18th. so if Mickey had a birthday, that would be it. Then you have Disney opening days! Disneyland officially opened on July 17th and Disney World on October 1st. You could also honor the man who started it all by getting married on December 5th, Walt Disney's birthday.
Favors and Guest Book
A lot of people opt to do the "sign a heart" guest book where guests sign their names on a wooden heart and drop it into a shadow box. So we add a Mickey spin to it! Something like this:
But have guests sign black Mickey heads with red or yellow paint pens. It's more festive and colorful than just plain wooden hearts.
The favors can be all over the place for this. Mickey shaped candies, colorful jelly beans and the list goes on. I'm always on board with favors the guests can eat. Mostly because then hopefully the favor won't end up forgotten in a junk drawer somewhere.
If you want something a little more special than just handing out a cookie, have guests make their own before they leave for the night. At Goofy's Candy Company you start with a base Mickey cookie and then add whatever toppings you'd like! So give your guests a chance to get creative and design their own cookie! Just have the plain cookies set out along with icing to pipe on, sprinkles, chocolate chips, candies, you name it! Make sure to include bags for them to take home their treats. Annnnd maybe some Handi Wipes…because…mess.
Latest posts by Missy LaPlace
(see all)