Welcome to Geeky Wedding Wednesday! Be here the first Wednesday of every month to learn how to geek out your wedding! This week, Firefly!
Invitations
Try throwing in a classic Malcolm Reynolds quote on one side of your invite so your guests know what's up right away.
Also, this save-the-date by TheWoodenForge on Etsy is totally on point.
Wardrobe
Bride:
Kaylee had one of the most iconic costumes of the series with her fluffy pink shindig dress. Don't feel like you have to go full cupcake with your wedding dress, but there's a way to give a nod to our favorite mechanic in a more modern way.
Inara has some pretty awesome outfits as well, but maybe save those companion costumes for the wedding night or something…like about the time you're aiming to misbehave…anyway…
Groom:
Okay, I'm surprised I actually have to say this, but, uh, a browncoat. Although you could, a brown suit would work just as well. Whatever you do, make sure you have your tight pants on, captain.
Bridal Party:
Your bridesmaids can choose shades of pink to match the bride's Kaylee dress or you could have them rock the shindig style themselves instead.
For the groomsmen, match the groom's brown suit and try out some shiny accessories. Or if you want more color, dress them in suits as blue as the sun. 
Kaylee dresses come in flower girl sizes, too! 
Have your ring bearer wear a solid brown button down with matching brown pants…and maybe this here Hawaiian shirt on top.
Accessories
Bride:
I swear by my pretty floral bonnet that this garter by YourThemedWedding on Etsy will be an absolute hit.
Oh, but you also must consider these incredible, illuminated wedges.
Groom:
I've always loved these little firefly cufflinks by Geekonista on Etsy.
Instead of a traditional tie, try a more Western style with a silk puff tie.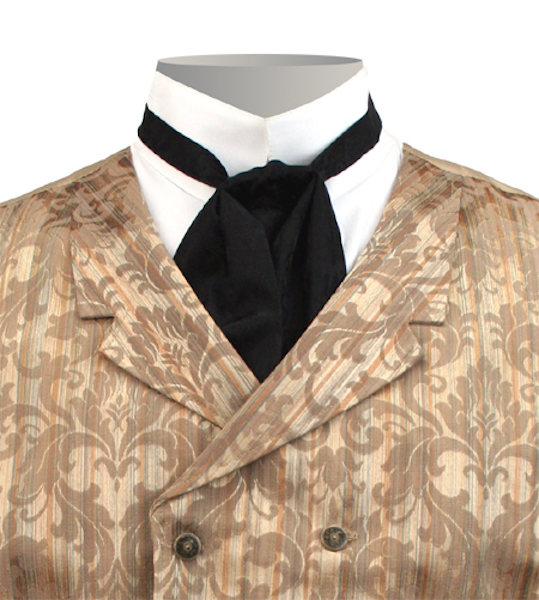 Or a Western bow tie.
Bridal Party:
You would get some beautiful photos if each of your bridesmaids carried a Kaylee parasol.
And speaking of photos, if not for the actual ceremony, throw your groomsmen some cunning hats for the group shots.
Also, ask your best man to hang on to some smelling salts in case your new bride decides to drug you and try to steal your ship. Or whatever.
Flowers
No flowers for this one. Just leaves. Leaves on the wind.
Okay, I know, it's always too soon for that joke.
Stargazer lilies would be beautiful for this, but don't feel like you have to use the real thing. Silk lilies are actually just as pretty as real ones but cost much less and you won't have to deal with all that pollen.
Music
The soundtracks from both Firefly and Serenity are filled with a variety of upbeat dancing music and sweeter tunes for softer moments. Mix some of your favorite tracks and make sure the bridal party knows what's up so they get out on the floor when the special songs come on.
You can also find some fun fan parody songs like this Firefly rap:
Decor
So we know the Alliance was formed with what was left of the United States and China, so you could lean into that and blend the cultures for your decor.
I would be more inclined to go the space cowboy route, which to me would err on the side of steampunk. Pull aspects of Serenity into your decor so your guests feel like they've entered into a spaceship on another planet, in a good way.
Deck out your tables with special flatware by SaraDavisDesigns on Etsy.
Hopefully they'll help the food be less problematic.
And add in the matching toasting flutes for your bridal party.
Perfect for drinking only the finest Mudder's Milk this side of Canton.
Pull oranges, reds, browns and yellows for your tablescapes to go along with your cunning hats and shiny parasols.
Cake/Cake Toppers
I love the idea of a cake made to look like the 'verse with Serenity sitting on top. I would also have "You can't take the sky from me" wrapping around the cake either written or on an edible ribbon.
But, as y'all have probably figured out, I'm more into cake toppers than complicated cakes for themed weddings and this one is no different.
Choose a fairly simple cake and top it with Wash's dinosaurs. These two are available on Amazon and actually talk. So that's a cool toy souvenir to hang onto post-wedding.
Wedding Date
September 20th is the premiere date for Firefly and September 30th for Serenity so you could definitely go with either of those. Firefly also takes place in the year 2517 so mixing those numbers around to a more appealing date would work as well.
Favors and Guest Book
Opt for a guest book that you can display in your home after the wedding. Have your guests sign something like this multi globe, complete with Earth and stars. You can have the whole 'verse covered in memories.
For the favors, put your own nerdy spin on the classic milk and cookies and send your guests away with a jug of Mudder's Milk and some Fruity Oaty Bars. Make your own fruit flavored granola bars like these or purchase them in bulk and add your own label. 
You can add Mudder's Milk labels to mini milk bottles as well.
SaveSave
Latest posts by Missy LaPlace
(see all)