Welcome to Geeky Wedding Wednesday! Be here the first Wednesday of every month to learn how to geek out your wedding! This week, Doctor Who!
***Special note to help your guests***
When I was planning my wedding, my future FIL (father-in-law) advised me to make a fairly detailed wedding program to help our guests understand our super nerdy wedding. He felt like some of our guests might catch things here and there but it was unlikely that they would know everything we were referencing. I took the time to put together a program (it was actually a Playbill) with a FAQ section and a "What's What." That way our guests knew what was going on and it was less like they were on the outside of an inside joke!
Invitations
You could go full on Time Lord and let the Tardis serve as your wedding invite with something like this:
I really love the Gallifreyan boarder on the inside of this one and the folding is super cool (plus you get more space for info), but for me, I'd rather having something that still pulls more focus to the wedding. That's one big thing to keep in mind with all this: You definitely want to make it your own, but you're still getting married so make sure that's the bigger picture!
For my wedding, I decided on an invite that was a mix of nerd and romance. It was something like this:
I used the quote pictured above and a similar wedding/Whovian graphic. I thought it worked because even if my guests couldn't get on board with the wormhole refractors, the graphic was still sweet and romantic.
Wardrobe
Oh the endless wardrobe possibilities for a Doctor Who wedding! First and foremost: bow ties. Everyone wear a bow tie! Have the men in the wedding wear assorted colors and/or patterns to change up the standard matchy-matchy look. I actually opted to personalize them for our groomsmen and groomslady even further by choosing a bow tie based on each groomsman's favorite fandom. We managed to find them all on Etsy. They were still in the same outfit so they definitely matched to a degree but the patterns/themes were different for the bow ties and felt more personal. Oh, and we found the groomslady a bow tie necklace on Etsy!
Dye the tulle under the bride's dress Tardis blue. It'll be a surprise of color especially if you choose to do a garter toss and guests get to see it a little better! If there isn't any tulle or you don't want to dye the dress, you can always buy a separate petticoat that's already blue. Works both ways! You could also go for something even more subtle like a blue sash or belt.
Accessories
For a few years now, couples have been going with personalized Converse for their wedding shoes. This is definitely a great option for a Whovian wedding as a nod to the Tenth Doctor. If you feel like chucks at a wedding have become too cliche, get thee to Etsy where you will find some awesome custom Whovian kicks for brides. I'm kinda loving these steampunk Who pumps,  myself.
Fob watch! This accessory would be awesome for the groom or groomsmen or bridesmen. If they're wearing a vest, it'll work even better. These can also serve as bridal party gifts. And as a place to store your Time Lord essence.
If you do a garter toss, you'll find tons of options for Doctor Who designs on Etsy. I actually like one that I found on another site that I hadn't really seen before. It's made after the Fourth Doctor's scarf:
Flowers
Adding a Doctor Who theme to your floral arrangements can be pretty easy. Mix in some Tardis blue flowers with the traditional cream or white and you're good to go!  Hydrangeas would be great for this. Or something like a blue delphinium…along with white ROSES…on a beach…alone…
And while real flowers can be beautiful, there's definitely something to say for the more nontraditional paper flower. You can find tutorials online to DIY your arrangements or buy pre-made on Etsy. You just have to make sure you find the right stem. I enlisted my MOH (Maid of Honor) to put together my paper flower bouquet. The "flowers" were made from book pages and the stem was the Tenth Doctor's sonic screwdriver! It was my something blue! Unfortunately it failed to open any of the wooden doors I tried to use it on.
These boutonnieres would go perfectly with a bouquet like that and ohmygosh they are so adorable!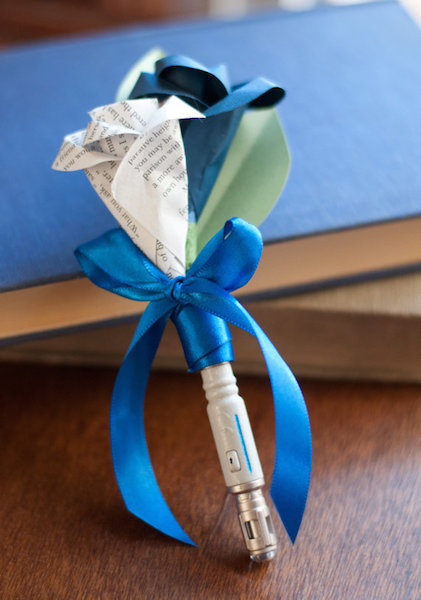 Music
Murray Jonathan Gold has composed some seriously epic music for the 2005 revival of Doctor Who. In a way, that's kinda the problem. Pretty much all of the tracks have a really dramatic or eerie undertone which could be a bit much for something like the bridal party entrance.
However, at some point in watching the new episodes, I realized that all the companions have their own theme. Like I'd be in the middle of watching a scene and hear the music and scream, "Ah! That's Amy's song! Where's AMY???" So I really started enjoying paying attention to the music. All that to say, I think it would be really cool to pick your favorite companion and walk down the aisle to their theme. You could even have it played live at the ceremony on guitar or something a little softer to tone it down, if need be.
Decor
I know everyone has probably seen most of the obvious stuff on Pinterest already. Having a giant Tardis at your wedding is for sure awesome and of course blue table runners and such will definitely do the trick. Though I think what would really stand out are the things that don't really stand out. Subtle touches that people don't even realize at first. Gallifreyan seriously works with that. Like think about having it etched onto anything that's glass. So, say you have your Tardis blue tablecloth with a glitter gold runner. Add to the middle of that a glass bowl with your names etched in Gallifreyan and fill it with water and floating candles. There are several Gallifreyan translators you can find online to get the design and you'll be able to bring that with you to have it etched in the glass.
If you're having a fully seated dinner with place settings, you absolutely must do the bow tie napkin fold. With a red napkin. Just a pop of color. And a little shout out to Eleven.
Cake/Cake Toppers
You can go the route of all blue, Gallifreyan or have the whole thing shaped like a Tardis. I'm into the idea of patterns on a fairly simple cake. The easy shapes (round or square tiers) with an intricate pattern like blue and gold swirls for the Exploding Tardis/Starry Night painting.
Or throw it back to the Fourth Doctor and go for a multicolor striped pattern.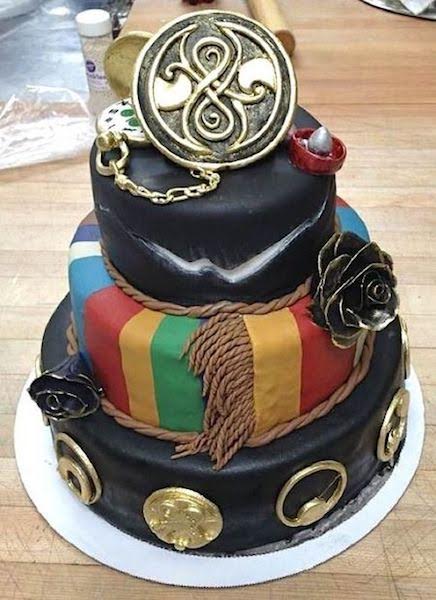 You can always opt for a plain white cake and splurge on the toppers. Get turned into Whovian peg people…
Or you could make it really easy and grab a Funko POP! Tardis and place that on top…
OR, and this might be my favorite, y'all…put some adorable little fat babies on your cake…
SQUEE!!!
No toppers at all can work, too, if you make the entire top tier of your cake a fez! Yes! But do watch out for a strange lady with space hair. She's liable to shoot it right off the top of your cake.
Also, don't forget about your toasting flutes! I went with Tardis blue flutes and had them individually personalized (i.e. Mrs. "New Last Name" and Mr. "Last Name"). So they both look different!
We got ours at GlassBlastedArt on Etsy.
Wedding Date
You can have some fun with this one. Pick a date for your Doctor. So if Christopher Eccleston is your guy, get married on the 9th! You can even compromise with your soon-to-be spouse and add together both of your faves. Sylvester McCoy and David Tennant? The 17th for you! Or if you're willing to get some weird looks for it, you can do what I did and get married on a day that doesn't exist. We chose to have our wedding on February 29th because we felt like it was a day that was lost in time and space. Ooo-wee-ooo!
Favors and Guest Book
Jelly Babies. NEXT.
No but seriously. Don't overcomplicate it by getting everyone individual packages of fish fingers and custard. Tardis blue organza bags filled with Jelly Babies would be easy to put together and a SWEET favor for your guests.
So because our wedding was on Leap Day, I opted to do a time capsule for our guest book. You can do this even if your anniversary hits every year, too. We had a little sign explaining what we wanted our guests to do and as far as I know, everyone got into it.
We asked that each guest write us a note with advice, congrats, a joke, whatever they wanted and place it in the box provided. The catch is that we won't open any of them until our actual anniversary which is four years from our wedding date. With any other date you can choose to do this on your first anniversary a year later or even on your fifth or tenth. It's up to you! My husband and I have actually also decided to put a card or letter to each other into the time capsule at each year mark so we'll have those to open as well. We didn't get a special box for ours, which I kinda wish we would have done, but they do make Tardis safes, cookie jars, etc. that would work well. Or just a nice wooden box with your family name carved into it. Something sturdy that will last!
Until next time… Allons-y!
Latest posts by Missy LaPlace
(see all)