Welcome to Geeky Wedding Wednesday! Be here the first Wednesday of every month to learn how to geek out your wedding! This week, Bookworm!
Invitations
Traditional wedding invitations have a format that's very recognizable.
For a book-themed wedding, flip the invite on it's spine and use the format of a novel.
Then insert the pages of the invite into a mini book cover.
And one of my favorite ideas, instead of a regular RSVP card, include a library card application.
You can also use these adorable little things as your save-the-dates!
Wardrobe
Bride:
I wouldn't necessarily suggest it for you entire dress, but consider, as a petticoat, a book page print. You can find skirts like these on Etsy and custom order something to fit your dress.
Groom:
You can really pop the groom's outfit with accessories so keep the base simple. A classic suit or a dress shirt with suspenders. Whatever the groom would feel his best in.
Bridal Party:
For the bridesmaids, bring in the print skirt again, but let each bridesmaid choose which skirt they'd like to wear. That way they can choose a book with meaning to them. Pull it all together with a matching top that will compliment each skirt.
The groomsmen can mimic the groom's outfit or some variation of it. If he wears a coat, maybe they go with just dress shirts. If he goes with a dress shirt and slacks, maybe they roll their sleeves so the groom is set apart. Similar to the groom's outfit, the accessories will be the fun part for them.
Check out our last Geeky Wedding with a Harry Potter theme!
Accessories
Bride:
Grab some comfy old shoes, crafting glue and a book that's seen better days and prepare to DIY the bridal shoes of your dreams. Or you can totally buy them on Etsy…
Groom:
Fabric printed with book pages (or quotes or favorite words) can be turned into bowties or ties for the groom. To help him stand out, go with a classic black and white print.
You can get matching cufflinks as well.
Bridal Party:
These adorable mini book hair clips would be a perfect addition to any bridesmaid hairstyle. 
Plus, they would match perfectly with these cufflinks for your groomsmen!
They can even wear bow ties or ties in a book print to bring it all together.
And if you happen to have a flower girl, how cute is this little book page wreath?? Tie on some ribbons in your wedding colors and she can wear it as a flower crown.
Flowers
I'd definitely suggest going the book page flower route for this one. For my wedding, my sister-in-law used my favorite book to create origami flowers and make a massive bouquet. Luckily, she's a librarian and had several nearly-destroyed books she could use. She even added some tiny rhinestones to some of the flowers for extra sparkle.
Use the same idea for the boutonnieres and corsage pins for your bridal party and any special guests. You can actually get faux steams to glue the flowers to if you'd like or just use pins on the backs. For the groom, we used pages from his favorite book and then did a combination of my favorite book and his for the rest of the groomsmen. The corsages for our mothers and grandmother were actually quotes about family and love printed on colorful paper. Worked out great!
Rather than make additional origami flowers for the bridesmaids to carry, I opted for them to carry their favorite books instead. My crafty mother spiced up the books with ribbons in our wedding colors and a bit of baby's breath. Each girl wrote a special note in the book and gave it to me as a wedding gift. In turn, I did the same by giving them my favorite book with a special note as part of their bridal party thank you gift.
Music
Nothing. No music. Everyone's trying to read!
No, but really…If you can, try to work in this fantastic rendition of "Reading Rainbow" by Jimmy Fallon and The Doors.
Decor
You can definitely use actual stacked books in your centerpieces or down your aisle, but you can also turn your books into art.
I've see a few variations of arches made from books that I absolutely love. This one uses just books, but you can also build a wooden arch and fill it with books like a shelf.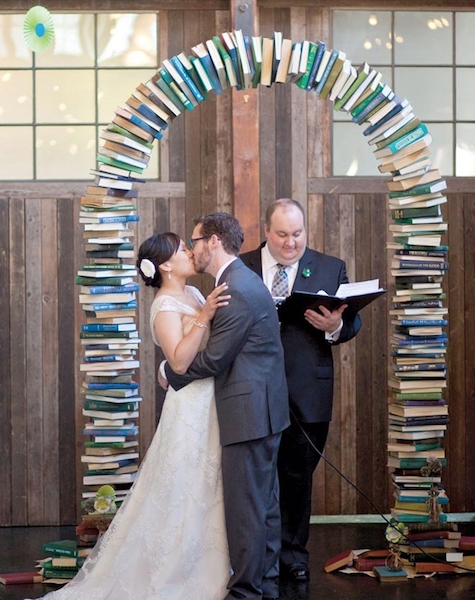 Something I wanted to get for my own wedding but never got around to was a folded book sculpture. I kept thinking I could make it myself and of course got too busy to every actually do it. Trust me, outsource help as much as possible and get one online instead!
You can get your monogram, a special word or your wedding date and then set it in a place of honor.
If you have a seating chart for your wedding, use the Dewey Decimal System to seat your guests.
Cake/Cake Toppers
Books can be your actual cake. No, really. A lot of bride's opt to present a faux cake and then actually serve sheet cake to the guests. It's honestly pretty much the same thing. The reason wedding cakes are so expensive is because they're more difficult to make and more intricate than a regular sheet cake, but they are the same cake on the inside. Stack up some of your favorite titles in an interesting design and add some book page flowers, baby's breath or battery-operated tea light candles.
If you decide to do a real cake, simplify the actual cake part and go big with the toppers (this is always my preference). I love the idea of using clay replicas of your favorite books instead of a bride and groom. This is definitely something you can find on Etsy. Lots of shops make tiny books that can be added to your existing topper, or you can have them made a bit larger and let them stand alone.
Also loving this twist on a classic silhouette topper.
Wedding Date
If it happens that you and your partner have the same favorite book, use the date that the book was published! Otherwise, choose a publication date from a favorite book that works best for your venue, schedule, etc.
Favors and Guest Book
Bookmarks are an easy, inexpensive favor that guests can actually use. You can certainly add your family name and wedding date to the bookmark, but also include a special thank you to your guests. You can add you favorite quote about love or something that defines your relationship, too. 
I also love the idea of having a library for your guests to choose from. Scour thrift stores and check out library sales to get a ton of books without breaking the bank. A lot of places actually sell online too so Amazon and eBay are great resources. Spread the books out on a table with a sign telling your guests to take one home as a thank you.
Some venues might actually provide you with a guestbook (mine did) so take advantage of the offer. You can use a traditional guest book, but leave instructions for your guests to sign and then write their favorite book next to their names. This is definitely something I wish we would have done. I love book recommendations!
For something a little more worthy of display, grab an actual bookshelf and bring it in for the guest book. Add your monogram and wedding date to the top of the shelf and provide your guests with markers. Let everyone sign their names, write messages, whatever all over the shelf. After the wedding, seal the bookshelf and use it in your home.
Latest posts by Missy LaPlace
(see all)