I was fortunate enough to grow up surrounded by geeks, but not everyone had the same upbringing. Many of my adult friends confess that being the only geek in the family was a struggle. They often felt alone with no one to argue with regarding the best Batman or compare comic collections.
That doesn't have to be your family, though! Kids are drawn to fandom by nature, and there are a few ways you can help encourage them down the path of geekdom too. If you don't have kids of your own, don't abandon this list yet. Everyone needs a nerdy aunt or uncle to introduce them to excellent anime and give them a lift to the store to buy Pokémon cards. If you are the only nerd in the family, it's your job to make sure the legacy lives on.
A word of caution to this tale: While I agree that nothing sounds better than having a little mini-you geeking out over your favorite show together, be aware of how much pressure you are putting on kids getting into your fandom specifically. Let children lead you to their interests instead.
It doesn't matter if you have a DC fan in a hardcore Marvel house or a Magic The Gathering player mixed in with the console stans because at the end of the day, more geeks in the world are suitable for everyone!
RELATED: Check Out These Jurassic World: Dominion Exclusives From LEGO and Mattel
Family Game Night
Don't groan at this heading just yet! After all, family game night doesn't have to be the Hasbro-centric fair that most of us grew up with. The tabletop gaming industry has been booming in the last decade, and there are some exciting titles to help get little ones into gaming, so you don't have to slog through four hours of Monopoly to spark their interest.
If you start the habit early, your pre-teen terrors/geeks will be a lot less likely to scoff at you, suggesting spending a few hours sitting at the kitchen table together. You know what they say, Settlers of Catan is a gateway game to D&D! Below, I've linked some of my favorite games for families.
Find the railroad building game Ticket to Ride here
Find the strategy adventure game Catan Junior here
Find a Marvel deck-building game similar to Legendary called Marvel United here
Costumes Aren't Just for Halloween
Most people might assume that there is only one socially acceptable time for your kids to cosplay, and that's Halloween. Speaking as someone who has gone grocery shopping with princesses and touring the zoo with Owen Grady from Jurassic Park, I can tell you that's not true. You might get a side-eye from the occasional killjoy, but it's worth it to strengthen your child's willingness to cosplay in public.
Whenever we buy accessories for Halloween, I try to purchase items that might work for multiple costumes so that when my kids want to try something new, they have the option. This isn't always an option for shy kids, but you can always throw on a shirt that matches their costume in solidarity if they feel alone. Geeks gotta look out for each other!
Future Fan Artist
Do you know what else kids love? Drawing. Papers cover my refrigerator, and I have bulging drawers hiding old artwork moved out of the rotation. This is because kids love to draw the things they love: their house, family and favorite characters.
My son is currently on a giant dinosaur and Pokémon kick, so about half of everything he brings me is one of those two things. Print out some free step-by-step guides and encourage their artistic nature. You'll end up with the cutest Pikachu you've ever seen, and they'll try new or more complex characters. Win-win.
Comics Are for Kids
Comics weren't always the dark, gritty source material they are now. Remember when people thought comics were just for kids? Well, that's how they started, and there are plenty of comics that are just perfect for kids. There is guaranteed to be an age-appropriate comic for whatever fandom your youngling is in, from the golden age to graphic novels.
My six-year-old LOVES to read the Batman: Wayne Family Adventures on Webtoon. Since it has come out, my son has gotten way more into Batman, which excites his dad to no end. Most libraries have a pretty sizeable comic selection still but never underestimate the pure magic of taking them to the comic store for the first time. Below, I'll link some of our favorites!
DC Super Hero Girls Vol. 1 can be found here
Batman: Wayne Family Adventures can be found here
The Unbeatable Squirrel Girl can be found here 
Spidey can be found here
Cons Are a Family Affair
My children have been attending conventions with my husband and me since before they could even walk. Ever since we've started attending with small children, we've noticed many accommodating activities like movie rooms, game tables and even quiet zones for them to take a breather. Quakecon has been the best family-minded convention we've attended.
They invite a dog rescue called Dallas Pets Alive every year so there are adoptable puppies to play with, and they always hold it at very family-friendly hotels. Now going with the whole family in tow means you'll be skipping room parties and midnight karaoke, but when your kids grow up, they will be pros on the convention circuit!
RELATED: My Top 10 Tabletop Games of 2021
Fan Mail
Did you ever write your favorite celebrity when you were little? I did. I wrote a letter to Mr. Rogers and sent it to PBS land. I never got a reply back from him, but when I sent out wedding invitations, we included some of our favorite celebs on the list and got some letters back! Many celebrities still have operational P.O. boxes and are more than happy to send their littlest fans back a signed headshot or card. Letter writing is a dying skill, but even the rich and famous still get excited to receive mail. This might be one you want to try out with them too!
Mixing fan mail and comic, Dear Justice League is a hilarious book where the superheroes answer fan mail. You can find it here!
20 Questions
Be prepared to brush up on some fandom facts because kids are big on asking questions. This week alone, I've been asked to name a single-horned dinosaur, if Batman likes the color blue, if Barbie would be friends with Ariel and how long exactly it takes for Superman to run around the world. Some things you can make up off the top of your head but taking an interest in your kid's passions is the best way to connect with them anyway. So learn all the character names, brush up on locations and be prepared to argue which Godzilla is the coolest.
Let Your Geek Flag Fly, Geeks!
The best way to encourage your kiddo into geekdom is to let them see you be passionate about your fandoms too. When children grow up seeing you unabashedly nerdy, it rubs off on them. The key point is that I was raised by many lightsaber-wielding GURPS (Generic Universal Role-Playing System) players, and I turned out like this!
It's an incredible thing for children to grow up surrounded by people who idolize worlds where women are generals in the resistance, friends walk together across continents, magic makes the ordinary extraordinary and good guys win. Geeks for life!
This article was originally published on 2/20/22.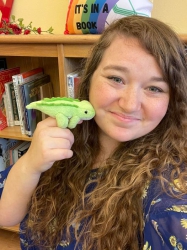 Latest posts by Lauren Darnell
(see all)