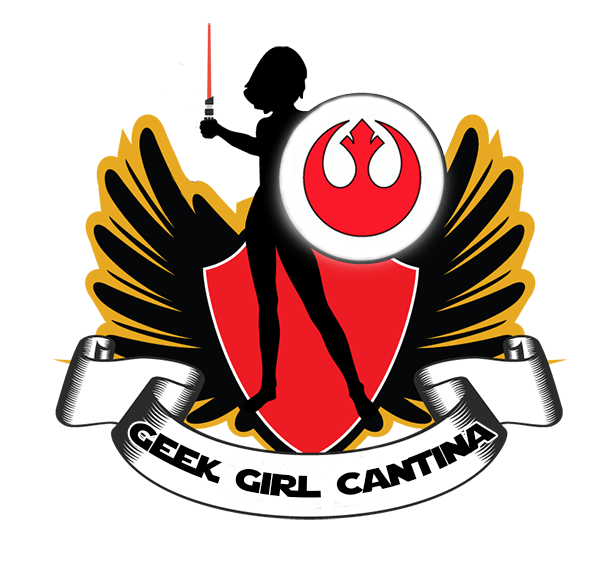 Here at the Geek Girl Cantina, we'll be wrapping up the week in Star Wars news. We have news coming from all directions this week, from Episode 8 to merchandise. So avoid lightsabers chopping off your arm and let's look at this week in Star Wars news!
Emilia Clarke Cast in Han Solo film
Some of the biggest news this week was the casting announcing of Emilia Clarke! Of Game of Thrones fame, she joins Alden Ehrenreich and Donald Glover in an unnamed role. Speculation begins as we wonder her role in the film. Will she be a love interest in the film? Will she have ties to the Empire somehow? We're left to wonder until we hear more. You can see our coverage of it here.
Star Wars: Battlefront Get Playstation VR and Rogue One Content


On December 6th, fans of Battlefront will be getting some special treats. First, the game will be getting a virtual reality experience. It's a free, exclusive download for Playstation that puts the player in the cockpit of an X-Wing. Envious? I sure am. It doesn't stop there. Battlefront will also be releasing their final DLC for the game, Rogue One: Scarif. The DLC includes 4 new maps on the planet and two new playable characters – Jyn Erso and Director Krennic. This is really exciting because we'll have a look into Scariff before the movie is released. Not only that, but gamers will be able to play both sides of the fight. I don't have the game but I'm really looking forward to seeing footage from the game. I'm dying to see Death Troopers in action!
Darth Maul Gets His Own Comic Run
That's right! The character that died too quickly and now refuses to die has his own comic run. The story will place Maul before the events of The Phantom Menace as he tracks down a young Jedi Padawan. Marvel Comics has hired Cullen Bunn to write and art will be by Luke Ross. You'll have to wait until February 2017 for issue 1 to hit shelves. Be sure to check out our coverage of it here.
Empire Magazine Releases the Plans!
Empire Magazine has unveiled their subscription cover and it's the Death Star plans! Subscribers of Empire Magazine are set to oggle the plans in all their glory in the next few days. If readers know Aurebesh then they'll be able to read the details and technical writing of the plans! The issue is set to be filled with Rogue One goodies including interviews with director Gareth Edwards, stars Felicity Jones, Forrest Whitaker, and Riz Ahmed. Fret not though, while the cover is subscriber exclusive, the magazine will still hit shelves (with a different cover) on November 24th!
Nissan's Rogue One
Nissan has released their Rogue One special edition car and it looks fabulous! The 2017 SUV is very limited, only releasing 5,000 in the US and 400 in Canada. Each car also comes with a collectable Death Trooper helmet. I mean, how cool is that? Want to represent your Rogue One love in style? The retail price is $29,000 and comes in either black or white. Delivery begins in December so be sure get them fast! Sign up to be notified by your local dealer when they come in here. And be sure to check out our coverage of it here!
Posters, Posters, Posters!
Last week we had an influx of trailers and spots, this week we got a LOT of posters. And I mean, a lot! There was a new IMAX poster, a new Dolby Cinema poster, and Japanese character posters. While the IMAX poster is a little bland, I love the Dolby poster. I had seen it as a Russian promotional poster and I love it. The Rogue's helmet in the water as Troopers advance – it says so much with so little. The Japanese posters are pretty generic too. Check them out and decide for yourself!
Meet Admiral Raddus from the Rogue One Featurette
This will be a double feature. This week we were treated to a 2 minute behind the scenes featurette highlighting our stars and director gushing over the film. We also get to see some new shots, a few new characters and a quick look at set pieces in the movie. You can check out our coverage of it here. One of those new characters is Admiral Raddus, a Mon Calamari in a black shade. According to EW, this particular character is inspired by Winston Churchill! Neal Scanlan, the creature effects supervisor for the Star Wars franchise said the following of the character.
"We always tried to find a real world example of who these creatures may be, and in this case we used Churchill. Admiral Raddus is a very strong figure. We would use [Churchill] not only as visual reference for his physical features, but also when it came to performing him and expressing him through the actor."
It's always interesting to see where inspiration is pulled from for the Star Wars universe. It makes sense, personally, and I hope we get to see more Mon Calamari in the future. Their name is just too fun to say too…
Star Wars Clue!
It's Star Wars, it's Clue. What more do you need? Hasbro released a 3-D edition of Clue where you play on the Death Star! Your task is to see which planet will be the next target for the super weapon, which room the plans are in, and which escape vehicle is the correct one. Players can choose from 6 characters: Luke, Leia, Han, Chewbacca, R2-D2 or C3PO. It's currently retailing at $24.99. Admittedly, I'm not sure if this news is from this week, but this game is too cool not to talk about!
Episode 8 Character Appearance Rumors
For those who want to wait for trailers for Episode 8, RUN FOR IT! Possible spoilers ahead! MakingStarWars.net has released "solid" rumors on new characters played by Benecio del Toro, Laura Dern and Kelly Marie Tran. Del Toro is said to be a "man in black", one who wears all black and is dangerous. He is apparently clean shaven and isn't initially bad to our heroes. MakingStarWars think he's connected to the casino setting that's been seen. Dern is apparently very aristocratic and "fancy", her look being described as Star Wars meets Hunger Games. She's also said to have pink hair. Tran is said to be the opposite of Dern in appearance as in normal looking. Her situation is apparently "really cool". These are only rumors of course but MakingStarWars has a brilliant track record so you can take some merit in their information.
Disney World 14 Acre Expansion to Star Wars Land

Disney Parks announced they were expanding their Star Wars themed land by 14 acres! That's the largest in the park's history! And with that they announced that the Millennium Falcon will become an attraction. You get to sit in the cockpit and control the Falcon! So cool. They also announced that they will be updating Star Tours with a new mission from Episode 8! Very exciting stuff happening at Disney World. You can see our coverage of it here.
"Dream" TV Spot
Another TV spot for Rogue One! A lot of rehash of course, with maybe two new scenes. These kind of speak for themselves.
Rogue One is PG-13!
The spot does finally give us the rating for the film. After months of nothing, we finally have an answer – PG-13.  This makes it the third Star Wars movie in the franchise with that rating. The first was Revenge of the Sith and then the latest, Episode 7, also had the rating. What do you think of the rating? I think it's appropriate for what we're dealing with.
Star Wars Drones Coming to America
UK based company Propel have made drones. Star Wars drones. There are 4 different kinds: 74-Z Speeder Bike (with Trooper attached), T-65 X-Wing, Tie Fighter Advanced X1, and get ready for it…..The Millennium Falcon! These bad boys can go from 0-30 in 3 seconds, so Propel claims. And they can reach a max speed of 35 miles an hour! They're laser battling Quads that can battle up to 24 pilots simultaneously. You can register to get them here. Personally, I need an X-Wing and Falcon in my life…but what do you think? You can watch a demonstration of the drones from their London launch below and judge for yourself!
Force Awakens 3D Bluray is Out Now!
On November 15th, The Force Awakens 3D Collectors Edition hit shelves in America. It's biggest sell is J.J. Abrams' audio commentary, that we lacked in the initial release. In addition, there's even more deleted scenes and more bonus features. StarWars.com released the list of the features back in August if you need a refresher. Will you be getting the 3D Collectors Edition? Star Wars Australia & New Zealand released a snippet of the sound work that went into BB-8. BB-8 is the love of my life so I'm sold.
And that wraps it up for this week in Star Wars news! Did we miss anything? Let us know your favorite story of the week and come around next week for more Star Wars!
Latest posts by Erin Lynch
(see all)