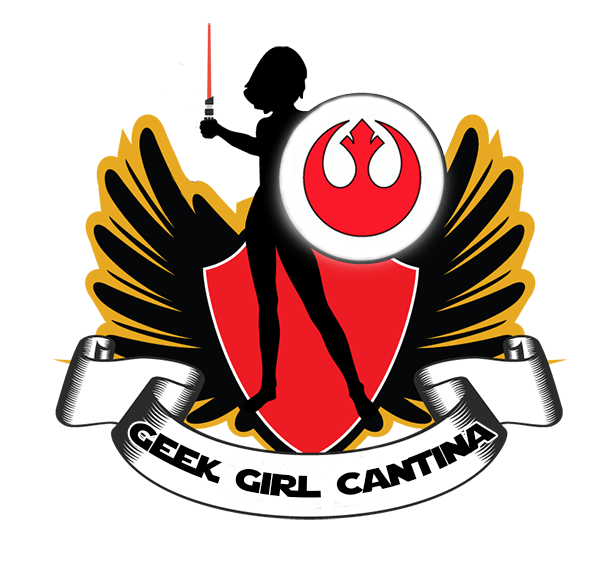 Here at Geek Girl Cantina, we'll be wrapping up the week in Star Wars news. Rogue One premiered! And we're only days away from the general audience being able to see it. Get into your fastest speeder and let's get into it!
Official Chinese Trailer
In an interesting move, the Star Wars YouTube page uploaded a Chinese international trailer. Typically we see international trailers elsewhere but this time it's official!
All the TV Spots!
The last push of promotion before the movie comes out!
Movie Clips!
Now we're getting even more glimpses into the film!
Feaurettes!
The Rogue One World Premiere!
On Saturday Rogue One had it's World Premiere in Los Angeles! The cast were all there (minus Jiang Wen and Forest Whittaker) including some celebrity fans like Wil Wheaton, Joss Whedon, Kevin Smith, Kevin and AJ from the Backstreet Boys, Terry Crews, and many more. StarWars.com live streamed the event with many interviews from cast, production and celebrity fans. Peter Mayhew and Anthony Daniels were there too! If you missed out on the livestream but want to see it, Star Wars YouTube has the upload. While there is an embargo on reviews until Friday, early reactions are in and it's overwhelmingly positive. Which is making the wait so much more painful. Below are a few pictures from the event along with audience reactions!
#RogueOne is really, really good. Just, ugh. I need more.

— Andi Gutierrez (@DeeGoots) December 11, 2016
My thoughts on #rogueone This is the movie you were looking for. Great way to bind the galaxy together. #StarWars

— Kristian Harloff (@KristianHarloff) December 11, 2016
The last time I loved a Star Wars movie as much as I loved #RogueOne, it was 1977.

— Wil Wheaton (@wilw) December 11, 2016
Holy Sith! @RogueOneMovie is unbelievably wonderful! No lie: it is #EmpireStrikesBack great! An excellent chapter in the @starwars Universe! pic.twitter.com/Lb0vQ06ifh

— KevinSmith (@ThatKevinSmith) December 11, 2016
https://twitter.com/TonyRevolori/status/807940315256496129
Interviews/Appearances
The cast were making a few more rounds before the premiere, debuting clips on Jimmy Kimmel and talking to the Star Wars Show.
Gareth spoke with IGN, discussing Jedha and it's possible future
Gareth Edwards talks to EW about how he filmed the first person X-Wing battle
"When we were filming the X-wing footage in the film, we had the X-wing [cockpit] mounted to a gimbal so it could move around, like it was really flying," Edwards says. "Then all around were the screens, in 180 degrees, that were projecting space and this pre-animated flight path as the X-wing was moving around, like it was really flying. I got inside this X-wing, put the camera on top of my shoulder and they closed the cockpit. Then the thing just started flying and we started going through space in a space battle. And I was filming it, trying to film everything and trying to get the shots as well as I could."
Felicity Jones says the final cut of #RogueOne is "true" to war references like 'Saving Private Ryan' + 'Apocalypse Now' pic.twitter.com/A7WLgK1ecR

— Collider (@Collider) December 8, 2016
Gareth Edwards speaks to Fandango about what films inspired Rogue One
And many, many more. This whole page would be interviews if I kept going! Did I miss any of your favorites?
Rebels in Rogue One!
StarWarsNewsNet spotted a familiar ship in one of the latest TV Spots. Star Wars Rebels ship Ghost is seen facing off with the Empire. It's a very cool nod and ties the Star Wars universe together that much more.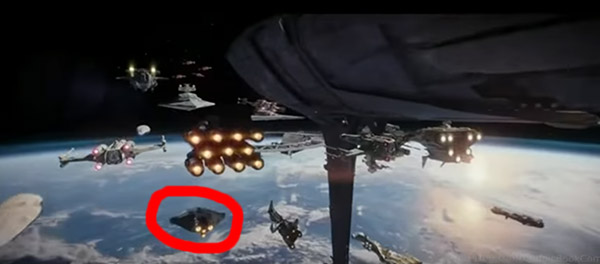 Spaceship Earth is the Death Star!
For the release of Rogue One, Disney decided to turn Spaceship Earth into the Death Star. We covered it here. Mads Mikkelsen joined the festivities of over 400 people. DisneyParks Blog shared some more photos from the event and video! Were you one of the 400 there?
Rogue One 101
StarWars.com released an article listing out everything you need to know for Rogue One. It covers planets, characters, vehicles, everything official. Should you need a refresher, you need to check this article out. Though if you check out our other Geek Girl Cantina's, you'll be super caught up!
New Characters
Entertainment Weekly released a few new pictures of new characters and include a bit of information on them! So here's 4 new characters to look forward to.
Weeteef Cyubee
Warwick Davis has played various characters in three Star Wars movies — and in Rogue One he's back as a wrinkly member of Saw Gerrera's (Forest Whittaker) team. "Warwick is performing pretty blind inside the animatronic head," Creature-effect supervisor Neal Scanlan says. "He is cocooned in his [costume], and his imagination brings such incredible life to his performance." Though Weeteef is a good rebel, his look was inspired by a mean fish. "We thought of a piranha," says Scanlan, pointing out that Weeteef's name is slang (wee teeth) for his tiny, sharp incisors.
Benthic
Breathing assistance is not a new concept for Star Wars characters, even though the coughing and heavy wheezing are often reserved for villains like Darth Vader or General Grievous. But despite the apparatus on his face (inspired by gas masks from the First and Second World Wars), Benthic is no friend of the Empire. In Rogue One, he's allied with the Rebels to fight back against the evil forces that conquered his home planet, and rendered him a refugee. The oxygen is strong with this one.
Beezer Fortuna
Sharp-eyed fans will spot the similarity (in name and appearance) between this wormlike fella and the slithery Bib Fortuna, Jabba the Hutt's consigliere in Return of the Jedi.
Oolin Musters
Earth's ocean has been a lucrative casting agency for many Star Wars creatures, including this rebel fighter who appears in a prison cell.
What do you think of these characters? Do you think Beezer is a creepy cousin of the already creepy Bib Fortuna?
K2SO's "Origin/Breakdown"
Entertainment Weekly gave us a video breakdown of what we know about K2SO. He's loyal to the Rebellion because he's loyal to Cassian, who saved him. He's known as a "curmudgeon", blunt and humorless. Almost like a child in that he blurts out the truth, even if it's not really appropriate. The one stand out though is that EW reveals that we will see K2SO come face to face with other Imperial Security Droids like he was. And that he may have remorse. Very interesting!
Jyn Erso Hot Toy
Don't know what Hot Toys are? They're a collectors dream. They're beautifully sculpted figures known for their  life-like appearance. Now Jyn has her own and good googly moogly it has a lot of accessories! Check out our coverage of it here.
Daisy Ridley Thinks Rey's Parentage Is "Answered" in Force Awakens
I put answered in quotes here because I believe it's important. Daisy spoke with Time Out London while she was promoting her film The Eagle Huntress and they asked if she would feel great about Rey's parentage secret off her chest. She said the following about it.
"I thought a lot was answered in The Force Awakens," she said. "Then after the screening I went for a drink with my agent and everyone, and we were chatting away and I realized that oh, in their minds it's not answered at all! I think curiosity is a wonderful thing. And I do find it quite funny that people keep asking about it. Just yesterday a guy asked to take a picture with me, and went "Is Luke your Dad"? And I was like, "chill out, you'll see"!" So does she think people are going to be surprised when they find out the truth? "I'd love to see the look on people's faces," she says. "But with answers come more questions, and there's definitely going to be enough to keep people going for another two years!"
I think Daisy, poor girl for being asked Star Wars all the time, is being sly here. I believe she's knowingly being vague about this but answering in a way that makes you believe that your theory is correct. Say you believe that Luke Skywalker is her father. Then she's saying she thinks TFA answered that for you. If you believe her parents aren't in TFA at all, she's saying she thinks TFA answered that for you. It's all the way you read TFA and how you interpreted it. And how you interpret Daisy's answer. What do you think?
RUMOR: Practical Snoke?
MakingStarWars.net has a rumor about Snoke so RUN FOR IT IF YOU DON'T WANNA BE SPOILED AT ALL! Now then, MakingStarWars are reporting that Lucasfilm made a Snoke puppet for Episode 8. It's been a debate on Snoke's real height since we've only seen him in holograph/CGI form. It's being reported that the puppet is 7 to 8 feet tall with a man inside the suit to make him walk but several operators to make his face move. It's possible that they will do something similar as they did with Unkar Plutt with CGI augmentation. But as said, this is a rumor so it's to be taken with a grain of salt.
Globe's Touching Ad
This I had to share since tears welled up in my eyes. Globe.ph is running a promotion participants can win a chance to go to Star Wars Celebration in FL or receive Rogue One tickets, etc. The ad they released to promote it is beautiful and definitely worth the time to watch.
Dark Side Knight Vs. Super Jedi
This was an interesting mashup. Zack Snyder created a trailer mashup of Batman v Superman and Star Wars. I LOVE Batman and hated this movie. However my little heart exploded at the thought of Batman with a lightsaber. So here is your weekly funny.
And that's it for this week! Did we miss anything? Let us know and be sure to see Rogue One in theaters this Friday (or Thursday if you're in early)! Yaaaaaaay!
Latest posts by Erin Lynch
(see all)