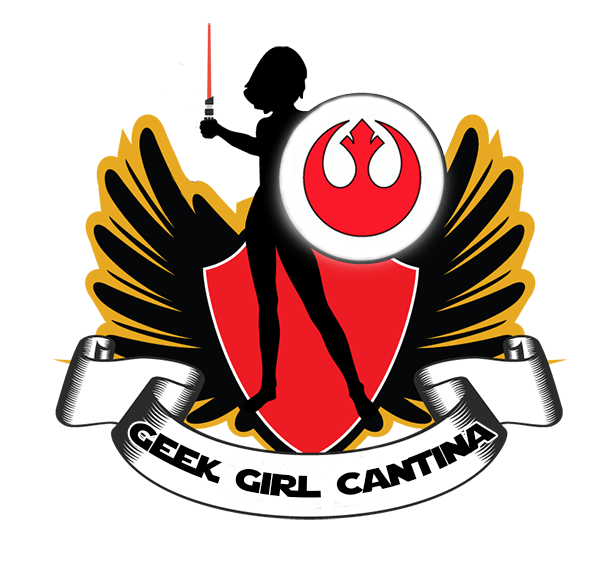 Here at Geek Girl Cantina, we'll be wrapping up the week in Star Wars news. There is a LOT going on this week so pay a scoundrel for a lift and let's dive right in.
Rogue One Trailers and Spots
The marketing machine is in overdrive as we near closer to the release date of Rogue One. They've unloaded another teaser trailer, a few spots and more. See our coverage of the teaser trailer here.
"Trust"
"Jyn and Cassian"
"Protect"
"Time to Fight"
"Contact"
"K2SO"
"Trained to Fight"
Poster Party!
IMAX and LA Times have released 4 new posters. LA Times has "Hope" and IMAX really stepped up their game with their 3 posters. I really like their layout! What do you think of the new posters?
Kathleen Kennedy Speaks With Variety
And we couldn't be more thankful. She addresses a few topics, one of them being that they're looking for a female director for a future Star Wars film!
"We want to make sure that when we bring a female director in to do "Star Wars," they're set up for success," says Kennedy. "They're gigantic films, and you can't come into them with essentially no experience."
RELATED: We Need More Women Behind the Scenes in Entertainment Media
Kennedy says that because there haven't been many opportunities for women to direct big movies, the Lucasfilm team is trying to identify talented helmers at the early stages of their careers. "We want to really start to focus in on people we would love to work with and see what kinds of things they're doing to progress up that ladder now, and then pull them in when the time is right."
Personally, I cannot wait for more diversity in Star Wars and a female directed film just sounds like a dream! Hopefully it comes to fruition and soon. She also spoke about Rogue One and the Han Solo spinoff film.
In regards to Rogue One, she confirms that they have decided not to include an opening crawl for the film, which has divided fans. She also calls it a "World War II-style adventure". In regards to the Han Solo film, she's called it a "heist or Western type feel" which is perfect for a Solo movie to have. Now we have to wait to see if it will be a heist film with a Western feel.
What do you think of Kennedy's comments? You can read the full article here.
Empire Magazine Covers and Stills
Last week we covered the subscribers cover but the mass market covers have been revealed! You can see their coverage of it here
Empire also released 4 stills, a behind the scenes shot and 3 stills
Michael Giacchino Talks Rogue One Scoring
In a Q&A with Entertainment Weekly, Giacchino talked about his last-minute step in Rogue One. For those unaware, Alexandre Desplat had been signed on to compose the music for Rogue One. Due to "scheduling conflicts" with the reshoots, he was removed. EW talked to him about the transition and his thoughts on the movie. I'll only highlight a few answers here and you can check out the full Q&A over at EW.
When EW said he was a late addition to the crew:
Yes, literally the last thing I expected I'd be doing this month would be this. I mean we were literally planning a vacation when I got the call asking if I could come and talk to them about it. At the time, it left me with literally four and a half weeks to write. So it was one of those decisions where you're like, okay, well… And I was talking to my brother about it. He goes, "Oh, come on. You've been writing this score since you were 10! You can do this."
When asked if he listened to anything Desplat had already composed:
I was like, "No, I don't want to. I want nothing, nothing. Let's just do it." … I've been excited to see this movie very much for the past year or so. And I thought, "Oh wow, Alexandre will probably do a really cool score for that." And I was honestly looking forward to just seeing that and [hearing] whatever he did. I had never – not even an idea – that I would ever be involved in it. It all happened so fast.
When asked about how the process happened:
I got a call one day. I was on a plane next day because I had two days left of Doctor Strange scoring to do in London. And the day after my last day of scoring with Doctor Strange, [Lucasfilm] said can you come out to Pinewood? So I went out to Pinewood Studios and I met with everyone. They showed me the movie. And literally I came home with the movie.
When asked about his impressions and what emotions it made him feel:
It is a film that is in many ways a really great World War II movie, and I loved that about it. But it also has this huge, huge heart at the center of it, and that was the one thing I just didn't want to discount. Yes, it's an action movie, and it's a Star Wars film, and it has all the things that you would come to expect and love about that, but I didn't want to forget that it was also an incredibly emotional movie as well. That was what really pulled me in. I love working on projects that have an emotional center to them – and not manufactured emotion either, even though, you know, [laughs] it's a weird thing to say because literally that's all we're doing, manufacturing emotion.
What I liked about this movie is it didn't feel false to me. It felt real, and I was able to just draw upon those emotions, whether it be sadness, loneliness… All of those things wrap into what we're doing within the score. That was important to both Gareth, and Tony, and Kathy as well.
When asked about his favorite theme:
I really enjoyed working with Jyn's theme, and tying that into the movie, and having it slowly develop. And it's sort of a very emotional sweeping thing, which was really nice to do. Now, I feel like there is this interesting sort of thing going on in film scoring where it's all about restraint. And at times I totally agree with that, but at other times it's just nice to unleash everything and just let 110 players go for it.
Be sure to read Giacchino's full Q&A because it's highly, highly interesting!
Promotional Tour!
The Rogue One crew are out and about promoting the film. Gareth Edwards, Felicity Jones and Diego Luna went to Mexico City to promote the film. You can see their press conference below. Mads Mikkelson was also in Poland promoting the film.
Tak wyglądało dzisiejsze spotkanie z Madsem Mikkelsenem w Arkadii! 😍 Jak oceniacie rolę aktora w filmie "Doktor Strange"? Już w grudniu premiera " Łotr 1. Gwiezdne Wojny- historie" 😎

Posted by Cinema City Poland on Saturday, November 19, 2016
Riz Ahmed Talks Bodhi
Hollywood Reporter was able to talk to Ahmed about his roles and snuck in some questions about Bodhi. When asked about how he approached the role, he said the following.
Bodhi is someone who's been running away his whole life. His planet gets occupied, so he goes, "How do I get out of here?" And the way was by becoming a long-distance cargo pilot. But, of course, that comes with guilt. If you look down and you're wearing the same Imperial uniform with the same insignia that the people occupying your planet are wearing, it's guilt and a lot of running away. I had the idea that this character is jittery. He's jumpy. There's a restlessness to him. This comes from the trauma and guilt.
I like that we're getting more insight into Bodhi. He seems to be shafted in the promotional material and I haven't heard much about him myself, so it's nice to hear something. What are your thoughts on Ahmed's comments?
Mads Mikkelsen Talks Galen
Mads Mikkelsen also spoke of his character this week. He tells DailyNews about who his character is and where he's ended up.
"Let's put it this way: I'm a scientist and I'm working on something spectacular. There's a program I skipped. I went away with my family. I got cold feet. I could see it was going in the wrong direction. They find me, I become separated from my daughter, and that's where the film starts. She's grown up with the idea that her father is, to a certain degree, on the wrong side of the table. So I play a man in a great dilemma, that's how much I can say about it."
I'm sure Catalyst (the Rogue One tie-in novel) dives further into this but I'm glad he's given us a hint more on his circumstance. Looking forward to seeing him in the film!
Nissan Rogue One "Battle Tested"
My friend and I had joked about the Nissan Rogue One car and I remember I mentioned that thankfully it wouldn't be in the movie as a promotional thing. Well, this is the closest we're getting to that. A typical car ad with all our stormtroopers, some rebels, & a cheeky droid. Check it out for yourself.
https://www.youtube.com/watch?v=pc8ftsMUmKc
Tickets Go On Sale!! Plus Feature Length
We FINALLY have news when the USA tickets will go on sale. For some vendors, it will be Monday, November 28th at 12:01am. This will all depend on the vendor. You can read our coverage of it here. Tickets are already on sale for the UK fans. Are tickets on sale where you are? In addition, MakingStarWars.net have teamed up with Atom Tickets to help raise donations for the Starlight Children's Foundation. For those wanting advanced tickets but to also do some good, check out the link! Also, the film will be 133 minutes long!
Carrie Fisher on TV
Stepping away from Rogue One news, Carrie Fisher was recently on The Late Show with Stephen Colbert and TODAY promoting her book "The Princess Diarist". She revealed what color she'd want her lightsaber to be, her "other Star Wars Revelations", her affair with Harrison Ford and a few details from her book. Gary is his usual silly self, which delights everyone. Check out the clips below! Will you be reading Fisher's book? Let us know!
StarWars.com Turned 20!
Holy ship! The website, a desire by George Lucas to be closer to the fans, has turned 20 on November 26th. Star Wars.com has a written oral history covering the 20 years. Members of Lucasfilm from the past and present recall memories of the early days of the site plus some insight into it. The Star Wars Show also highlighted the 20th anniversary by including story developer Pablo Hidalgo interviewing Lynne Hale, the director of publicity. You can check out the Show below and happy 20th to StarWars.com!
Alden Ehrenreich Talks Han Solo
Just a quick tidbit here! TheWrap spoke with Ehrenreich again and they had asked him if he had met Harrison Ford yet. Ehrenreich replied.
"I haven't asked yet but I'm hopeful it will happen," adding that "his spirit has been pervasive"
Do you think he'll meet Harrison Ford?
Rian Johnson's Instagram Post
It's cryptic, of course! Personally, I can't make out what it means or what it implies. But there's a picture of Luke! And it says Chosen 1! Woohoo!
Peter Sumner Passes Away At 74
Sumner who played Lieutenant Pol Treidum passed away due to a "long illness" on November 22nd. While fans may not remember his name, he was the small but memorable role in A New Hope.
"TK-421, why aren't you at your post? TK-421, do you copy?" were his only lines in the film. The Lt. was shortly killed afterwards by Chewbacca.
Sumner appeared at many fan conventions and even reprised his role of Lt Treidum for a fan film The Dark Redemption. He was known for his work mostly in Australia in theater, movies and television. Notable roles include Ned Kelly, Color Me Dead, The Chant of Jimmie Blacksmith as well as Spyforce and The Dismissal. He leaves behind a wife, three children and four grandchildren. Our thoughts are with his family and friends.
Star Wars: The Old Republic Expansion
Fans of the non-canon MORPG The Old Republic are in for more fun as an expansion will launch on December 2nd! The expansion is called Knights of the Eternal Throne and includes 9 chapters and 2 new planets to explore. The Old Republic is known for it's story-driven content and beautiful cinematic trailers. GamesBeat was able to sit with the creative director, Chris Boyd, and talk about the expansion.
Due to not being held under canon now, GamesBeat asked "Does that give you more freedom than some of the other creators working more closely with the movie timeline?"
That really comes from the Old Republic setting, more than anything. It's the same reasoning that brought BioWare to create Knights of the Old Republic back in the day. Setting it far enough from the films to have the freedom to tell a story that really impacts the galaxy in huge, epic ways, while still feeling like Star Wars.
We can hit a lot of the beats that everyone loves about Star Wars — the characters that you identify with, the choices that are meaningful and play out in some huge galactic way. Lasers and star destroyers, all that great stuff that makes Star Wars. Family relationship drama. We can draw on all that and make something that feels like Star Wars while still being in a different part of the timeline and a different place for telling our own stories. It's a lot of fun.
GamesBeat asked "Each player is set up to feel like they're the main character of the story. You have this conflict where thousands of people like that are questing together. How do you balance that from a story perspective?"
That's why we try to focus on having the solo story option. That's how we can make the player feel like they're the hero of their own story, by creating that experience in each chapter where you're the star of the show. You're the focus. You can bring your friends along if you want to play it that way, but it's your chapter, your instance, your story, you're the hero. We try to create that kind of vibe by — I don't want to say we isolate you, but we make sure the experience of the story is entirely based on you and your choices when you're participating in it. Then, when you're doing multiplayer stuff, we find ways to nod toward the lead player specifically, but you can all play together and see it through your own lens based on the choices you made back in the main storyline.
GamesBeat asked "Is there an end in sight? Is there a point where you would say that you've accomplished what you want to accomplish and move on? Or do you plan to keep going as long as this is viable?"
As long as they'll have us, we'll keep making this. It's such a cool game. We've gotten to do so many exciting things with the Star Wars license. We get the chance to tell Star Wars stories all day for a living. We're fortunate to be able to do that, and we're not planning to get out of it any time soon. As long as the game's doing well and folks are into it, we'll keep going.
Check out the full interview and be sure to check out the expansion! Will you be playing? Are you already playing and looking forward to this expansion? Let us know!
And finally…
Yoda Sings About Seagulls
I refuse to tell you more. You can look at our coverage of it here!
And that's it this week for Star Wars news! What did you think? Did we miss any stories? Let us know and be sure to come back next week for more Star Wars!
Latest posts by Erin Lynch
(see all)