Here at Geek Girl Cantina we'll be wrapping up the week in Star Wars news. It was a quiet week but we had big  Episode 9 news, some The Last Jedi behind the scenes goodies along with some Han Solo fun. So strap into your X-Wing and let's get into it.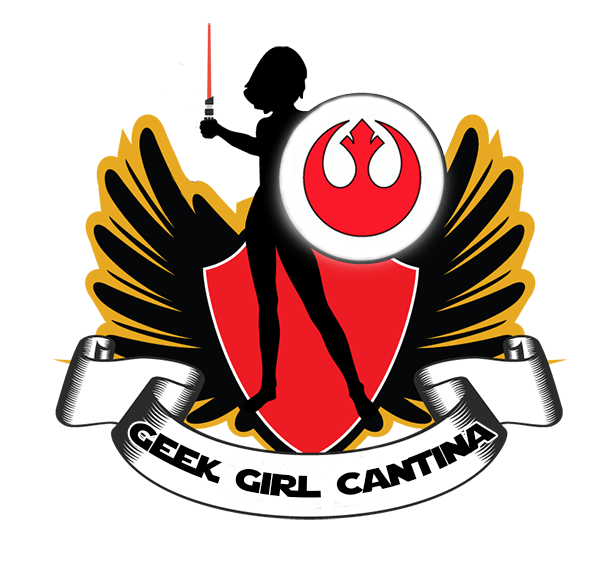 Episode 9 Gets New Writer
Big news from the future of the saga. Apparently Lucasfilm had the same concerns that fans did. But their replacement is fairly disappointing as well. Jack Thorne will be taking over as writer. You can check our coverage of it here. With his biggest credit as Harry Potter and the Cursed Child, it's worrisome. Many, many fans, including myself, didn't think the personification of the original trio was handled very well at all. So with him dealing with characters that have already been established does worry me. But so did Trevorrow in the writing chair. Double-edged sword! We'll see how it goes. What do you think of him as a writer?
Phasma's Backstory
While talking with IGN, actress Gwendoline Christie was able to divulge a little information about the process of mysterious Captain. While filming The Last Jedi, Christie and director/writer Rian Johnson worked out Phasma's backstory together. We didn't get to see much of her in The Force Awakens, but it looks like they plan to remedy that in Episode VIII. 
Rian and I did have long conversations about this character and who she was, and I was utterly delighted in how willing he was to listen to my ideas and really thrilled to exchange them with him and hear his. He really is a master writer and director, and I think we've seen that in the films that he's made but I think that we truly will see that in the depths to which he goes in The Last Jedi
It's great to hear that Johnson is welcoming to collaboration, at least with smaller characters. Besides Starkiller Base, Phasma was the most disappointing thing about TFA with her lack of screen time and bizarre characterization. So here's hoping they do a better job with her this time around. And fans will learn her backstory soon when Delilah S. Dawson's book, Phasma, debuts this fall.
Ron Howard vs The Droids
Ron Howard continues to hint to fans in the best ways. This week, he was able to give us a look at some of the droids featured in the Han Solo film. Though it appears that things haven't been so smooth on set with them. 
Droids help make the Galaxy go round but I find they don't always listen to the director!#UntitledHanSoloMovie pic.twitter.com/XSgvK4y4Dd

— Ron Howard (@RealRonHoward) August 2, 2017
These droids can be so damn intractable. But we'll go until we get it right! #UntitledHanSoloMovie pic.twitter.com/tDR6EOW8pn

— Ron Howard (@RealRonHoward) August 2, 2017
Action Time!
More fun from Ron Howard includes using a figurine of Chewie to help plot out action scenes. Now it's all been confirmed we're gonna have Chewie with his bowcaster in action! That will be fun to see again.
action figures really help us figure out high octane action for #UntitledHanSoloMovie Yes folks, this is my day job pic.twitter.com/a1SsQBC6rn

— Ron Howard (@RealRonHoward) August 4, 2017
Clint Howard in Han Solo!
Fans of Ron Howard know that he puts his brother Clint in his films. Well, Han Solo will be no different! In a tweet exchange with a fan, he confirmed that people will not be disappointed. VERY curious to see what kind of role Clint will be in. It's also nice to see Howard continuing the tradition.
You won't be disappointed

— Ron Howard (@RealRonHoward) August 2, 2017
A Virtual Star Wars Experience!
We are one step closer into joining the galaxy far, far away people! Fans in California and Florida will be able to dive into a virtual experience that's one of a kind. You can see our full coverage of it here. I can only imagine all the blaster fights that will ensue during the experience. Be sure to check out the coverage as we go into deeper detail about it.
The Star Wars Show
This week on The Star Wars Show, they're as obsessed with porgs as I am. They got so many entries for last week's porg poetry that they decided to have a hilarious porg poetry slam. It's one to watch, guys.
Finn's Journey
While a lot of focus has been on Team Jedi, the Resistance needs some love, too. So when John Boyega spoke with IGN, we got a glimpse further into what they'll be up to. More specifically Finn and Phasma's relationship. Boyega being coy make a comparison but it's one that needs a second look at.
Well, it's like imagine you work at McDonald's. You push your manager into a chute compactor and then a year later you decide to go back dressed as one of the colleagues. It's not the best situation. There's a lot of chasing, there's a mission that needs to be completed but that isn't necessarily something that doesn't come without a fight and it's something that he's gonna have to face for himself.
We know that TLJ starts right where TFA ended. So why did he say a year? Well, it's highly possible we'll have a time jump. We've heard rumors that Finn and Phasma will face off, with Boyega nearly confirming it at D23. But the time jump is pretty interesting. It may just be that he was thinking in terms of when he was filming the movie. But, it may be a clue. Either way, we're in for some fun with Finn.
Mark Hamill Drive
Your weekly funny this week has been replaced with something wonderful. San Diego has started a honorary street naming program. And our favorite Skywalker, Mark Hamill, has got one for himself now! 5900 block of Castleton Drive, at Mt. Abernathy Avenue is where you can now see the Honorary Mark Hamill Drive. There was a ceremony, an unveiling and the city of San Diego declared July 30th to be Mark Hamill Day. Hamill graciously took pictures with fans and signed autographs. You can watch the full ceremony here and check out the images below.
You CAN go home again-Great 2 be welcomed home 2 my old neighborhood by the best fans EVER! Thanks @CityofSanDiego @chrisjcate Love U ALL-mh pic.twitter.com/Z12P8MkbXW

— Mark Hamill (@HamillHimself) July 31, 2017
And that's it for this week's news! Be sure to come back next week for more Star Wars news and may the Force be with you, always.
Latest posts by Erin Lynch
(see all)