Here at Geek Girl Cantina we'll be wrapping up the week in Star Wars news. This week we'll talk about the last Forces of Destiny episode, talk all the goodies from D23 and more! Get your staffs ready and let's get into it.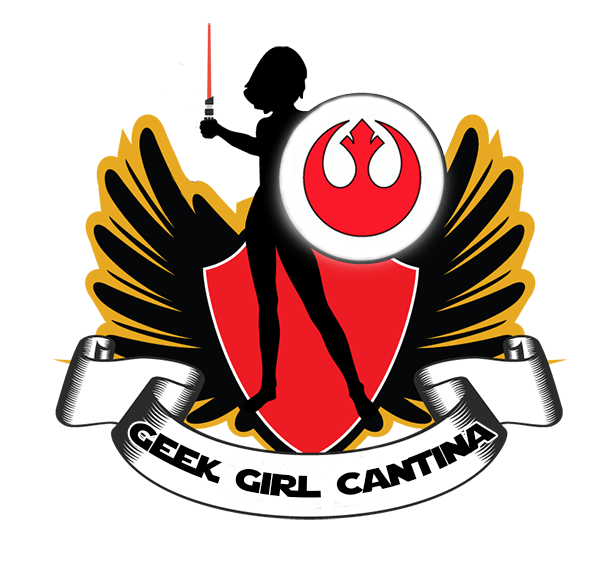 Forces of Destiny: Bounty of Trouble
To finish up the breakdowns from last week, we have this final episode. Airing late on Sunday we see Princess Leia interact with Sabine Wren from Star Wars Rebels. For fans of Rebels, your minds have exploded. Leia's been captured and Wren has been sent to rescue tapes from her. After a run-in with bounty hunter IG-88, Leia is successful in giving data tapes of Imperial base locations to Sabine. 
This was a weak episode for me. Maybe it's because I don't feel for the Rebels characters but it felt poorly put together. I didn't care for the dialogue from any of the characters, especially the last lines of the episode. Oh well! What do you think of the episode?
Whose Wardrobe Is This?
Ron Howard continues to gift fans with very small behind the scenes looks at the struggling Han Solo film. This, however, is the first real look at the film since he's taken over. Sharing pictures on both Twitter and Instagram, we got a look at a very colorful wardrobe. "Can you guess whose closet this is?" Fans speculate that it's the smoothest man in the galaxy – Lando Calrissian. Take a look below and let us know who you think the costumes belong to.
can you guess whose closet this is? #UntitledHanSoloMovie pic.twitter.com/1gB17Rt1vN

— Ron Howard (@RealRonHoward) July 11, 2017
The Star Wars Show
This week on The Star Wars Show, we get news about D23, an interview with Nien Nunb actor/puppeteer Mike Quinn, get a little lesson in Twi'leks PLUS we see an old friend. Check out the Emmy-nominated (yes, really!) series below.
D23 Reveals
There was a lot that happened during D23 this weekend and we're gonna breakdown as much of it as we can. So strap in!
Disney Legends Carrie Fisher and Mark Hamill
On Friday, both legendary actors Carrie Fisher and Mark Hamill were honored as Disney Legends. The award-like ceremony shared video dedications and words from Disney CEO Bob Iger. Since Carrie passed away and Billie Lord was currently busy, Iger read a letter from Lord expressing her thanks and her mother's love of Disney. 
Hamill was honored as well, reminding everyone that Carrie would've flipped him the bird twice by the time he got on the stage. The story-teller thanked creator George Lucas because he wouldn't be receiving the award if it wasn't for him. As always, Mark brings his humility and excitement everywhere he goes.
Thankfully, we get to see videos of the event and listen to the speeches. You bet your butt I teared up watching Carrie's video. Check them out below!
Bonus: Here's an interview featuring Mark after his Legend award.
The Last Jedi Showcase
Unfortunately, Lucasfilm didn't bring anything for Han Solo whatsoever. So more The Last Jedi for us! The panel brought out director and writer Rian Johnson along with stars Daisy Ridley, John Boyega, Gwendoline Christine, Kelly Marie Tran, Laura Dern, Benicio del Toro and Mark Hamill. They brought a few stories on stage, such as Laura Dern saying "pew" when using a blaster. And John Boyega mentioning Finn getting into a big fight with someone, then looking at Gwendoline Christie.
Unfortunately, the panel couldn't be filmed in it's entirety so we don't have too much. But, they played a behind the scenes video and the crowd went wild. We did a small breakdown of the behind the scenes video here. Now viewed over 2 million times, you know fans are so ready for this film. Check out highlight panel and behind the scenes video below.
After the panel, the cast were able to grant interviews – some of which you can check out below. Be sure to also check out the gallery from the panel uploaded by the Star Wars Facebook page.
Benicio Del Toro talks keeping the secrets of the "Star Wars: The Last Jedi" script pic.twitter.com/2AGx3klphN

— Variety (@Variety) July 15, 2017
"Star Wars: The Last Jedi" star Kelly Marie Tran remembers her first time with the franchise #D23Expo pic.twitter.com/nOkh1QxMFZ

— Variety (@Variety) July 15, 2017
"It changed my world" – @LauraDern on seeing "Star Wars" at the Cinerama Dome #D23Expo pic.twitter.com/gin1QWPatB

— Variety (@Variety) July 15, 2017
.@lovegwendoline recalls her first "Star Wars" memory #D23Expo pic.twitter.com/IKZUvwiqSF

— Variety (@Variety) July 15, 2017
.@HamillHimself remembers auditioning for "American Graffiti" and "Star Wars" #D23Expo pic.twitter.com/vFCZ4Frkmx

— Variety (@Variety) July 15, 2017
"Star Wars: The Last Jedi" director @rianjohnson's favorite part of working on the film was scoring it #D23Expo pic.twitter.com/FED1joMDbD

— Variety (@Variety) July 15, 2017
Character Posters
Revealed online, we saw 6 beautiful new character posters. They're minimal and beautiful and we can't stop staring at them. Debuting a little while after the behind the scenes launch, we uploaded them and talked about them. Definitely worth a look at.
Battlefront II
During the Level Up panel, Battlefront II was featured in the lineup of video games coming out on the Disney slate. They live-streamed the entire panel online for fans to enjoy, so we were able to see main voice actor Janina Gavankar talk about the upcoming game. During the panel, they played a behind the scenes/making of video and shared more details regarding the single player campaign mode. Be sure to keep your eyes peeled for a certain guest appearance. You can check out the Battlefront portion of the panel below plus the Behind the Story featurette. Be sure to check out our footage of the entire panel here.
Not only did we get to see the making of the story, but StarWars.com unveiled another excerpt from the novel. Welcome to the Inferno Squad.
Star Wars: Jedi Challenges
Not only did we see Battlefront II, we also got the announcement of a new game featuring Star Wars. Last year we got a VR experience from the view of an X-Wing pilot. Well now, there's going to be an Augmented Reality set. They're in early development on some things but one of the biggest experiences they promise is all Jedi Challenges. The app-enabled experience sees you holding the Skywalker lightsaber. While we don't know if we'll receive the Skywalker lightsaber ourselves, we're bound to get our own lightsaber. Check out the panel and promotional video below.
Star Wars Land Model and Name Change
One of the most anticipated aspects outside of the films themselves is the upcoming dedicated land. The park is set to be in a space port in the Outer Rim of the galaxy, giving a unique experience to live on that planet for the day. Through most of the promotion, it had been called A Galaxy of Stories but the name has since changed. It's now known as Star Wars: Galaxy's Edge. A fitting name to be certain. On Thursday, fans were able to view a model of the upcoming park, getting a better look at what we'll be seeing in 2 years. Bonus includes the full booth tour, showing off some of the costumes and features.
In addition, the official Star Wars Twitter gave us an even better look at the model.
You're home. Get a glimpse of #StarWars: Galaxy's Edge. Coming to @DisneyParks in 2019. #D23Expo pic.twitter.com/l3PfJDzLOK

— Star Wars (@starwars) July 16, 2017
On Saturday, a panel dedicated to Disney parks revealed more details about the park. Including the rides set to be there – one being a ride piloting the Millennium Falcon. Plus a cantina, places the shop and places to rest. Character interactions include the current meeting characters – BB-8, Chewbacca and Kylo Ren. I'm more excited about this park the more they talk about it. You can see the portion of the panel talking about Galaxy's Edge below.
Imagineer Scott Trowbridge also spoke to Inside the Magic in an extended interview.
Star Wars Hotel!
In one of the coolest bits and brand new pieces of information to come out – we learned there will be a Star Wars themed hotel. And it's not just a hotel, it's a resort. An immersive resort "in an authentic Star Wars environment". It will let guests have a personal, multi-day adventure and become an active citizen of the crew. That includes getting "proper attire" for your daily activities. Also, you won't be able to look out your window and see the weather – instead you'll be viewing space. It sounds incredible and worth a trip on it's own, let alone trying to leave the hotel and go to Galaxy's Edge. Check out the panel below that includes concept art for the hotel.
"Wow!"
Your Star Wars funny this week comes in the form of a strange video. An internet meme of sorts seeings people editing different sounds over the original. For example, Jar Jar Binks yelling "Oh no" over every death in the Battle of Geonosis. It's painful to watch. But today I bring you this – Owen Wilson saying "Wow" instead of lightsaber noises. Enjoy.
Star Wars, but all of the light saber sounds are Owen Wilson saying "wow" pic.twitter.com/t5Yll0AV4h

— Josh Billinson (@jbillinson) July 14, 2017
And that's it for this week. It's a lot to digest after all the fun from D23. What do you think of the all of it? Let us know and be sure to come back next week for more Star Wars.
Latest posts by Erin Lynch
(see all)