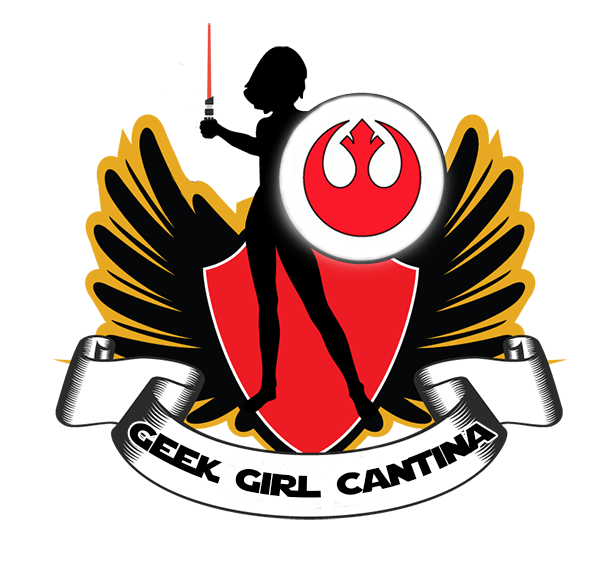 We're baaaaaaack! After some renovations, Geek Girl Cantina is open once again for business. Haven't read before? Well let me tell you about it! Here at Geek Girl Cantina we'll be wrapping up the week in Star Wars news. This week we celebrated May the 4th, heard some TLJ rumors and a lot more. Park your speeders away from the dewbacks and let's get into it.
The Last Jedi 70mm Trailer
Earlier this week, there was a rumor about a 70mm trailer of The Last Jedi being attached to another Disney movie released this week. Turns out, the rumor was true. You can see our rumor coverage here. And while I personally did not go to an IMAX showing of the film, the trailer was indeed attached. In addition, those who did see the film in IMAX were able to report which scenes were filmed in IMAX. Thanks to Star Wars News Net, we know the establishing shots of Ahch-To are in 70mm IMAX along with the burning scene and salt mine planet scene. This teaser will not be in theaters much longer, reverting back to the 35mm trailer. So enjoy it while you can, folks!
Mark Hamill Surprises Fans for Force For Change
Omaze are like fan entrepreneurs. They know fans want these opportunities, and they give them the hopes and dreams of them becoming reality.  Star Wars have had brilliant fan opportunities and this year is no different. We've covered the three big prizes fans can win but they've added a bonus! You get to eat lunch with Mark Hamill and see The Last Jedi early. Yes! Please! They've released a promotional video with Hamill surprising fans and it's just great. Watch the video below and you get enter for the Omaze prizes here. The drawing ends this week so get your entries in!
May the 4th Be With You!
A favorite holiday of Star Wars fans, May the 4th Be With You! We had a bunch of posts here at Geek Girl celebrating but many fun things happened during the day. Let's jump into a few.
Adam Scott's Surprise
Speaking of Mark Hamill and surprises… Kristen Bell took over for Jimmy Kimmel who was out on paternity leave. One of her guests was Adam Scott who is a big fan of Star Wars. And lucky for him, he got an opportunity that fans dream about. You can check out our coverage of it here.
Greetings from Rian Johnson and John Williams
Be still my heart! The Last Jedi director and composer took a moment to wish fans a lovely Star Wars day.
A #MayThe4thBeWithYou message from @RianJohnson for #StarWarsDay. pic.twitter.com/JlnWRZyn4g

— Star Wars (@starwars) May 4, 2017
May the Socks Be With You
Canadian Prime Minister Justin Trudeau celebrated the day subtly while meeting with Irish Taoiseach (Prime Minister) Edna Kenny.
These are the socks you're looking for. #MayTheFourthBeWithYou#GuerreDesÉtoiles pic.twitter.com/AXTQkgmkYH

— Justin Trudeau (@JustinTrudeau) May 4, 2017
4 Women We Love
In a crazy feat, we talked about only 4 women we love from Star Wars. It was crazy hard to pick only 4. You can read our list here.
4 Star Wars Podcasts You Should Be Listening To
The podcast community is vast and ever growing. But we listed 4 you should have on your radar. You can read our list here.
GGA Turns 3!
This week, Geek Girl Authority turned 3, on Star Wars Day no less! Yeeee-hoo! So one of our founders, Claudia, listed some of the greatness that has happened in Star Wars since we came to be. You can go over some fond memories here.
We hope you all had a great Star Wars day and hope to celebrate with you all next year!
Star Wars Music Live!
The music of Star Wars is the butter to the bread of the movies. Thank goodness we can experience the music live soon thanks to the New York Philharmonic. From September 15 to October 7, 2017 the Philharmonic will be having a concert series featuring screenings of the films. Tickets are on sale now! You can check out our coverage of it here.
The Star Wars Show
The Star Wars Show came back after a week hiatus. Lucky for us, it was filled with great interviews from Celebration and a preview for the next season of Freemakers. Check it out!
Rian Johnson's Request
During a talk with Entertainment Weekly, Rian Johnson confessed he made a request for Episode 7. At the end, BB-8 was going to be with Rey on Ahch-To instead of R2. But Johnson requested the switch. Why? You can see our speculation here.

Spoilers/Rumors incoming!
3…
2…
1…
New Character Names for Han Solo film
According to Making Star Wars, they've revealed the names of some of the characters set to be in the Han Solo film. Not only do they know some of the character names, they know who will be playing them.
Rebolt – played by Ian Kenny
Moloch – played by Harley Durst
Moloch's Henchman  – played by Tien Hoang
In addition, they heard "Gremm" and "Emlys Nest" but cannot be sure if those are characters, locations or planets. Previously they learned of two major character names Val and Mother Proxima. Val is a female character and has "top billing" so it could be any one of our three leading women. Mother Proxima is "likely" to be a puppet and could be a droid, as Phoebe Waller-Bridge is set to be playing.
Luke Skywalker's Necklace
More from Making Star Wars includes a particular prop worn by our hero, Luke Skywalker. According to the site, the necklace is going to be special. "The shape supposedly is sort of like that of a wooden dog whistle when seen from a distance. However, the interesting part is that when you look at the bottom of the necklace hanging around the neck of Luke Skywalker, you will see a red crystal protruding from the bottom of it." And that red crystal, they theorize, is going to be the kyber crystal from Darth Vader's lightsaber. If this is true, it's pretty cool. If not, that's okay. If it is true, it probably won't be anything significant. Maybe a quick line of dialogue about it. It's all unsure. This news is a little older but it was interesting enough to share with you!
Spoilers/Rumors ended!
Star Wars: The Complete Canon Timeline
YouTuber StarWarsExplained has released a video covering the complete canon timeline and it's great for fans who want a list. I obviously can't confirm the information but it's a great video. Check out the video below and let us know what you think!
Lightsaber
In your Star Wars funny for the week, we have a Blip. Shared by the official Star Wars channel, it's a cute little animation of BB-8 finding the Skywalker lightsaber. For those who have been reading GGC know I have major love for the droid so I may be biased. But he has some pretty sweet moves!
And that's it for this week in Star Wars news! It's good to be back. Let us know if we missed anything!
Latest posts by Erin Lynch
(see all)