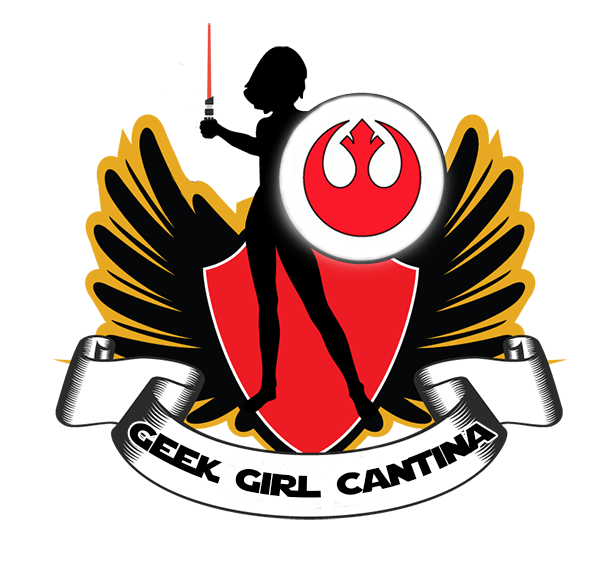 Here at Geek Girl Cantina we'll be wrapping up the week in Star Wars news. This week we have our first look at the Han Solo cast, Rogue One has a home release date and more! Give me a blow-torch thumbs up and let's get into it!
Meet Team Solo
On February 21st, Lucasfilm released a cast photo for the still untitled Han Solo film! It was my birthday so I'm going to take credit and you can't stop me. The photo includes most of our stars plus the directors. Everyone was all smiles (sans Glover, embracing his cool factor). The article accompanying the photo confirmed that Thandie Newton was also cast and our rumored Phoebe Waller-Bridge was included in the photo. So the cast is now half men, half women. Yes. You can see our coverage of it here. Principal photography started on February 20th, with the film slated to hit theaters May 25th, 2018.
The Last IMAX Jedi
It's been confirmed that The Last Jedi has scenes filmed in IMAX. Woo! In addition, IMAX released a statement saying they've partnered with Disney on many (15) of their slated films to bring the IMAX experience. Namely, The untitled Han Solo movie and Episode IX. They included the following statement in regards to Star Wars and IMAX.
Fans that loved J.J. Abrams' iconic use of IMAX cameras in Star Wars: The Force Awakens will be pleased to find that Rian Johnson has captured key sequences of Star Wars: The Last Jedi using IMAX's extremely high-resolution cameras, delivering IMAX audiences greater scope and increased image quality in IMAX's exclusive aspect ratio for a uniquely immersive experience.
Are you a fan of IMAX? Will you be seeing The Last Jedi in IMAX first or during a repeat viewing? Let us know!
A Star Proposal
Gotta love how Star Wars brings people together. Just a quick little story to put a smile on your face. A couple in Michigan were engaged during a hockey match. That's not unusual right? Well it just so happens Darth Vader was doing the proposing. WZZM 13 reported that during intermission for the game during Star Wars night, Zach Balakas proposed to his girlfriend wearing a tux and Vader helmet. It's a cute little video that you can check out on their site. Congrats to the happy couple!
The Official Star Wars Celebration 2018 Poster
Celebration 2018 is less then 2 months away and they've debuted the official poster for the occasion. It's embraces the history of the saga films, old and new in a beautiful collage. I love seeing the prequel trilogy characters on there! While I'm disappointed I can't go myself, I'm thrilled with this poster. Check out the poster below! In addition, they announced there will be a Star Wars 40th anniversary panel. StarWars.com made the announcement.
The Star Wars 40th anniversary panel, hosted by Warwick Davis and set for Thursday, April 13, will feature Lucasfilm president Kathleen Kennedy and discussions with some of the saga's brightest stars. It promises to highlight the impact of the galaxy far, far away and the fandom that has propelled it for the last four decades; this marquee Celebration event will undoubtedly include many not-to-be-missed surprises. So set hyperspace coordinates accordingly…
I cannot wait to see what they have in store. I also wish Carrie were here to see this but she'll always be in our hearts. What more surprises will Celebration hit us with? We'll find out starting April 13th!
The Tragedy of Jar Jar Binks
I'll wholly admit I have not gotten into the new EU. I don't have enough time to watch the shows, read the comics, read the books, play the games, etc. While I know fans have loved the book series, Aftermath, I still haven't gotten into it myself. But I wanted to share this editorial from StarWarsNewsNet that I find to be sad. If you don't want to be spoiled on the books, don't read any further. During the last novel in the trilogy, author Chuck Wendig brings back a character the fandom seems to loathe. None other then Jar Jar Binks. Apparently Jar Jar Binks is back on Naboo but is a social outcast. They don't even refer to him by his name, only "The Clown". He entertains refugee children who come from war torn planets. No one, and especially not the Gungans, acknowledge his existence. Wendig gives an end to Jar Jar Binks and it makes me feel guilty for being in the camp that dislikes him. I loved him as a kid though, which makes this all the more sad. Check out the editorial, it's a great read.
The Star Wars Show!
This week the episode focuses heavily on toys, including a look at some of the toys from Toy Fair. Not going to lie, some of those toys look really awesome. They also feature and interview with a Star Wars collector and talk about the big 40th anniversary panel at Celebration. Check it out!
Star Wars in NASCAR
It appears Brennan Poole is a Star Wars fan. USAToday reports that the driver will be wearing a custom Luke Skywalker X-Wing helmet. Now, I'm no fan of NASCAR but this is a pretty sweet helmet. Great job by BEAMdesigns. Check out the images from their Twitter page.
Geeked out painting this @starwars @brennanpoole #LukeSkywalker #AllianceFlightHelmet, the chips, scratches, all hand paint. #beamdesigns pic.twitter.com/FxZBD0py9g

— BEAMdesigns (@BEAMdesigns) February 23, 2017
#LukeSkywalker @brennanpoole @DCSolar @BellRacingUSA #RebelAlliance #jedi @NASCAR_XFINITY #Daytona #beamdesigns #qualityhelmetpainting pic.twitter.com/WBi8B0hmfG

— BEAMdesigns (@BEAMdesigns) February 23, 2017
Rogue One Will Be In Your Home April 4th!
That's right! We can now watch Rogue One from the comfort of our own homes this spring. The digital HD version will be released at the end of March, about a month away. But the mass release of the film on bluray/dvd will be April 4th. Woohoo! The release is said to contain a bunch of extra bonus features including how they made Tarkin and Leia, character featurettes and more. Some major retailers like Target and Best Buy will have their own bonus features as well. You can check out our coverage of it here.
The Finale of Josh Gad's The Last Jedi Questions
This week's funny is just too obvious. It's unfortunately the end of a fun ride. Josh Gad started asking Daisy Ridley questions in quick videos after the release of Episode 8's title. Since then, he's surprised Daisy with questions in creative ways. He set up a script for her to read questions, he ambushed her with Dame Judi Dench asking her questions. And now finally, he's brought in the big guns with his celebrity guests – including her future director, Colin Trevorrow. My personal favorite is JJ Abrams at the end! You can check out our coverage of it here along with the rest of our coverage.
And so it ends. #DaisyRidley #StarWars Give us the truth pic.twitter.com/o4d429ydzL

— Josh Gad (@joshgad) February 20, 2017
And that's it! Did we miss something? Like a story we mentioned? Let us know and come back next week for even more Star Wars news!
Latest posts by Erin Lynch
(see all)