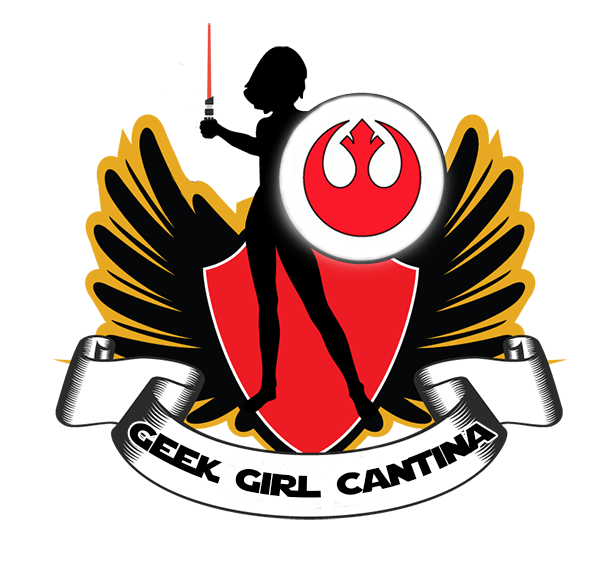 Here at Geek Girl Cantina we'll be wrapping up the week in Star Wars news. We got some big news this week so strap on your speculation hat and let's get into it!
Episode VIII Has A Title!
That's right, everyone! Episode 8 finally got a title. Star Wars: The Last Jedi has opened up speculation immediately. From the title on it's own, to the red text, anything is up to speculation. You can even see my initial reaction of speculation. As time has passed, it seems so silly and trivial but it's exciting because we're finally getting more Episode 8 news. Even celebrity fans like Josh Gad aren't immune to the excitement.
Uproxx was able to catch Mark Hamill at Sundance and asked him some brief questions about the title while they were interviewing him.
Uproxx: Do you like the new Star Wars title, The Last Jedi? I guess it would be weird if you said, "No, I don't."
Hamill: I mean, I was told way back when we were doing the film what it was and I really liked it. I didn't realize, though, that actual phrase is in the crawl for Episode VII.
Uproxx: Oh yeah, you're right. I didn't think of that until you just said that.
Hamill: By the way, when you read The Force Awakens script, the very first two words are, "Luke Skywalker has vanished." Ooh, baby, this is going to be good! I'm going to have a great part! But down later in the crawl, and I can't quote it exactly, I saw on Twitter this morning, "until Skywalker, the last Jedi, is destroyed." I thought, well, I didn't know that! I've only seen it twice – VII, I mean. And I was wondering why they would use that phrase if it was used that way, because it specifies me. And I think it's very ambiguous. Is the last Jedi Leia? Is it me?
Uproxx: Or is it Rey?
Hamill: Is it someone we've never met before? Or is it Rey? Because she seems to have the force as well. So we'll all wait and see.
We cannot wait for this film.
Rian Johnson Talks Episode VIII
EmpireOnline was able to speak to writer/director Rian Johnson about Episode 8. I won't share the whole interview, though it's brief. It's definitely worth the full read though.
Empire: How are things going on Episode VIII?
Johnson: Great! We're in the thick of editing, really digging into it. It's taking shape and I'm very excited.
Empire: Name three non-Star Wars films you watched in preparation.
Johnson: Twelve O'Clock High was a big touchstone, for the feel and look of the aerial combat as well as the dynamic between the pilots. Three Outlaw Samurai for the feel of the sword-fighting, and the general sense of pulpy fun. And To Catch A Thief was a great film to rewatch, for the romantic scale and grandeur.
Empire: What is the hardest thing about writing Star Wars dialogue?
Johnson: I found myself constantly wanting to push modern idioms into the dialogue, and sometimes that can work, but you have to be very careful. If you go too far you can break that Star Wars spell. The other challenge is the tech talk, which has to be simultaneously complex enough to sound real and conceptually simple enough to follow. The original films were brilliant at that.
Now Johnson has listed a lot of films in the past on what's influenced him. But I think this is his first time bringing up a film influencing him for romance. Fans have speculated that it could be between Finn and Kelly Marie Tran's character. There's even a few wondering if it will be Rey and Kylo. But this is our first almost confirmation of romance in the sequel trilogy.  His comments on writing dialogue is funny though as memories of Han saying "I'll see you in Hell" come about. But this is a very small peak into Johnson's mind on Episode 8.
Miss last week's Geek Girl Cantina? Check it out here!
Rogue One Concept Art
Artist Matt Allsopp has been sharing his Rogue One concept art and it's gorgeous. He has a blog but he's mostly been posting on his Instagram. Only going to share a few so you definitely need to check out his work!
Rogue One Oscar Nominations!
Speaking of Rogue One, the team received two Oscar nominations! One for Visual Effects and one for Sound Mixing. Congratulations to the Rogue One team and Lucasfilm on the nominations! Visual Effects is going up against films The Jungle Book, Deepwater Horizon, Doctor Strange and Kubo and the Two Strings. Sound Mixing is going up against Hacksaw Ridge, Arrival, La La Land and 13 Hours. Wishing the team the best of luck!
The Star Wars Show Is Back!!
The Star Wars Show is back with a new co-host, with Anthony Carboni replacing Peter Townsley. They shared a glimpse of the behind the scenes of Rogue One with Pablo Hidalgo and Dave Filoni and interviewed John Knoll. Stay tuned till the end for their tribute to Carrie Fisher.
Happy 20th, The 501st Legion!
The 501st Legion began their love of costuming and Star Wars in 1997, marking 2017 as their 20 year anniversary. Not sure who the 501st are? In their own words:
The Legion is an all-volunteer organization formed for the express purpose of bringing together costume enthusiasts under a collective identity within which to operate. The Legion seeks to promote interest in Star Wars through the building and wearing of quality costumes, and to facilitate the use of these costumes for Star Wars-related events as well as contributions to the local community through costumed charity and volunteer work.
Happy anniversary, 501st! Keep up the great work!
2017 is the 20th anniversary of The 501st Legion! I am very proud of how much good a little group of bad guys could accomplish! #starwars pic.twitter.com/jTsmcNGoh5

— Michael Bender (@TK6682) January 25, 2017
Rogue One 8-Bit
CineFix is known for their 8-Bit re-creations and Rogue One got the pixel treatment. I think it's adorable that the "warriors" have their Funko Pop! appearance. Let us know what you think of their re-creation in this week's funny.
And that's it for the news! Did we miss anything? Let us know and be sure to come back next week for more Star Wars!
Cat mom, panda enthusiast, and Batman lover living in a galaxy far, far away...
Latest posts by Erin Lynch (see all)