Welcome to this week's installment of Geek Girl Authority Crush of the Week, wherein we shine a spotlight on strong women who inspire us. Now, this not only includes fictional female characters in geeky media, but creators as well. These ladies are a prime example of female empowerment and how crucial it is for young girls to have said example to follow.
DISCLAIMER: The following contains possible spoilers for Supergirl up to the end of Season 3. If you are not caught up with the CW show, then you may not want to read on, but if you don't care about spoilers either way, then continue!
Supergirl/Kara Danvers
Fast Facts:
Supergirl, aka Kara Danvers, aka Kara Zor-El, is a survivor from the planet Krypton. The older cousin of Superman, Kara Zor-El escaped her dying planet at the same time as Kal-El; however, she did not arrive on Earth at the same time he did. In the show, we know that her escape pod got knocked off course and she was trapped in the Phantom Zone. When Kara finally arrived on Earth, Superman was known throughout the world. Kara Danvers (Melissa Benoist) was raised by her adoptive parents Dr. Jeremiah Danvers (Dean Cain) and Eliza Danvers (Helen Slater) and her adoptive sister, Alex Danvers (Chyler Leigh) in National City. As she grew up, she kept her powers hidden until she was forced to show her powers when she saved her sister from a plane crash. After that, National City had a new protector in Supergirl.
In the CW series, Supergirl joins the DEO to defend the city against hostile aliens and humans. But while Supergirl bears the responsibility of defending her city, Kara Danvers struggles to find her place. Taking a position with CatCo Worldwide Media, she finds a mentor in Cat Grant (Calista Flockhart) who shows her how strong women can be without powers.
Supergirl originally debuted in 1959 and was created by Otto Binder and Al Pastino. Throughout the years Supergirl has gone through a few iterations and storylines. In the comics, a handful of women have taken up the mantle while on TV, Kara has been portrayed by Laura Vandervoort in Smallville, Melissa Benoist in the current CW series and Helen Slater in the 1984 film.
The Real Deal:
Kara Danvers/Supergirl shows us that there is strength in being vulnerable and that battles can be won by showing compassion.  In every fight she's in, Supergirl tries to save the villain by appealing to their "humanity" before she resorts to violence. In her relationships, she is open, honest, and she trusts completely. That is not to say that she has not made some questionable decisions (Mon-El). She is not perfect, and she knows it, but she always holds herself accountable for her actions. She is vocal about her anger, her pain and heartache. She is incredibly independent, but she knows that she can rely on her friends to get through the tough times.
Why She Matters:
With the oversaturation of male superheroes, Supergirl serves as a reminder that women can be just as strong and just as heroic. But it's not just about her abilities that make her amazing, it's also how she handles her relationships. Supergirl shows us that women can and should hold up other women. From her supportive relationship with her sister, Alex, to her amazing friendship with Lena Luthor (Katie McGrath), we see the power of positive female relationships. In this context women are not seen as competition, but as mentors, role-models, and advocates.
In short, Supergirl is a bada** and I proudly wear her symbol.
RELATED: Looking for another strong woman to crush on? Check out our other Geek Girl Authority Crushes of the Week here!
RELATED: Arrowverse Update: Supergirl Season 3 Wrap-Up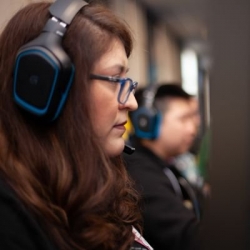 Latest posts by Renee Lopez
(see all)