Welcome to this week's installment of Geek Girl Authority Crush of the Week, wherein we shine a spotlight on strong women who inspire us. Each week, we will highlight a favorite female character or creator of geeky media. These ladies are a prime example of female empowerment and how crucial it is for young girls to have said example to follow.
DISCLAIMER: The following contains possible spoilers for The CW's musical comedy-drama Crazy Ex-Girlfriend. If you are not caught up with the series, then you may not want to read on, but if you don't care about spoilers either way, then continue!
Rebecca Bunch
Fast Facts:
Rebecca Bunch (played by Rachel Bloom) is a young, successful lawyer from New York who knows that something is missing in her life. She is also clinically depressed, anxious, and searching for something, anything that can make her happy.  
Then one day she meets her old musical camp sweetheart Josh Chan (Vincent Rodriguez III) by some crazy coincidence on the street. During their talk, he tells her that he's moving back to his hometown of West Covina, California. A place that's "so chill, so relaxed" and where the people are genuinely happy.
This accidental meeting is enough to motivate Rebecca into making a series of spontaneous decisions. She quits her posh job just as she is being offered a junior partner position, packs up her belongings, and moves to West Covina. There she begins her new life with the sole purpose of rekindling her relationship with Josh. Of course, as comedies go, things don't work out perfectly and through a series of good decisions, very bad decisions, crazy decisions, and responsible decisions, Rebecca begins to find out who she is, what she wants, and what it means to be "happy."
The Real Deal
Rebecca is flawed and perfect, loyal and dishonest at times. She sometimes loves others too much and cares too little about her own well-being. Her obsession with getting back together with Josh ultimately leads her down a harmful path, one in which she bases her whole existence and her happiness on being with him. In the process she hurts people, she lies to people, and she shuts people out. And finally, when she gets what she wants: an engagement, a wedding, she is left at the altar. Her reaction to being dumped by her one true pairing sends her back to New York, where she tries to find comfort in the arms of her overbearing mother (Tovah Feldshuh). And in the show's more serious moments, Rebecca attempts to overdose on anxiety medication as a result of her feelings of hopelessness, helplessness, and rejection.
But this show is about self-love, redemption, second chances, and the seriousness of mental illness. As Rebecca recovers from her near-fatal overdose she discovers that her depression was misdiagnosed and what she really has is Borderline Personality Disorder, a mental illness that affected her moods, her behaviors, and her decision-making.
With this new diagnosis, Rebecca begins to work on herself. She starts to reevaluate her relationships with her friends, and approaches her romantic relationships with Josh, Nathaniel (Scott Michael Foster), and Greg (Santino Fontana/Skyler Astin) in a very thoughtful, careful way. And just when everything starts to go well for her, she begins to ignore her treatment and medication, which results in a chain of self-injurious choices. After confronting her ex "Tyler" (depression) Rebecca accepts that she can't do any of this alone.   
Why She Matters
Why does Rebecca matter? In Season 4, the theme song characterizes Rebecca as "spunky, sweet, a generous friend, snarky, sarcastic" and that there wasn't a common theme between these traits. But I would say that the common theme here is "being human."
Everyone can relate to Rebecca in some way. We have all made bad decisions. We have all done things that we thought was for the best, but it ended up making things worst. We have all fallen in love, and we have all thought that if we could just obtain that one thing we think is missing from our lives, then we would be truly happy. Sometimes life works out that way, and other times it is a roller coaster of disappointment and triumph.
We have all had feelings of depression, anxiety, and low self-esteem. We have all had fears of rejection and we have all based our self-worth on how others think of us. We have also made the hard decision to move on from something that hurts us, and we have all found a sliver of hope when we thought all hope was gone.
So be like Rebecca. Be genuine. Be a good friend. Know what you want in life and admit when you've made mistakes. Learn to accept and love yourself. Know that you can ask for help and know that you can't do this alone. And if you need to, sort your life into a series of incredible musical numbers.  
RELATED: Who's your Crush of the Week? Check out our past Geek Girl Authority Crushes Here!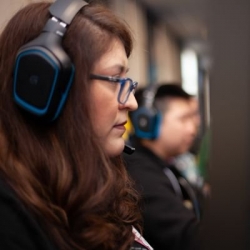 Latest posts by Renee Lopez
(see all)