All right Vault Hunters, we had some amazing news coming out of PAX East. Gearbox Software officially announced the long-awaited Borderlands 3 to a very excited crowd. The game was teased yesterday with an ultra-stylish "Mask of Mayhem" trailer which sent people on a speculation frenzy as to what it all could possibly mean. Some were hopeful and some were skeptical, but in the end, we're finally getting the game we have waited for since Borderlands: The Pre-Sequel.
As far as what to expect from this game or a possible release date, tere was no other information given during the Gearbox presentation. However, we can expect to find out more information next week on April 3rd.
Now the official reveal trailer shows us some incredible things. Some old favorites are back including Lilith, Brick, and Mordecai from the original Borderlands, Maya and Zer0 from Borderlands 2, Rhys from Telltale Games' Tales from the Borderlands, and Claptrap, Tiny Tina, Sir Hammerlock, Ellie, and Marcus.
RELATED: Major Titles from Quantic Dream Are Heading to the Epic Games Store
The trailer also introduced four new Vault Hunters who will have different abilities. One of them seems to have some elemental abilities (probably a Siren), one looks to have some tech abilities, one has demolitions abilities (maybe a Commando) and the other brandishes a melee weapon and can use heavy guns (Berserker or Gunzerker). We also have two new baddies, who seem menacingly enough. In one scene we can see them hovering over a crawling Lilith. Maybe they're after Vault Hunters? Either way I'm sure they're going to make life difficult.  
We will also be able to travel to other worlds, so we won't be playing in the same desert landscape that we're so used to. There is a very modernized, Blade Runner-inspired city, a jungle world (which has dinosaurs), and another desert world. Does this mean space vehicles? Or portals? I'm hoping for space vehicles.
In addition to the big Borderlands 3 announcement, Gearbox also announced that the Borderlands: Game of the Year Edition remaster will be released on April 3rd for PC, Xbox One, and PlayStation 4. This remaster will feature enhanced graphics, all the DLC packs, quality-of-life improvements, and will support 4K. Borderlands 2 and Borderlands: The Pre-Sequel are also getting 4K texture packs.
You can watch the trailer below. Judging by the trailer, we are in for a wild, cell-shady ride and I am absolutely looking forward to it.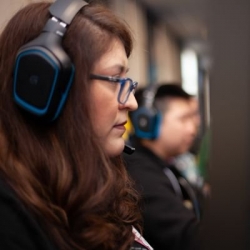 Latest posts by Renee Lopez
(see all)