It didn't take long for people to surmise that last week's teaser image on the Larian Studios website was referring to Baldur's Gate III (thank you page source), but the news has been made official. Yes, we are getting Baldur's Gate III and it will be out on PC and Google Stadia.
The game is being developed by the Divinity: Original Sin II team in collaboration with Wizards of the Coast and it will be based on the current Dungeons and Dragons 5th Edition rulebook.
According to the press release Baldur's Gate III will "push the boundaries of the RPG genre and offer a rich narrative with unparalleled player freedom, high-stakes decisions, unique companion characters and memorable combat." Larian Studios claims that the game will be its "biggest production ever" and I would agree. It will not only be Larian Studio's biggest production but also the one with the highest expectations. After all, Baldur's Gate holds a special place in the hearts of RPG and D&D players alike.
"Baldur's Gate means so much to so many people. It's a great responsibility but I think we're ready for it," said Swen Vincke, Creative Director at Larian Studios stated in the release. "We're all about creating reactive, systemic worlds that respect player agency and having a chance to apply our team's skillset in a universe as rich as Dungeons & Dragons is a lot of fun. We're working very closely with Wizards to bring an unprecedented level of immersion to the realm of Faerun and I can't wait to show the world what our team cooked up."
The game will feature both co-op and a single-player adventure. No additional information was given about the game and the official website links to the announcement teaser.
RELATED: June 2019's Most Anticipated Games
You can watch the teaser below and see what we have to look forward to in this new edition of Baldur's Gate. Personally I cannot wait to for this game. Even though we have the enhanced editions, it has been almost 19 years since BioWare, Black Isle Studios, and Interplay gave us Baldur's Gate II. It's time for a new adventure!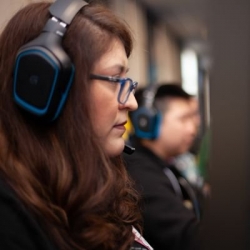 Latest posts by Renee Lopez
(see all)