If you haven't had the opportunity to play Little Nightmares, I highly recommend you do. This indie psychological horror game is one of the best games out there, with its nightmarishly exaggerated enemies and compelling story. And fortunately for fans of the game, Little Nightmares II is releasing on February 21, 2021.
At Gamescom 2020, publisher Bandai Namco released a new trailer. In it we see the new main character, Mono, a little boy trapped in a nightmarish world. Alongside him is the protagonist from the first game, Six. Together they navigate through this grim world of monsters, solving puzzles and running from terrifying characters like the Hunter and the Teacher.
"We are really excited to finally be able to show more about Little Nightmares II, a year after the announcement at Gamescom 2019", said Lucas Roussel, Producer on Little Nightmares II in a press release. "We wanted to spend more time on the game and give it even more love, so we could create the best possible experience to delight our passionate fans."
RELATED: Keep up to date on GGA's Gamescom 2020 Coverage
On Friday, we got to see 15 minutes of gameplay from the starting Wilderness area. Those who have played the first game will see the similarities in game mechanics, overall style and unsettling music. For new players, you can see how Mono reacts to the environment by climbing, running and manipulating objects to escape traps and overcome obstacles. And with the addition of Six as your partner, the co-op mechanic looks fluid.
You can see the trailer and gameplay footage below and you can find out more information about the game on the official website.
Little Nightmares II will be released for the PC, PlayStation 4, Xbox One and Nintendo Switch.
Trailer
Gameplay Footage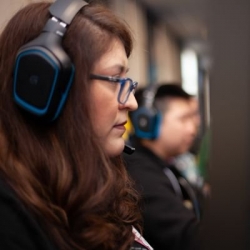 Latest posts by Renee Lopez
(see all)