Gamescom 2020 is finally here! 2020 has been an… interesting… year, but at least we can look forward to some good news coming out of the games industry. Today, BioWare released a short behind-the-scenes featurette on the making of their upcoming game, Dragon Age 4.
Set to the theme of Dragon Age Inquisition, the short film features the BioWare team looking back at the growth of the company. It's definitely been an emotional journey for all those involved in the Dragon Age franchise since DA: Origins released in 2009.  
"The world of Dragon Age really has got it all. It's got frontier stories. It's got mystery. It's got hard-boiled detective stories. And of course it's all wrapped up in kind of a fantasy setting," says Creative Director Matthew Goldman.
"For the game we are working on now, we want to tell a story: what happens when you don't have power? what happens when the people in charge aren't willing to address the issues?" adds Lead Writer Patrick Weekes.
Judging by the featurette, we are in for quite an adventure in Dragon Age 4. The concept art showcased reveals a world of new monsters, new locations and new characters we meet along the way. As we know, the story will center on the Dread Wolf we love to hate, Solas. Gareth David-Lloyd is back to voice Solas along with newcomers Jee Young Han (Bellara) and Ike Amadi (Davrin). No word yet on which characters from previous Dragon Age games will be making their appearance. 
RELATED: Keep up to date on GGA's Gamescom 2020 Coverage
No release date was announced for Dragon Age 4, but if BioWare keeps releasing these behind-the-scenes features, it might just tide us over. For now, we can at least go back and do multiple playthroughs of Dragon Age: Origins, Dragon Age II and Dragon Age: Inquisition. 
You can watch the featurette below for a look into how they use motion capturing and more insights from the BioWare team. For more information about the game, check out the official website.
Featurette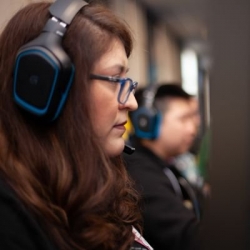 Latest posts by Renee Lopez
(see all)