It's almost time for Season 6 of Game of Thrones. The latest teasers from HBO feature three battle worn banners bearing the sigils of once powerful houses – Stark, Lannister and Targaryen.
The Stark teaser has the horribleness that is Ramsay Bolton's voice claiming Winterfell. What a bastard! (See what I did there?)
The Lannister teaser exhorts that if the family sticks together they can take over the empire no matter their poverty. All this while you hear the Shame Lady in the background. Perfect.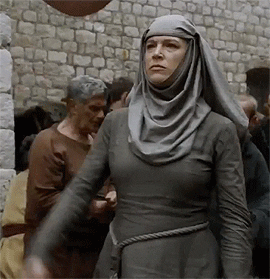 The Targaryen teaser has an ominous voice telling Daenerys that she is Khaleesi of Nothing. Some fans think the voice in the teaser is Khal Jacqo.
Looks like Season 6 is going to be pretty dark – and that's saying something!
Game of Thrones Season 6 premieres in April, 2016.
Follow Audrey Kearns on twitter here and Google+ here
Follow Geek Girl Authority on twitter here and Google+ here
Latest posts by Audrey Kearns
(see all)