Welcome to this week's installment of F2P Friday, where we highlight our favorite Free-2-Play games. The video game market is oversaturated, and sometimes, hidden gems fall through the cracks. This is where we do the digging for you and feature a new F2P game every week that we know you will enjoy. Let's dive in!
Jacktus Green
Welcome to Sofrito Town, a fantasy city set in the Wild West, ruled by plants! Help Jacktus Green, a bounty hunter, who has been tricked into betting his pet Cattus in a poker game against the dangerous outlaw Guindilla. She is planning to use Cattus to find golden avocados, and Jacktus wants to recover his beloved friend.
RELATED: Check out more from our F2P Friday Series!
The Basics
Jacktus Green: The Fluffy, the Spiky and the Spicy is a 2.5-D puzzle platforming game set in an adorable wild west town. The levels are set up for linear gameplay that will have you jumping, dashing and hooking your way through the levels in pursuit of your pokey companion. Even though there aren't any open world elements, I would still classify Jacktus Green's story as an action-adventure with some light puzzle elements. 
Why Should I Play?
So why should you step into the boots of Jacktus Green? Like a lot of other free games Jacktus Green: The Fluffy, the Spiky and the Spicy is a tightly condensed experienced that can be finished in one sitting so it's the perfect game to fit in before you launch your next epic campaign. 
The comedy and character designs of the citizens in the world are what really drew me in though. I'm a big fan of  West of Loathing so the writing and vibe of this game were right on *point* for me. Developer Broncho Games did a great job nailing the atmosphere on this game. 
RELATED: 6 Awesome Indie Games on Nintendo Switch
I did encounter a few bugs while trying to launch that game that crashed it, but once it was going I found the gameplay tight and responsive. The music and soundscaping in the game are also very pleasant, adding to the overall experience and more than making up for launch bugs. 
Have a F2P game you'd like us to check out? Played this one before? We love to hear from you gamers in the comments! Ready to wild out in the old west? You can download Jacktus Green: The Fluffy, the Spiky and the Spicy on Steam here!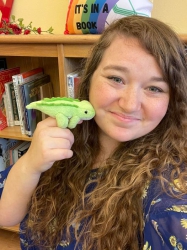 Latest posts by Lauren Darnell
(see all)