Rockstar Games has recently announced that there will be four new versions of their 2011 blockbuster game, L.A. Noire, launching on November 14th.
The game will be remastered for the Nintendo Switch, PlayStation 4, and Xbox One. There will also be a VR version of the game, L.A. Noire: The VR Case Files, which will feature a select number of case files from the original game made for the HTC VIVE.
The Nintendo Switch version of the game will feature the original game and DLC. It will also have a Joy-Con mode with "gyroscopic, gesture-based controls, HD rumble and a new wide and over-the-shoulder camera angles." The game will also feature touch screen controls for portable play.
Both the PlayStation 4 and the Xbox One versions of the game will feature the original content plus DLC. The game will have technical advancements to allow for 1080p resolution on the PlayStation 4 and Xbox One and ultra-high definition 4K resolution for the PlayStation 4 Pro and Xbox One X. There will also be "enhanced lighting and clouds, new cinematic camera angles, and high resolution textures."
These updates are great news for players who loved the 2011 game. Set in Los Angeles in 1947, the game immersed players into the seedy underbelly of the city, where moral ambiguity ruled the streets and it was hard to distinguish between the "good" cop and the "bad" guy. You play the protagonist Cole Phelps (Aaron Staton), an LAPD officer who is promoted to detective. Throughout the game, Cole solves difficult cases and makes a name for himself, but after making a questionable decision, his whole career is put in jeopardy. Not only that but there are shady dealings abound, and he finds himself in the middle of a major defraud plot and is targeted by prominent members of Los Angeles.  
The game featured a talented list of actors and actresses who not only lent their voices to the game, but also their faces. L.A. Noire was one of the first games to use motion caption, utilizing the technology developed by Depth Analysis. This gave players the ability to read facial expressions when interrogating witnesses; a slight twitch of the eyebrow or a look of doubt would prompt Cole to question the witnesses further. 
The remastered version of L.A. Noire brings a sliver of hope that older Rockstar Games titles could also get the remastered treatment at some point like Grand Theft Auto: San Andreas, Grand Theft Auto IV or Red Dead Revolver.
The game is available for pre-order now through the game's official website. 
Now that L.A. Noire is making its return to consoles, how do you feel about it? Comment below or on Twitter.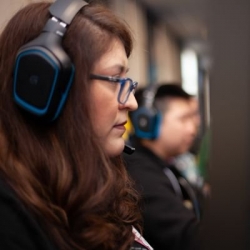 Latest posts by Renee Lopez
(see all)