Two weeks ago, Renton-based Wizards of the Coast – the legendary game publisher responsible for Dungeons & Dragons and Magic: The Gathering – announced a new Austin-based game development studio called Archetype Entertainment. Archetype drew a lot of attention for hiring two veteran Bioware developers – James Ohlen (Baldur's Gate II: Shadows of Amn, Star Wars: Knights of the Old Republic, Dragon Age: Origins, and more) and Chad Robertson (Anthem) – to head the new studio. Yesterday, Wizards announced they added another Bioware luminary to that roster: Drew Karpyshyn. Karpyshyn is probably best known for being the Lead Writer for the first Mass Effect and Mass Effect 2.
Drew Karpyshyn is also well known for being a Senior Writer for Star Wars: Knights of the Old Republic. However, few gamers may be aware of the fact that Karpyshyn actually started his career as a game designer and writer for Wizards of the Coast. In fact, one of the major reasons Karpyshyn was hired by Bioware in the first place – to write for Baldur's Gate II – was because Karpyshyn had already been writing material and novels for Baldur's Gate and the Forgotten Realms setting as a whole.
After writing for Mass Effect 2 was finished, Drew Karpyshyn moved to Austin, Texas to help the still-developing Star Wars: The Old Republic. Karpyshyn would work off-and-on for various projects such as SWTOR and Anthem, before finally leaving Bioware in 2018 to pursue freelance writing and gaming work. On his personal website, Karpyshyn detailed how he began to lose enthusiasm and excitement for what he had once considered his dream job. "But as we [Bioware] grew and became more successful, things changed. We became more corporate." Karpyshyn writes, "We were less able to make what we loved, and the teams were pushed to create games based on market research rather than our creative instincts and passions."
RELATED: WIZARDS OF THE COAST Joins Forces with Former BIOWARE Devs for Sci-Fi RPG
What draws Drew Karpyshyn to Archetype Entertainment is how much the small-but-growing studio reminds him what he terms Bioware's "early days" – from Baldur's Gate II in 2000 to Dragon Age: Origins in 2009. "But with Archetype, my passion has been rekindled…I can feel the magic in the air." Karpyshyn teases, "And even though I can't get too deep into the specifics of what we're working on yet, we're already generating plenty of excitement in the industry."
Considering Drew Karpyshyn's wealth of experience writing for science fiction universes like Star Wars and Mass Effect, it is fair to say that the excitement for Archetype's highly-anticipated "multiplatform role-playing game" is greatly warranted! But do you agree? What do you think of Drew Karpyshyn joining Archetype Entertainment? Keep an eye on Geek Girl Authority, and we'll keep an eye on all the news to come from Archetype Entertainment, Wizards of the Coast, and all your favorite video games and tabletop games!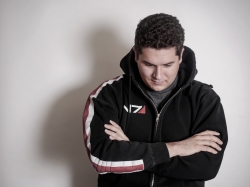 Latest posts by Tyler Boyce
(see all)