The start of summer is here! As some parts of the country are enjoying record breaking heat, Heroes of the Storm would like remind everyone that it's also summertime in the Nexus.
For a limited time, between now and July 24th, players can take part in the "Sun's Out, Guns Out" event which will give players a chance at new skins, new mounts, a new brawl and a special summer sweepstakes.
New Skins, Mounts, Emojis, etc.
There are a ton of new skins and mounts available during this event. You can earn the legendary skins for Tychus, Power Briefs Tychus and Power Drench Tychus. Also available is:
Artic Power Drench Tychus
Dark Power Drench Tychus
Verdant Power Drench Tychus
Zergy Power Drench Tychus
Azure Power Briefs Tychus
Onyx Power briefs Tychus
Pink Power Briefs Tychus
Tanned Power Briefs Tychus
Tracer will also have an epic skin, Slip 'N Stream Tracer. In addition you can get:
Azure Slip 'N Stream Tracer
Heatwave Slip 'N Stream Tracer
Hyper Slip 'N Stream Tracer
Verdant Slip 'N Stream Tracer
And finally Stitches will have his epic skin Bikini Stitches, which has been available for some time. There will also be:
Azure Bikini Stitches
Fuchsia Bikini Stitches
Heatwave Bikini Stitches
Lifeguard Bikini Stitches
Pink Bikini Stitches
Verdant Bikini Stitches
Zebra Bikini Stitches
As for mounts, there are the epic Surfboard and Sharkbite Surfboard options, plus:
Coastal Surfboard
Murky Surfboard
Riptide Surfboard
Webbed Surfboard
Murky Sharkbite Surfboard
Riptide Sharkbite Surfboard
Webbed Sharkbite Surfboard
There will also be new portraits, sprays and emojis to help celebrate the summer.
You can also buy the Sun's Out, Guns Out Bundle which includes 7 items: Stitches, Tychus, Tracer, Power Drench Tychus, Slip 'N Stream Tracer, Bikini Stiches and the Surfboard mount.
New Brawl: Pull Party
A new Pull Party Brawl will start on June 30th and end on July 6th. The brawl is a 5v5 with Bikini Stitches. You will face the opposing team across a pool and you will need to pull them across using Stitches' Hook ability. The first team to 20 kills wins.
During this brawl, Hook will have a reduced cooldown, but will travel slower and farther. There will be no levels, no other abilities to use and no talents. Helping Hand will be active at all times, which means you can Hook allies as well as enemies. Using Hook on an ally will prevent an enemy kill.
If you complete three Brawls, you will earn a Sun's Out, Guns Out loot chest.
After July 6th and until July 28th, weekly Brawls will award one Sun's Out, Guns Out loot chest.  
For more information on the Sun's Out, Guns Out event, you can check the website.
Summer Sweepstakes
If new skins and loot chests aren't enough, there is also a Summer Sweepstakes that will give players a chance to win some epic prizes. The sweepstakes starts on June 27th and will run through to July 24th. Each day winners will be chosen to score some fantastic prizes. To enter, you just have to win a game in any mode during that time period and your name will automatically be added to the drawing. For more chances to win, you have to win a game each day. This gives you 7 chances to win a prize in a week.
Common Prize: 5 Loot Chests for 100,000 winners.
Rare Prize: 50 Loot Chests for 10,000 winners.
Epic Prize: All the Digital Deluxe versions of 6 Blizzard games (Diablo III, StarCraft II, Overwatch, Heroes of the Storm, World of Warcraft, Hearthstone) plus $250 Blizzard Balance for 50 winners.
Epic Prize: 30 Legendary Skins for 50 winners.
Epic Prize: Illidan Statue for 10 winners.
Legendary Prize: Full PC rig plus a mouse, keyboard and headset for 1 lucky winner.
Grand Prize: At the end of event, everyone's name will be submitted for a chance to win an all-expenses paid trip to BlizzCon 2017 including 2 tickets for 2 winners.
Everyone be sure to get in your games and hopefully you'll be lucky to win one of these prizes. I'll be crossing my fingers for a new rig or some BlizzCon tickets.
You can watch the event trailers below and we'll see you all in the Nexus.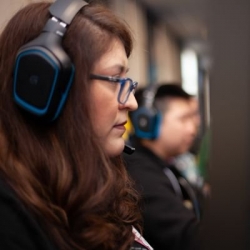 Latest posts by Renee Lopez
(see all)