Five Nights at Freddy's: Security Breach is receiving its first DLC, titled Ruin. According to developer Steel Wool Studios, this will be a free expansion. We got an early look at this a few months ago thanks to a leak and fans have been speculating every sense, but today we got some solid answers. This is everything we know about the Five Nights at Freddy's: Security Breach Ruin DLC so far:
RELATED: May's Most Anticipated Video Games
First, the main game, Five Nights at Freddy's: Security Breach, has a vastly different play style and look when compared to earlier games in the franchise. Rather than the typical security guard role, players direct Gregory, a boy who's been trapped inside Freddy Fazbear's Mega Pizzaplex overnight.
The ending of Security Breach is branching and depends on the player's actions throughout the game, but this DLC confirms that Gregory's story isn't over with just one night at Freddy Fazbear's… Probably. While we do hear Gregory speak in the new trailer, we don't actually see him. I'm not entirely convinced that he is really there just yet. 
RELATED: GGA Game Review: Animal Shelter Simulator
That being said, it seems like the protagonist of FNAF: Security Breach Ruin DLC will be the young girl shown in the teaser image and identified as "Cassie" in the newest trailer. Stalking her through the Pizzaplex, and my nightmares, are the now severely degraded Glamrock animatronics which makes me wonder how much time has passed since Gregory's story. 
Set your alarm for this July so you don't miss the release of the Five Nights at Freddy's: Security Breach Ruin DLC. Be sure to check out the brand-new trailer linked below and comment all your FNAF fan theories!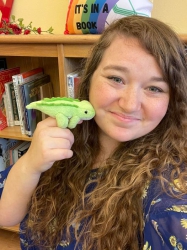 Latest posts by Lauren Darnell
(see all)