Fans eagerly awaiting news about the Tomb Raider reboot will have to wait no longer. Yesterday, Vanity Fair released the first two images of the movie and the plot synopsis.
Official plot synopsis: "Seven years after the disappearance of her father, 21-year-old Lara has refused to take the reins of his global business empire, instead working as a bike courier in London while taking college classes. Eventually she becomes inspired to investigate her father's disappearance and travels to his last-known location: a tomb on an island somewhere off the coast of Japan. Suddenly, the stakes couldn't be higher for Lara, who—against the odds and armed with only her sharp mind, blind faith and inherently stubborn spirit—must learn to push herself beyond her limits as she journeys into the unknown. If she survives this perilous adventure, it could be the making of her, earning her the name Tomb Raider."
The movie, coming out March 16, 2018, stars Alicia Vikander (Ex Machina, The Danish Girl) as the character Lara Croft, the heroine of the Tomb Raider movies and video game franchise.  Also starring in the reboot will be Dominic West (The Wire, The Affair, 300) as Lord Richard Croft (Lara's father), Daniel Wu (Into the Badlands, Warcraft) and Walton Goggins (The Shield, Justified, The Hateful Eight) as Father Mathias Vogel, the main villain.
Norwegian director Roar Uthaug will take the helm with a script written by relative newcomer Geneva Robertson-Dworet (Transformers: The Last Knight).
The first Tomb Raider game, released in 1996, was developed by Core Design and published by Eidos Interactive. The franchise has switched a few hands since then, with games now being developed by Crystal Dynamics and published by Square Enix. The game series was rebooted in 2013 when Tomb Raider was released for PC, PS3 and Xbox 360, the first game of a new trilogy. The second game in the trilogy and the most recent release, Rise of the Tomb Raider, came out in November 2015. The third game in the trilogy has yet to be announced.
And like the video game reboot, the new movie will also be a reboot for the movie franchise that started with the release of Lara Croft: Tomb Raider, starring Angelina Jolie, in 2001. The second movie, Lara Croft Tomb Raider: The Cradle of Life was released in 2003. Even though both movies enjoyed some success at the box office, they were poorly received by fans and critics.
In looking at the newly released photos, Lara Croft's style holds true to the rebooted version of the video game character. No longer is she wearing the iconic shorts and mid-drift bearing tank top, instead she sports cargo pants and a tucked in tank top. The new style makes much more sense when she's trudging thorough snow-covered mountains or climbing up treacherous cliffs.
Rebooted Lara Croft from Tomb Raider (2013)
New Movie Photos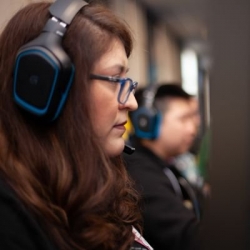 Latest posts by Renee Lopez
(see all)