Based on the best-selling PlayStation 4 exclusive, the Horizon Zero Dawn #1 comic book is officially releasing this summer 2020!
Horizon Zero Dawn #1 is set after the events of Horizon Zero Dawn, and before the upcoming Horizon Forbidden West. Talanah Khane Padish, Sunhawk of the Hunters Lodge, struggles to find her purpose after her Thrush, Aloy, disappeared after the near-apocalyptic Battle of Meridian. When a mysterious new threat emerges in the wilds of the Carja Sundom, Talanah reunites with Aloy to hunt a whole new breed of killer machines.
RELATED: HORIZON FORBIDDEN WEST Won't Release Until 2021
Based on four pages exclusively revealed through Polygon, these new machines are the velociraptor-like Claw-Striders. The Claw-Strider can also be seen on promotional artwork for Horizon Forbidden West, suggesting that the events of the comic book might help explain Aloy's motivations for heading into the Forbidden West.
Horizon Zero Dawn #1 is published by Titan Comics, and co-created by Anne Toole (a writer for the Horizon Zero Dawn video game) and fan-favorite artist Ann Maulina.
The comic book was initially scheduled for release on July 22, 2020, but it was delayed due to the ongoing COVID-19 pandemic. The new and current release date is August 5, 2020, the same week as the much-anticipated PC release of Horizon Zero Dawn. You can pre-order Horizon Zero Dawn #1 now from Your Friendly Neighborhood Comic Book Store!
Are you ready to see Aloy team up with Talanah to hunt new Machines? Or do you just want to get a PS5 already so you can hunt giant robot dinosaurs yourself? Either way, Geek Girl Authority will keep an eye on Horizon and beyond for more news on all your favorite comic books, games, and more!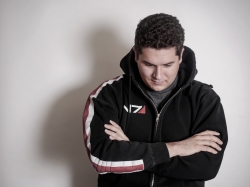 Latest posts by Tyler Boyce
(see all)