If you needed a feel good story for today, then here's one of gamers and non-gamers coming together for the greater good. In June, Square Enix, in collaboration with the American Red Cross, launched the Final Fantasy XIV: Stormblood drive.
The campaign started a few days before the release of the second Final Fantasy XIV expansion. A Stormblood-themed bloodmobile was at the Los Angeles Convention Center for E3 2017, and it also made visits to Southern California college campuses throughout the months of June and July.
The blood drive was a success with over 400 pints of blood donated, and over 1,200 lives saved across the country. Final Fantasy XIV Online Producer and Director Naoki Yoshida also presented a $50,000 donation to the American Red Cross.
There is also a video which documented the whole campaign that you can watch below. For more information on the results of the drive, you can go to the Stormblood drive website.
In a time like this, with Hurricane Harvey and Hurricane Irma leaving a path of devastation across the southern states, it's good to be reminded of the everyday heroes willing to step up and help out the best they can. The gaming community, in particular, has consistently proven to be one of the most giving, contributing to drives like the Stormblood one, and to ones like Blizzard Entertainment's Make-a-Wish campaigns, the Extra Life 24-hour gaming marathon which supports the Children's Miracle Network Hospitals, and Penny Arcade's Child's Play charity.
I hope that this will not be the last Stormblood drive we see and that Square Enix makes this an annual campaign.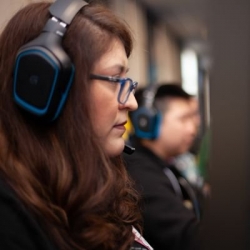 Latest posts by Renee Lopez
(see all)