If you have been enjoying the latest Final Fantasy XIV expansion Stormblood, then you've probably been waiting patiently to hear more about the next major patch coming up for the game. Today Square Enix announced the details for the upcoming Patch 4.1, The Legend Returns.
This patch, launching in October, will be the first major patch of this new expansion. During the 14-hour livestream celebrating the 4th anniversary of the Final Fantasy MMO, Online Producer and Director Naoki Yoshida discussed in great detail the new content that will be coming with the patch including:
A new main quest and side quests.
A new primal battle.
An Ultimate difficulty raid called "The Unending Coil of Bahamut."
A new 24v24 match called "Rival Wings."
Adventurer squadron updates.
A new dungeon instance called "The Drowned City of Skalla."
New beast tribe quests.
Along with this new content will be a new 24-player Alliance raid called "Return to Ivalice." The raid will be written by guest creator Yasumi Matsuno, the writer behind Final Fantasy Tactics and one of the writers of Final Fantasy XII. You can see in The Legend Returns poster that we will encounter some very familiar faces from the Final Fantasy Tactics game, specifically Ramza Beoulve and Delita Heiral. This will be the first time that we see Ivalice in Final Fantasy XIV and by the looks of it, it's going to be a beautiful place to see.
In addition to the new content, Square Enix announced the return of the Level 5's Yo-kai Watch event. This is event, which you can learn more about here, is an exciting way for players to get their hands on new minions, new weapons, and a new mount. The event started on September 3rd and will end on November 1st at 7:59am PST.
You can see The Legend Returns poster below and a piece of artwork from the new content in the Gallery below.
What do you think about the new content? Let me know in the comments below or on Twitter.
Final Fantasy XIV is available for PlayStation 3, PlayStation 4, Windows and OS X. Final Fantasy XIV: Stormblood, the latest expansion, was released on June 20, 2017. 
Gallery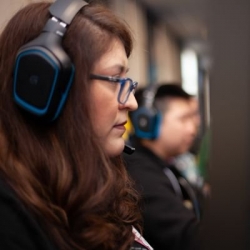 Latest posts by Renee Lopez
(see all)