There's no denying the influence that Final Fantasy series has had on the lives of gamers everywhere. Many of us grew up playing the first Final Fantasy game on the Nintendo Entertainment System, and fondly remember playing games like Final Fantasy IV, Final Fantasy VI, Final Fantasy VII, Final Fantasy Tactics and so on.
This year marks the 30th anniversary of the beloved franchise. Throughout the year there have been national and international celebrations, from Fan Fests to special convention events. And the celebration isn't slowing down. Square Enix just recently announced the Final Fantasy 30th Anniversary: A Legacy of Art exhibition at the Gallery Nucleus in Alhambra, California, about 10 miles from Downtown Los Angeles.
This free special art exhibition will run from December 2, 2017 to January 7, 2018 and it will highlight official artwork from the Final Fantasy series. There will also be tributes from various artists including Helen Chen, Jisoo Kim, Joey Chou, Perry Maple Dixon, and Sachin Teng as well as an auction for selected pieces of work.
Filming and photography will be allowed, and cosplay is welcomed and encouraged.
You can find out more about the event via the A Legacy of Art website and there will be more announcements to come.
Below you can watch a video message from the creator of the series, Hironobu Sakaguchi, and producer Shinji Hashimoto.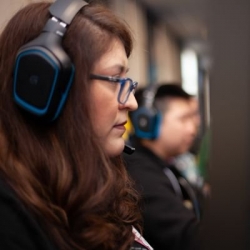 Latest posts by Renee Lopez
(see all)