This year, the Studio Ghibli fest will feature all 10 of the Hayao Miyazaki-directed films for Studio Ghibli and a specially-filmed stage adaptation. The dates for each movie are now available, and you'll be delighted to hear they might come to a theater near you as GKIDS partners with Fathom Events to re-release the films selectively. This year has added more screening dates to meet increased fan demand so you can catch every movie.
Here's the 2023 lineup.
My Neighbor Totoro (1988) – March 25-29
My Neighbor Totoro isn't the new kid in town, celebrating its 35th anniversary, and the beloved film has the honor of kicking off the movie fest this year. It's about a pair of sisters who move to the country to be near their ailing mother, meet Totoro and go on adventures with the other wondrous spirits who live in the forest nearby. 
SPIRITED AWAY: Live on Stage (2023) – April 23 and 27
This year's second film in the lineup is the first-ever North American screening of SPIRITED AWAY: Live On Stage, featuring two full performances filmed during the production's acclaimed run in Tokyo last year. I attend Studio Ghibli fest every year, and this stage adaptation is my most anticipated release yet. I will not be missing these dates. 
RELATED: 10 Women Who Voice Popular Male Characters
Ponyo (2008) – May 7, 8 and 10
We will also get another chance to watch Ponyo this year to celebrate its 15th anniversary. A five-year-old boy develops a relationship with Ponyo, a young goldfish princess who longs to become a human after falling in love with him. Think the theatre will mind if we sneak in some ham to snack on?
Kiki's Delivery Service (1989) – June 11, 12 and 14
The high-flying magic of Kiki's Delivery Service has returned to Studio Ghibli fest again. It is tradition for all young witches to leave their families on the night of a full moon to learn their craft. That night comes for Kiki, who follows her dream and embarks on the experience of a lifetime. This is one of my comfort movies, so I'm always happy to rewatch it on the big screen. 
Nausicaa of the Valley of the Wind (1984) – July 9 and 11
Nausicaa of the Valley of the Wind is an underrated favorite in the Studio Ghibli collection. A thousand years after a great war, a seaside kingdom known as the Valley of the Wind remains one of the only populated areas. Led by the courageous Princess Nausicaä, the people of the Valley are engaged in a constant struggle with powerful insects called ohmu, who guard a poisonous jungle that is spreading across the Earth.
RELATED: Anime Roundup: Everything Coming Out in March 2023
Castle in the Sky (1986) – July 10 and 12
Castle in the Sky is also making a return to the festival. Pazu finds a young girl, Sheeta, floating down from the sky wearing a glowing pendant. Together they discover both are searching for the legendary floating castle Laputa and vow to unravel the mystery of the luminous crystal around her neck. There are air pirates, secret agents and astounding obstacles to keep them from the truth.
Princess Mononoke (1997) – August 5-9
Princess Mononoke had the launch position last year for her anniversary, but she's back in the mid-summer spot this year. While protecting his village from a rampaging boar god, the young warrior Ashitaka becomes afflicted with a deadly curse. To find the cure that will save his life, he journeys deep into the sacred depths of the Great Forest Spirit's realm, where he meets San (Princess Mononoke), a girl raised by wolves. 
Porco Rosso (1997) – August 20 and 22
The high-flying, porky-mouthed pilot, Porco Rosso, is back on the big screen for the end of summer this year. If you've never seen this film, it is part Howl's Moving Castle and part Castle in the Sky with a mix of visuals and humor from both. When Porco has a run-in with a band of sky pirates, they hire a rival pilot to take him out. 
RELATED: 13 Ways Trigun Stampede Differs From the Original Anime
The Wind Rises (2013) – August 21 and 23
The Wind Rises is returning to theatres for its 10th anniversary and is the only film on the list that I don't know much about. Hailed as Miyazaki's farewell masterpiece, it follows Jiro, who dreams of flying and designing beautiful airplanes, inspired by the famous Italian aeronautical designer Caproni. The film chronicles much of his life, depicting key historical events, including the Great Kanto Earthquake of 1923, the Great Depression, the tuberculosis epidemic and Japan's plunge into war.
Howl's Moving Castle (2004) – September 23-27
Howl's Moving Castle is returning to tell the story of everyone's favorite heartless wizard boy. Sophie Hatter is cursed to take the form of an old woman after a chance meeting with the Wizard Howl puts her in the bad graces of the Witch of the Wastes. Embarking on an incredible adventure to lift the curse, she finds refuge in Howl's magical moving castle. 
Spirited Away (2001) – October 28-November 1
Bringing up the rear on Studio Ghibli Fest once again is Spirited Away. When Chihiro and her family take a shortcut while moving, they wind up at a seemingly abandoned amusement park. While exploring, her parents eat the food of the spirits and transform into pigs. The park isn't as empty as it appears and is full of spirits. Chihiro offers to work at the bathhouse to save them so they may all go home together. This movie is perfect for watching before Halloween with the whole family. 
RELATED: 8 Anime Opening Songs That Are Total Bops
Which film will you see this year? A can't-resist favorite, a new interest or will you try to catch them all? Whatever you decide, you can find the listings for the theater closest to you participating in Studio Ghibli Fest here.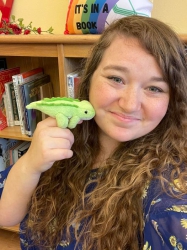 Latest posts by Lauren Darnell
(see all)