Earpers, April 9, 2021, is the airdate of Wynonna Earp's Season 4 finale. One year ago, "Old Souls" blessed us with an ethereal wedding ceremony, tender character beats and genuine happiness for our posse of dipsh*ts. It's a love letter to Earpers. 
So, in honor of this momentous anniversary, I compiled a list of my favorite Wynonna Earp moments. This endeavor wasn't easy, and it's in no way the be-all and end-all of lists pertaining to the series. Every moment of our sh*tshow is the best, just like tacos are tasty, and whiskey pairs best with doughnuts. 
RELATED: Revisit the Purgatory madness with our Wynonna Earp recaps!
"Heroes always win."
This show boasts some of the most inspirational quotes in TV history, and that's not hyperbole (although I am incredibly biased). Waverly (Dom P-C) boldly confronts Constance Clootie (Rayisa Kondracki) on the Homestead, uttering the warcry that would fuel a fandom's fire: "Heroes always win." Little did Clootie know that our heroes would prevail, and she'd be condemned to burial in a salt field from the neck down. 
WayHaught's first kiss
Waverly and Nicole's (Kat Barrell) first kiss burst the show wide open, giving birth to "WayHaught," the couple that took the Earper fandom by storm. Season 1 expertly builds on the sexual tension between Nicole and Waverly from the jump with the "wet t-shirt contest" incident amid their first meeting, culminating in a steamy moment on the couch. And the scarf! A Wynonna Earp best-of list isn't complete without this moment.
Wynonna and Dolls find Willa 
What happens when you find your older sister, who you thought was dead, entangled in a cult in a desolate, snowy forest? Wynonna (Melanie Scrofano) and Dolls (Shamier Anderson) discover that Lou (Gord Rand), a revenant, holds a group of women captive in the Pine Barrens, including Willa Earp (Natalie Krill). 
Of course, Wynonna assumed Willa died after her abduction the night The Seven raided the Homestead. This moment is undoubtedly a significant one in Wynonna Earp's history. 
"I am all in."
Wynonna's pregnancy surprises everyone, including our Peacemaker-slinging, titular heroine. Doc (Tim Rozon) is the father, and the news calls his loyalty to Wynonna and their future child into question. Thankfully, one handwritten note from our favorite cowboy alleviates our fears: "I am all in." Cue the sound of Earper hearts collectively swelling with joy. We are all in forever. 
Wynonna gives birth 
Melanie Scrofano is one of the most underrated performers working today. Earpers know full well about the depth and breadth of her immense talents, whether it's mining an emotional scene for nuance or executing a well-crafted dick joke. 
Wynonna giving birth to Alice Michelle is a gut-wrenching, bittersweet scene, especially since we know she must ensure her daughter's safe departure from Purgatory. Scrofano delivers one of her finest performances on the series, fully immersing you in the world of motherhood wherein there's almost too much love to give. 
Dolls' death and funeral 
Dolls is an instrumental part of Team Black Badge, and his sacrifice rocks our Purgatory crew to their collective core. His death is unexpected. I've always been a fan of Dolls, and I love his relationship with Wynonna and how they influence each other. Wynonna Earp crafts a beautiful sendoff for Dolls, and we get yet another stellar performance from Scrofano. 
If the scene where our gang tosses personal items in Dolls' grave doesn't induce even a modicum of emotion, you might be Dark Waverly. Wynonna giving Dolls her necklace is the icing on top of the "feels" cake. 
"I am here, and I stay."
Jolene's (Zoie Palmer) emergence in Purgatory ruffles more than a few feathers, even though only Waverly can see through her ruse. "Jolene" artfully explores the connection between Waverly and Jolene and blesses Earpers with an empowering quote courtesy of our angel: "I am here, and I stay." As someone suffering from major depression and anxiety, this line profoundly resonates with me. I'm even thinking about getting a tattoo.
It's a battle cry in every Earper's arsenal. Dom P-C also delivers a riveting performance. 
RELATED: Browse our Wynonna Wednesday installments here!
"Everything good that I have in my life is because I came back to the Ghost River Triangle."
"I Fall to Pieces" boasts some top-shelf Wynaught moments as we see their best friendship genuinely blossom. I probably should have added this to the list (sorry), but I wanted to include Nicole's father-daughter moment with Nedley (Greg Lawson). I love how the show develops the paternal relationship between Nicole and Nedley. It strikes a chord with me because my dad raised me, so I can't watch this scene without crying.
Her quote about returning to the Ghost River Triangle is a Wynonna Earp staple. 
Waverly getting pulled into the Garden
Hey, remember when we were left with this massive cliffhanger for two years before seeing the resolution unfold? After Wynonna defeats Bulshar (Jean Marchand), the Garden decides it wants Waverly, yanking her over the threshold and into the unknown. Thankfully, Doc volunteers to save our baby girl, jumping after her.
It's a heavy-hitting, pulsating, edge-of-your-seat moment, punctuated by the gorgeous acoustic version of Jill Andrews' "Tell That Devil." I get goosebumps whenever I think of this song coupled with Doc valiantly saving Waves. It's a metaphor for Earpers rallying together to rescue our sh*tshow. 
The stairs (wink, wink)
Did you know that after 18 months, three weeks and four days of abstinence, sex must be on the stairs, as per Wynonna Earp's (not) strict code of conduct? WayHaught's steamy sex at the Homestead after Wynonna, Doc and Waverly return from the Garden is pretty damn "haught." Enough said. 
Wynonna and Waverly's Halloween adventure
The Earp sisters have heartwarming moments aplenty in this show, but their Halloween escapades in "Hell Raisin' Good Time," when they lose their memories, are a genuine highlight. Scrofano and P-C play off each other so well, tapping into their inherent onscreen sibling chemistry. This outing allows them to showcase their comedic chops with spooky costumes, dumpster hiding and tag-team heroics in the Glory Hole. 
Dark Waverly 
Name someone with a sleeker fashion sense than Dark Waverly. I'll wait. She's like one of the cool girls in high school who smoked weed behind the bleachers on the football field. Dom P-C churns in one of their best performances, from their scenes with Jolene to the Dark Waverly transformation.
They change their physicality, and vocal cadence — even the tone of their voice deepens significantly, which is already difficult to do when speaking in an accent different from your own. Long live Dark Waverly. 
RELATED: Wynonna Wednesday: Let's Talk About Wynonna Earp Episode 412
"I am the angel shield."
Nicole successfully brings our Waves back from Dark Waverly's influence by dedicating herself to protecting the Ghost River Triangle. She becomes the angel shield, forever bound to the GRT. She even gets a symbol branded onto her neck, presumably one that keeps her within the confines of the GRT. It's a pivotal moment in Nicole's story and Wynonna Earp. 
Anyway, I'd love to see the ramifications of Nicole's sacrifice explored in a fifth season. 
WayHaught wedding 
"Old Souls" harbors several show-high moments. WayHaught's nuptials are pitch-perfect, complete with tear-inducing speeches (The nod to the bulletproof vest!), stunning decorations (The chairs!) and a celebration to remember with our posse of dipsh*ts. Jeremy (Varun Saranga) officiates the ceremony and gets promoted to the head of the Black Badge Division. Emily Andras crafts a compelling, utterly satisfying and exhilarating hour of television. 
Rachel (Martina Ortiz-Luis) sings a touching rendition of "Wildwood" by Fleurie, the song playing when Waverly and Nicole share their first kiss. It's the epitome of romance. I'm swooning as I type this.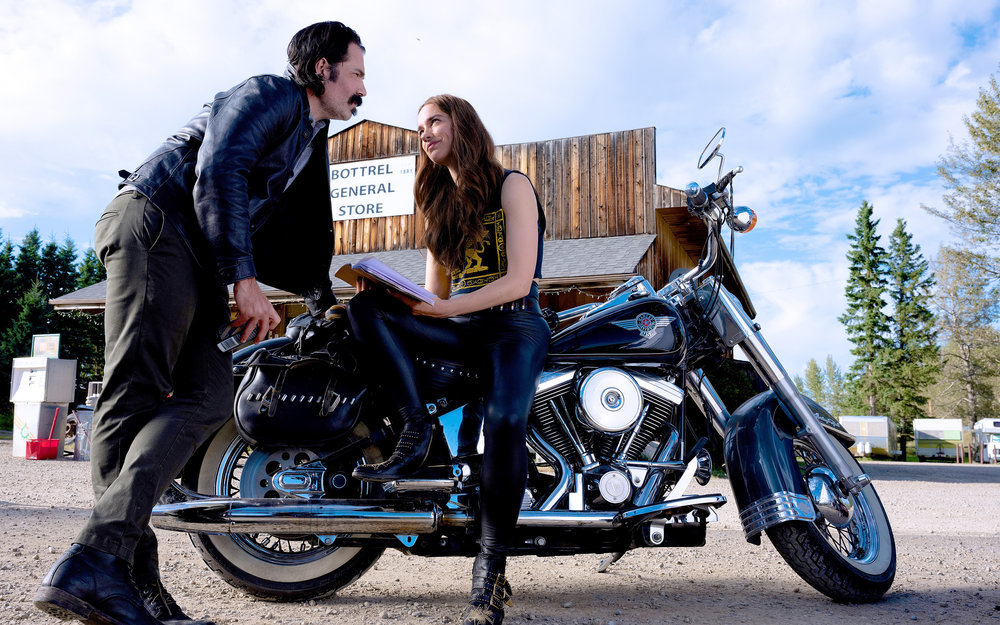 WynDoc in the Season 4 finale 
Melanie Scrofano and Tim Rozon's chemistry is on another level, and Wynonna and Doc's story is as enthralling as it is messy and frustrating (in a good way). After Dark Waverly frees Doc from his vampirism, he decides to leave Purgatory to see what else is out there.
It forces Wynonna to confront her feelings and make a life-changing choice. Rozon delivers his series-best performance, tugging at the heartstrings with his "group of souls" monologue to Wynonna. 
Then, Andras bestows WynDoc with a sweeping romance moment, and they ride off into the sunset together with Doc on the back of Wynonna's motorcycle. It's perfection at its Earp-iest. 
I want to think Wynonna and Doc eventually brought Alice back to Purgatory after their trip, and everyone resides at the Homestead together as one big, happy family. 
RELATED: How the Women of Wynonna Earp Inspire Me to Be Better
What are your favorite Wynonna Earp moments, Earpers? Sound off in the comments below!
Wynonna Wednesday: Theories for a WYNONNA EARP Season 5
Latest posts by Melody McCune
(see all)