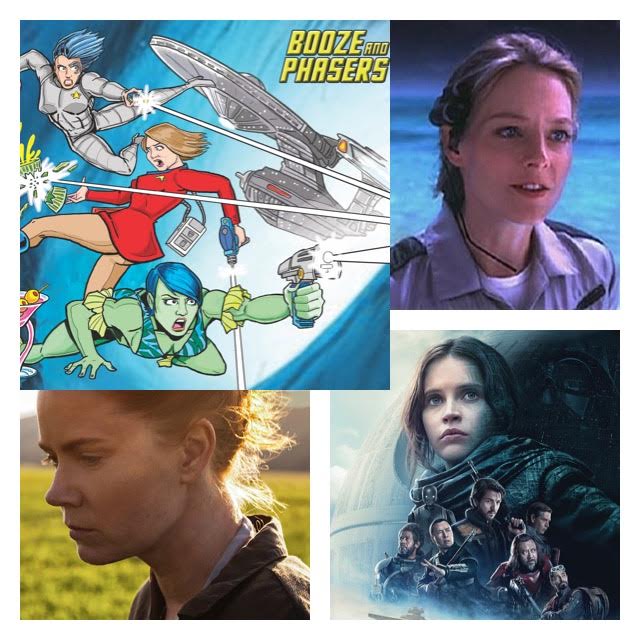 Favorite Alien movies and some badass trailers for Arrival, Rogue One &

 

Valerian

 with special guests Matt Iseman from American Ninja Warrior and Brian Bradley. 
Welcome to Episode 19 of Booze and Phasers! The podcast where Claudia Dolph, Audrey Kearns and guests drink Genre and talk booze…we mean, we booze Genre and drink phasers… wait a minute, green people, Gorn – ENERGIZE!
We're now on the Giant Size Team Up network! Check them out, here!
**************
We know that discussing our favorite Alien movies, or movies that feature aliens, can be a very broad topic but we got you! We covered them all! From Close Encounters to Galaxy Quest, Mars Attacks to Fire In The Sky, and everything in between. Which ones moved you, made you cry, made you laugh, made you think?
The gang jumps in and speculates about the badass movies coming out and their trailers, including Arrival, the international trailer for Rogue One and Valerian And The City Of A Thousand Planets. 
Thank you to our sponsor, Devotion Vodka. We didn't get around to creating a special drink, (its been a long week), so we leave it up to you! Choose your own Devotion Vodka drink cocktail adventure.
Enjoy episode 19 of Booze and Phasers! Also tweet us  @BoozeandPhasers or Facebook us with your thoughts or ideas for upcoming topics!
You can follow Audrey on Twitter, here. Follow Claudia on Twitter, here. And please follow our fabulous guests on Twitter, Matt Iseman and Brian Bradley.   Don't forget to visit Giant Size Team Up, here!
Live, Long And Prosper!
Boozerettes! We only have one more episode left in Season One so make sure and subscribe so you won't have to miss us so much during our hiatus!
Listen by clicking the 'play' button below or LISTEN HERE ON ITUNES or LISTEN HERE ON STITCHER!
Podcast (booze-phasers): Play in new window | Download
Subscribe: Apple Podcasts | RSS
Latest posts by Claudia Dolph
(see all)