Welcome to this week's installment of F2P Friday, where we highlight our favorite Free-2-Play games. The video game market is oversaturated, and sometimes hidden gems can fall through the cracks. This is where we do all the digging for you and feature a new F2P game every week that we know you will enjoy. Let's dive in!
Tukoni
Tukoni is a point-and-click puzzle game that follows the adventures of the titular Tukoni as he goes about his day. This soothing game is based on a series of award-winning books by the Ukrainian artist Oksana Bula and it shows. Tukoni is incredibly cozy and reminds me greatly of The Borrows and the Winnie the Pooh books with the soft coloring, woodland setting and the theme of using found objects. 
The Basics
Tukoni is introduced as a traveler, but he is more of an inventor and wanderer at heart. You start the day in your home with a small puzzle about making your morning tea that serves as the tutorial for the world. Tukoni is a collector, so much of the game will be spent identifying which objects in the illustrated world can be gathered up and tucked away in your acorn backpack to be used for puzzle solving later. In this way, the gameplay style and cozy vibes remind me very much of Kirby's Epic Yarn.
There are quite a few characters to meet during your travels. Tukoni's world is filled with his neighbors, who all seem to be having a rather lousy day and require some help. The character designs for residents of the forest are whimsical and are one of the game's biggest draws. Be sure to take in all of the little details of each new storybook area! 
RELATED: When Games Are Art: Ori and the Will of the Wisps
Why You Should Play
So why should you play Tukoni? I love this game because it is so accessible for gamers of different skill levels but comforting for everyone. This game's storybook feel and beautiful illustrations are enough to download it alone. I have always been very drawn to cozy games myself, so this game really captured my attention. Because an artist made the game, there are many small touches visually that make it stand out. 
The gameplay style is easy for anyone to pick up, so that can either be a point of credit or a detriment to the game's merit, depending on your stance. I didn't mind the simplistic adventure style because the art direction made it worth it for me. There are some spaces where I really wanted to get at items but couldn't move into the foreground, but the undefined borders make for a better visual experience overall. 
Tukoni is considerably shorter than most modern games, so you can easily finish it in an afternoon. It is easy to fit into a rainy afternoon or a busy schedule with a short runtime. This is my only real critique of the game and only because I wanted more time in a world filled with magic and kindness, something we could all use more of in life. 
You can find the free download for PC on Steam here!
What do you think? Will you be adding this precious title to your library? What free-to-play games would you like to see us feature next? Tell us in the comments?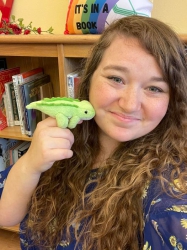 Latest posts by Lauren Darnell
(see all)