Welcome to this week's installment of F2P Friday, where we highlight our favorite Free-2-Play games. The video game market is oversaturated, and sometimes hidden gems can fall through the cracks. This is where we do all the digging for you and feature a new F2P game every week that we know you will enjoy. Let's dive in!
The Timeless Child
The Basics
The Timeless Child is an immersive puzzle game that is designed for a two-player co-op experience. Developer and publisher Timeless Tale puts you in control of either Emily Wells, a child trapped in the past, or Chris Hunt, a skilled hunter. You will explore Wells Manor, an ancient 16th-century villa full of history and secrets, living the experience from two different points in time. 
As the players explore the sprawling Wells Manor at the two separate points of the temporal perspective points, you will come across five basic puzzle designs. Emily is in the same space as Chris but at a different time in the past. Every action of Emily in the past will reflect on Chris's world in the present.
RELATED: Check out more from our F2P Friday Series!
Objectives will appear on the top left side of your screen view, as shown in the library puzzle above, but the objectives are vague. It is up to you and your partner to ascertain how to actually solve the puzzle, keeping in mind you might not have all of the hints or parts on your screen that you need to solve it. Cooperation, collaboration and a keen sense of logic are the keys to uncovering the many mysteries of the manor. 
Why You Should Play
The Timeless Child is one of the best multiplayer co-op games I have played since Phasmophobia. The game mechanics in it are fascinating. Each character's world looks entirely different thanks to the separate temporal perspectives, yet they still affect one another through time. Think you are good at puzzles? The Timeless Child will put that to the test. Get ready to test your exploratory and descriptive ability, coordination, logic and reflexes. Keep this in mind and pick your partner carefully before embarking on this mystery!
The lore is another huge draw to this prologue. If you are the type of player who turns over every scrap of paper, analyzes the dates on photographs and sticks your head around every darkened corner of a level, this game will be right up your alley. 
The only aspect of this game that might leave you disappointed is that there isn't more of it! I finished it with my friend in just a few hours and we had a blast. Time flies when you are having fun, so our time in the world finished too quickly between solving the puzzles and lore hunting. Remember that this game is free, so be patient and kind if you end up having to wait for space on the servers!
Are you ready to embark on an exciting journey to the borders of time and space to save Emily from her time captivity? You can find the free download for PC on Steam here!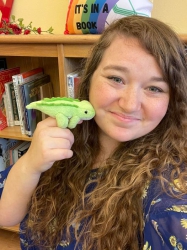 Latest posts by Lauren Darnell
(see all)