Welcome to this week's installment of F2P Friday, where we highlight our favorite Free-2-Play games. The video game market is oversaturated, and sometimes hidden gems can fall through the cracks. This is where we do all the digging for you and feature a new F2P game every week that we know you will enjoy. Let's dive in!
Neon Boost
Neon Boost is a first-person action platformer that makes you feel like you are trapped in a 1980s music video. It is from Sample Text Studio, and the playstyle is described as having mechanics comparable to Rocket-Jump or Wall Run. The game is very fast-paced and set to a stellar soundtrack. Neon Boost will have you ripping through obstacles as you work to clear all three available worlds. 
RELATED: Check out more from our F2P Friday Series!
I will warn you that this is not the game for you if you are prone to seizures or are sensitive in other ways to flashing lights, fast-passing objects or jarring gameplay. If any of these conditions affect you, keep this seizure warning in mind before watching the trailer video below too. 
The Basics
Let's get down to the basics. There aren't too many tips and tricks for Neon Boost, as it is pretty straightforward to understand. Often the way to get through the high-octane gameplay is to rely on your reflexes. Neon Boost eases you into the gameplay with simpler platforming puzzles. However, don't get too comfortable as the game ramps up the difficulty quickly. You'll be sprinting, wall-running, sliding and using your special rocket weapon to make your way through the levels. 
Speaking of, there are three separate worlds to play. We have Laser City, Tesla World and Cosmic Highway. Each has twelve levels apiece to play through, totaling thirty-six standard levels. Neon Boost also offers a "lights off" mode that allows you to play the levels in the dark and doubles the total number of levels available for play. Trust me when I say it takes a lot of practice and muscle memory to get through the levels in dark mode. 
Why Should You Play?
So why should you play Neon Boost? I have a personal love/hate relationship with this game. It is an excellent time waster and a fantastic way to fill an empty afternoon, but you will rage quit. The difficulty spike on this one alone was enough to make me take a break and come back to it, but this isn't a bad thing since there is no better feeling than being able to finally clear a very technically difficult level of any game. 
RELATED: In Praise of Horizon: Forbidden West's Women of Science  
Even with the difficulty spike in mind, I still highly recommend giving Neon Boost a try. It is atmospheric in a way that often reminds me of Tron. The puzzles are fun. The setting is interesting even if it is lacking on a story and each world offers unique obstacles to challenge you. Ready to play Neon Boost for yourself? You can download it for free on Steam here!
Have a game F2P game you'd like us to check out? Played this one before? We love to hear from you gamers in the comments!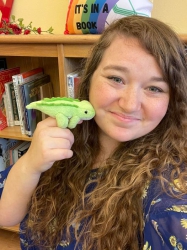 Latest posts by Lauren Darnell
(see all)