Welcome to this week's installment of F2P Friday, where we highlight our favorite Free-2-Play games. The video game market is oversaturated, and sometimes, hidden gems fall through the cracks. This is where we do the digging for you and feature a new F2P game every week that we know you will enjoy. Let's dive in!
LAY
Lay is a project created by students from Objectif 3D. You'll have to travel the skies on your manta ray, explore the islands that keep the secrets of this world, and resolve mysteries that will bring back life to the world. Immerse yourself in this adventure of poetic and contemplative exploration as Elise, a young explorer full of energy. This mysterious world awaits you to overflow with color and life.
RELATED: Check out more from our F2P Friday Series!
The Basics
Lay is a third-person puzzle exploration game with a relaxing atmosphere set in a riveting new world. With an emphasis on exploration, the game allows you to play at your own pace. To advance, you'll have to solve puzzles and wander around searching for crystals. 
I found myself wandering the landscape often just to take in the colorful environment just for the enjoyment of it. The game never pressures you to rush through it or solve puzzles immediately, so cozy gamers of all ages will feel at home here too. I played for just under three hours, and every minute felt like time well spent. 
**Hint: If you are having trouble with the control schemes, they are changeable on the keyboard from an AZERTY set to a QWERTY set, depending on what you are more comfortable with.**
RELATED: Gamer Gift Ideas for National Video Games Day!

Why Should I Play?
So why should you play Lay? Let's start with the visuals because they are one of the biggest draws for this game. This is one of the most aesthetically pleasing games I have played recently. The creatures in the world are fantastical yet believable, the color palette is bright, and the character design is familiar to fans of games like My Time in Portia. 
Exploring the world of Lay is a joy. The flying mechanic that you use is tight and responsive, allowing you to take in the scenery from above. It comes in handy as you solve puzzles, collect crystals and navigate Lay's four islands. 
Lay's music is worth turning up the sound on your speakers for as well. It is soft and calming, matching the atmosphere of this cozy game perfectly. Overall, Lay is the perfect representation of what indie games can be. It is a collaboration of imagination, passion and skill that we get to enjoy for free!
Have a F2P game you'd like us to check out? Played this one before? We love to hear from you gamers in the comments! Ready to soar above this beautiful world? You can download LAY on Steam here!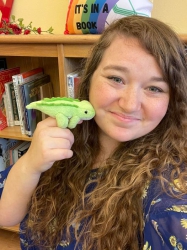 Latest posts by Lauren Darnell
(see all)