Welcome to this week's installment of F2P Friday, where we highlight our favorite Free-2-Play games. The video game market is oversaturated, and sometimes, hidden gems fall through the cracks. This is where we do the digging for you and feature a new F2P game every week that we know you will enjoy. Let's dive in!
Kyle is Famous
Kyle is Famous is a "non-visual novel" game by John Szymanski. Players will guide Kyle through 117 unique endings, each determined by what Kyle has done and who he has interacted with. He needs you. Be kind to Kyle.
RELATED: Check out more from our F2P Friday Series!
The Basics
Kyle is Famous is a classic text adventure with a comedic twist and plays like the visual novels we suggested previously. While it lacks the visual parts, all of the text-based storytelling elements remain, so players advance the story by picking text options. The thing that makes this game stand out is the amount of freedom and endings that it has. 
Because Kyle is Famous is played as a choose-your-own-adventure experience told through only text, the scenes are left up to your imagination. This means everyone will get a truly unique experience while playing. I love it because it reminds me of reading through the pathfinder books again. 
Why Should I Play? 
I was genuinely surprised at how much I liked Kyle is Famous. So much of modern gaming emphasizes graphics and game mechanics, but this back-to-basics approach worked for me. If you like to play games made on Twine, it is comparable to that.  
If you are looking for a free game that will make you laugh – Kyle is Famous is it. This is also one of the longest free-to-play games I've ever found. With so many endings, only one of which is the good ending, there are hours of gameplay. I was about to get about nine hours out of the base game endings. 
The writing, humor and increasing absurdity reminded me of playing games like The Stanely Parable or the Henry Stickman games. I like games that don't take themselves too seriously. It helps to break up all of the heavy themes games we play. so Kyle is Famous was a nice break. 
Have a F2P game you'd like us to check out? Played this one before? We love to hear from you gamers in the comments! If you are ready to explore this game for yourself, you can download Kyle is Famous from Steam here!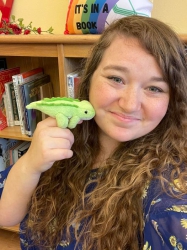 Latest posts by Lauren Darnell
(see all)