When it comes to video games, the big AAA games are usually action-packed and chaotic. There are time limits, a seemingly unstoppable enemy that must be thwarted, important missions and major consequences, conflict, war, big guns and lots of explosions.
While that is all very appealing and fun, there are times when one plays video games to relax, to find a calm center and to de-stress. We use them as a way to escape the daily rigmarole of life, work, and responsibilities. More and more we are seeing games that allow players to explore at their leisure with the only objective being to lose yourself in these strange worlds. Shape of the World, a Kickstarter indie game from developer Stu Maxwell, looks to be one of those special games.
Described as a "first-person exploration game," Shape of the World places you into a world where the environment reacts to your presence. Players can journey anywhere in this open world and as they do, the land starts to open up with striking colors and unique features. There are different landscapes to traverse (mountains, ocean, valleys, etc.), and you can travel in a few different ways.
In a PlayStation blog post, Maxwell explained the game:
To quickly introduce my work, I would say that Shape of the World is about being on a visually and musically stunning journey as an outsider in a surreal world that reacts to your presence. You won't only be lost because you're not certain of your location…you will be lost because this world does not feel or behave as you expect it to. You won't just be walking on this journey, you will drift, swim, and even fly with the whales if you're lucky.

Each step you take leaves a mark on the world you're exploring. Your choices alter the world in vibrant and unanticipated ways, leaving you wondering what will happen with each path you take and every hollow you stumble upon.

When I started work on this game, my professional and family life were becoming quite busy, so I wanted to make a place where anyone could have fun, relax and enjoy their time. For that reason, nothing is urging you forward in Shape of The World, no score is involved, no bloodthirsty beast is hunting you, no clock ticking to make you rush… The world is designed to let you experience it the way you want.
The game features an ecosystem with mystical animals, vegetation and fascinating monoliths. There is a soundtrack that serves to amplify the look and feel of the world. As you walk through the land, the flora will grow as you approach, but then change as you pass. Movement in the game is not limited to walking and running, players will be able to fly, swim and slide through the terrain as they continue on their adventure.
Shape of the World was developed through a partnership between Maxwell's Hollow Tree Games studio, Plug In Digital, and Seaven Studios. It will be released for the PlayStation 4, Xbox One and Steam for approximately $15.00. You can find out more information on the game by checking out the website.
You can watch the teaser trailer below and see a few screenshots in the Gallery.
Peaceful trails, wanderer.
Gallery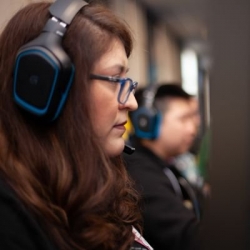 Latest posts by Renee Lopez
(see all)