Get ready for some big news, horror fans! According to a release from Blumhouse, Universal and Peacock have acquired the worldwide rights to create new IP based on The Exorcist! This project is in partnership with Blumhouse and Morgan Creek.
RELATED: 'Halloween' Director David Gordon Green Set to Take On Sequel to The Exorcist
There will be a total of three films. The story will be a continuation of the cult classic horror film about a possessed girl. 
In even bigger news, Ellen Burstyn is returning to once again play her Academy-Award nominated role as Chris MacNeil. Joining the cast is another Academy-Award nominee, Leslie Odom Jr. And to top it all off, David Gordon Green of Halloween and Halloween Kills fame is set to direct.
This once again unites Gordon Green with Universal and Blumhouse after the successful revival of the Halloween franchise. Halloween brought in more than $250 million at the box office worldwide, which made it the highest-grossing installment in its four-decade-long history. It also set a record for being the biggest opening weekend for a horror movie starring a woman (Jamie Lee Curtis) ever.
Currently, the original The Exorcist has grossed more than $441 million. This makes it the highest domestic-grossing horror movie for a whopping 44-year span.
About the Partnership
Universal and Blumhouse are no strangers when it comes to partnering for amazing films. Throughout the last eight years, the two have given audiences fantastic breakout hits such as Split, The Invisible Man and Get Out. Collectively, Blumhouse and Universal films have grossed an outstanding three billion at the worldwide box office. They've also had 10 number one openings domestically.
"There's no better time to be joining forces with the team at Peacock, reuniting with the great team at Universal and finally getting to work with my friends at Blumhouse, than on this classic franchise," said David Robinson, Morgan Creek President. "David Gordon Green, Danny McBride, Scott Teems and Peter Sattler have put together a compelling continuation of this iconic tale and I can't wait to bring this to fans around the world."
"Blumhouse has always experienced incredible partnership from the team at Universal, and I'm grateful to Donna Langley and Jimmy Horowitz for believing in the vision of David's film and having the foresight to be flexible with distribution, so the team feels top-notch support through the lifeline of the film.
They're committed to theatrical exhibition and will also serve streaming viewers well by bringing an exciting franchise like the 'Exorcist' to Peacock too," said Jason Blum, CEO and Founder of Blumhouse. "I'm grateful to be working with David Robinson and the great team at Morgan Creek on this iconic franchise."
The first film in the new Exorcist trilogy will see a theatrical release on October 13, 2023.
Stay tuned to Geek Girl Authority for more information on this new trilogy addition to The Exorcist franchise! Let us know in the comments what you think will happen in the first film!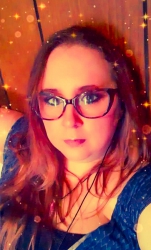 Latest posts by Becca Stalnaker
(see all)