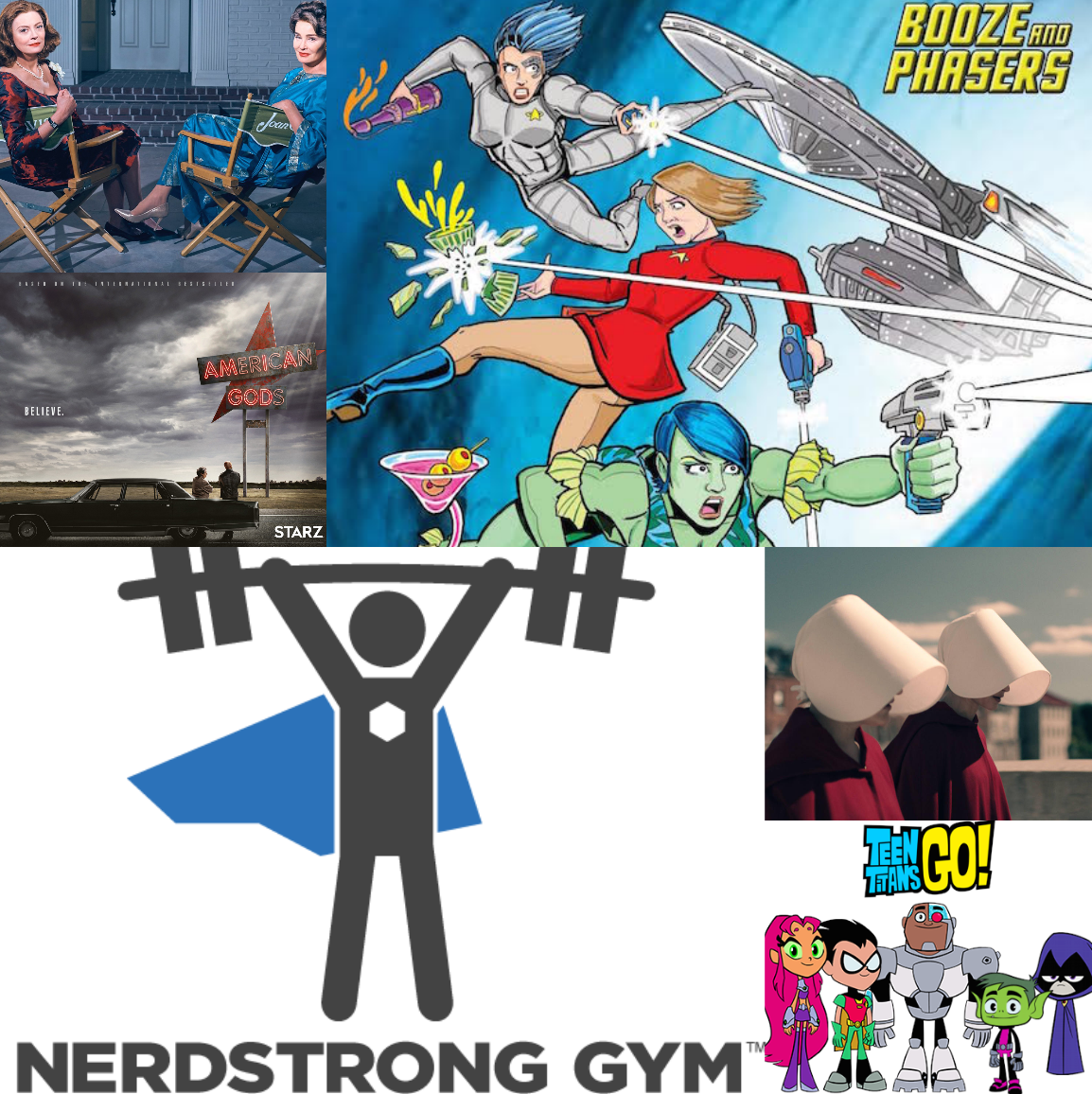 What TV Should You Be Watching Right Now with Guests Christy Black, David Nett & Andrew Deutsch From NERDSTRONG GYM!
Welcome to Episode 30 of Booze and Phasers! The podcast where Claudia Dolph, Audrey Kearns and guests drink Genre and talk booze…we mean, we booze Genre and drink phasers… wait a minute, green people, Gorn – ENERGIZE!
We're proud to be a part of the Giant Size Team Up network. Check them out, here! And HUGE thanks to our sponsor Devotion Vodka!
***
April kicked off an exciting time in television and this week Audrey and Claudia hang out with guests and Nerdstrong Gym founders Andrew Deutsch, Christy Black Nett and David Nett. We run the gamut of genres. From comedy and sci-fi to fantasy and animation, we chat about television shows that bring us joy, ones that disturb (Handmaid's Tale, I'm talking to you) and television that we're really looking forward too.
We could have gone on for HOURS so perhaps, this will inspire a part deux!
***
Enjoy episode 30 of Booze and Phasers! Also tweet us  @BoozeandPhasers or Facebook us with your thoughts or ideas for upcoming topics!
You can follow Audrey on Twitter, here. Follow Claudia on Twitter, here.  And follow Nerdstrong Gym, here, Andrew Deutsch, here, Christy Black Nett, here and David Nett, here! 
Don't forget to visit Giant Size Team Up!
Live, Long and Prosper!
Listen by clicking the 'play' button below or LISTEN HERE ON ITUNES or LISTEN HERE ON STITCHER! And while you're at it, leave a review!
Podcast (booze-phasers): Play in new window | Download
Subscribe: Apple Podcasts | RSS
Latest posts by Claudia Dolph
(see all)