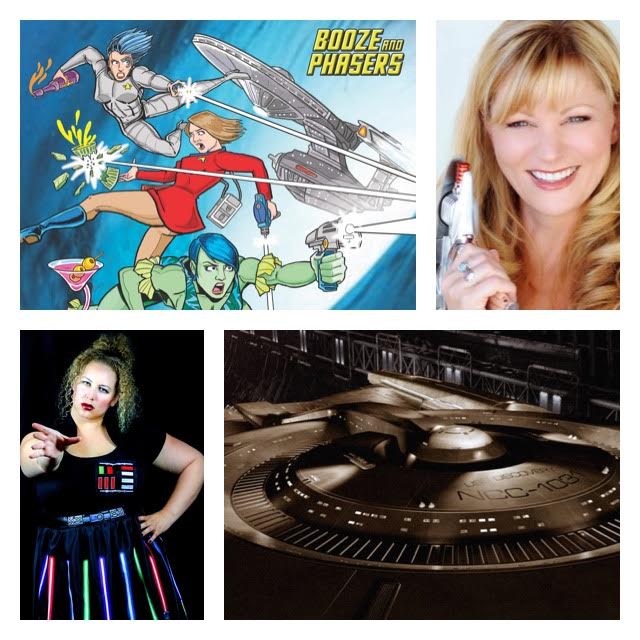 Star Trek: Discovery, Wonder Woman rumors, Logan and boozy Idris Elba talk with Legion of Leia's Jenna Busch and Anastasia Washington. 
Welcome to Episode 22 of Booze and Phasers! The podcast where Claudia Dolph, Audrey Kearns and guests drink Genre and talk booze…we mean, we booze Genre and drink phasers… wait a minute, green people, Gorn – ENERGIZE!
We're now on the Giant Size Team Up network! Check them out, here!
Listen to more episodes of Booze and Phasers here!
**************
Our topic for episode 22 is Star Trek: Discovery. We take a few detours on our way to the topic because booze. Our special guests for this episode are  Legion Of Leia founder, Jenna Busch (like the beer, not the former President) and actress Anastasia Washington.
In addition to Star Trek: Discovery, we talk about the passing of Twin Peaks actor and hollywood working class royalty Miguel Ferrer, the rumors surrounding the upcoming Wonder Woman movie, the latest Logan trailer plus the settlement between CBS, Paramount and the 'fan film' Axanar. Also, Idris Elba is granting someone a date, so that fact came up over and over. Well, at least Anastasia kept bringing it up!
Enjoy episode 22 of Booze and Phasers! Also tweet us  @BoozeandPhasers or Facebook us with your thoughts or ideas for upcoming topics!
You can follow Audrey on Twitter, here. Follow Claudia on Twitter, here.  Please follow our fabulous guests on Twitter, Jenna Busch and Anastasia Washington. Don't forget to visit Giant Size Team Up, here!
Live, Long And Prosper!
Listen by clicking the 'play' button below or LISTEN HERE ON ITUNES or LISTEN HERE ON STITCHER!
Podcast (booze-phasers): Play in new window | Download
Subscribe: Apple Podcasts | RSS
Latest posts by Claudia Dolph
(see all)