E3 2019 may be over but there were a ton of games that were showcased that need to be talked about. There were some great titles that we considered must-plays and most anticipated, so you won't see Ori and the Will of the Wisps or Blair Witch on this list. Here are 10 indie titles that we are excited to play!
Afterparty
Developer: Night School Studios
This new title from Night School Studios, creators of Oxenfree, looks insanely fun. Two best friends, Milo and Lola, find themselves in Hell after their unfortunate demise. Luckily there is a loophole that will gain them re-entry to earth: out drink Satan. Let the afterlife afterparty begin!
Afterparty will be released in 2019 for PC.
UnderMine
Developer: Thorium
What happens when you take inspiration from World of Warcraft and mix it in with Legend of Zelda: A Link to the Past? You get UnderMine. As a "lowly peasant" you will travel into the mines in search of ore and resources. Along the way you will find treasures and assorted baddies. If you die, another peasant takes your place. Will you find fame and fortune in this action-adventure, rougelike title?
UnderMine will be released in 2019 for PC.
Project Witchstone
Developer: Spearhead Games
Project Witchstone is an interesting sandbox RPG title. In speaking with the developers, they stressed the importance of giving players freedom throughout this game. As an adventurer you find yourself in a small village where you can interact with the villagers as you see fit. Will you be a hero who saves the day, or will you leave the town in utter ruins? Every choice you make will have lasting consequences and you have the power to influence other townsfolk into doing your dirty work.
Project Witchstone is projected to be released in 2020.
The RiftBreaker
Developer: EXOR Studios
The RiftBreaker combines the base building aspects of StarCraft with the survival aspects of No Man's Sky and turns it into an interesting Sci-Fi experience. As a scientist/commando you find yourself on a new planet where danger lies everywhere. Only by building and expanding your base, upping your defenses, exploring the unknown, and clearing out hives can you survive.
The RiftBreaker is projected to be released in 2020.
Boyfriend Dungeon
Developer: Kitfox Games
As an adventurer, who do you spend the most time with? Your weapons, of course! Boyfriend Dungeon takes the dungeon crawling RPG to whole a new level in this fantasy dating sim. Yes, this is a game where you can date your weapons and as your love blossoms, your weapons become strowdnger. Choose from different kinds of swords and daggers and level up your love.
Boyfriend Dungeon is projected to be released in 2020 for PC.
Re:Legend
Developer: Magnus Games Studio
If you are a fan of Harvest Moon then Re:Legend might be a title worth checking out. After a wildly successful Kickstarter campaign in Southeast Asia, this sim-RPG game is now coming to PC and consoles. In Re:Legend you will tame and care for animals, maintain and harvest crops, gather resources, craft items, defeat monsters, and explore the vast world around you.  
Re:Legend is projected to be released in 2020 for PC.
The Wild at Heart
Developer: Moonlight Kids
The Wild at Heart is a unique, storybook journey. As Wake, you and your friend enter a strange new realm where you befriend magical creatures and aid them in their fight against The Never. Recruit as many Spritelings as you can to help you collect resources, craft objects, and build structures. The art style alone is enough to attract our attention, but this is a wonderful story rooted in childhood escapism.  
The Wild At Heart will be released on PC and Xbox One. There is no projected released date.
12 Minutes
Developer: Luis Antonio
When this trailer was shown at the Xbox E3 Briefing, there was some tepid clapping from the audience, but to me this is one of the more interesting games on this list. 12 Minutes is a story about a man stuck in a 12-minute time loop where he must discover the truth about his wife and her involvement in her father's death. Only then can he break the time loop and end the madness. It's Memento meets Russian Doll, The Shining, and Rear Window in this interactive thriller. 
12 Minutes will be released on PC and Xbox One. There is no projected released date.
Spiritfarer
Developer: Thunder Lotus Games
Spiritfarer will undoubtedly be one of the most emotional games we'll see in 2020. Described as a "cozy management game about dying" you are a ferrymaster who is charged with caring for spirits as you take them to the afterlife. Starting with a small boat you will farm, mine, fish, harvest and craft items to expand your boat and explore the world. But ultimately you must ferry your friends across the sea in order to release them. Make sure to have tissues handy.
Spiritfarer will be released in 2020 for PC, Xbox One, PlayStation 4, and Nintendo Switch.
Way to the Woods
Developer: Anthony Tan
Way to the Woods is a third person adventure game where you play a deer and a fawn who must leave the ruins of human civilization to find their way back home. Along the way you will face many dangers and have mysteries to solve. Find food, seek shelter and safety and hopefully you will find you way back to the woods. This is a stunning game that was giving me some Journey vibes when I saw the trailer, and the soundtrack is wonderful. 
Way to the Woods will be released in 2020 for PC with consoles coming sometime after. 
Overall 
E3 2019 showed us a ton of amazing indie games this year and this list barely scratches the surface. Which ones are you looking forward to playing? Let us know!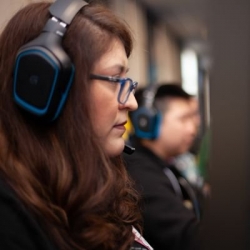 Latest posts by Renee Lopez
(see all)