Day Two of E3 2019 is now at an end and we've heard from most of the major publishers. Today Ubisoft and Square Enix had their press conferences and let's just say that there are a lot of good things coming out of these publishers. Let's take a look at what Square Enix has to offer.
Final Fantasy VII Remake
This is the most-anticipated title coming out of Square Enix right now. After announcing the 2020 release date at the Final Fantasy VII Reunion concert, we can now talk about what to expect in this new iteration of the game. At the press conference we got a great look into the combat mechanics of the game where fighting is done in real time. We also got to see fan-favorite Tifa in action.
Final Fantasy VII Remake will be released on March 3, 2020 for PlayStation 4.
Life is Strange 2
Set after the events of Life is Strange and The Awesome Adventures of Captain Spirit, this new tale follows the story of two brothers, Sean Diaz and his younger brother Daniel, as they set out on an emotional journey to their father's hometown. On top of that, Daniel has an extraordinary power that will either bring the brothers together or drive them apart. While this game has been out since September, Episode 3 was released on May 9, 2019.
Life is Strange 2 Episodes 1-3, is available now for PC, Xbox One, and PlayStation 4. Below is the official trailer for Episode 3. 
Dragon Quest Builders 2
Dragon Quest Builders 2 will be released next month, and we got another look into the game. As a young Builder Apprentice, you have been tasked to save the world from the clutches of the evil cult, the Children of Hargon. Gather crafting materials, level up your crafting skills, defeat baddies, build enormous structures, grow and harvest crops, and play with up to 3 other friends in co-op mode. The possibilities are endless in this expansive game.
Dragon Quest Builders 2 will be released on July 12, 2018 for PlayStation 4 and Nintendo Switch. A playable demo will be available on June 27th on the PlayStation Store.
Circuit Superstars
If you didn't know about the Square Enix Collective, now would be a good time to look at the handful of indie games that have been released through the program. The Square Enix Collective was created to give indie developers the support they need by connecting them with the Square Enix gaming community. One such game is Circuit Superstars, a motorsports game developed by Original Fire Games.
Circuit Superstars will be released in 2020 for PC, Xbox One, PlayStation 4, and Nintendo Switch.
Final Fantasy XIV: Shadowbringers
Next month the 3rd expansion pack for Final Fantasy XIV Online will be released. Shadowbringers introduces us to two new jobs, Dancer and Gunbreaker, two new races, the Viera and the Hrothgar and a new adventure. 
Final Fantasy XIV: Shadowbringers will be released on July 2, 2019.
Outriders
A new titled from People Can Fly brings us to a dark sci-fi world in this co-op shooter. Not much information was given at the conference but we can expect to learn more about the game in the coming months.  
Outriders will be released in Summer 2020 for the PlayStation 4.
Final Fantasy VIII Remastered
Prior to the Square Enix presentation, there had been a rumor that Final Fantasy VIII Remaster would be announced. And those rumors were true; we are getting a remastered version of this 1999 PlayStation One classic. Relive the story of Squall and Rinoa or play it for the first time.
Final Fantasy VIII Remastered will be released this year for PC, Xbox One, PlayStation 4, and Nintendo Switch.
Marvel's Avengers
In what is probably one of the most-anticipated titles at E3, we got to see the "A-Day" trailer for Marvel's Avengers. This game features both a single-player and co-op gameplay. Set before and 5 years after the catastrophic events of A-Day, we see a world in ruins, and Earth's Mightiest Heroes outlawed. Can the world be saved without Superheroes? Trick question, it can't.
Marvel's Avengers will be released on May 15, 2020 for PC, Xbox One, PlayStation 4, and Google Stadia.
Additional Announcements
Final Fantasy Crystal Chronicles Remastered Edition will be released in Winter 2019 for PlayStation 4, Nintendo Switch, Android and iOS.
Octopath Traveler is now available on Steam.
The Last Remnant Remastered is now available on Nintendo Switch.
Dragon Quest XI: Echoes of an Elusive Age Definitive Edition S will be available on Nintendo Switch this fall and there will be a 16-bit mode.
Battalion 1944 is now available on Steam.
Square Enix Music is now available on streaming services. This includes all the Final Fantasy soundtracks.
A new Kingdom Hearts III DLC will be available this winter.
Dying Light 2 will be available in Spring 2020.
Romancing SaGa 3 will be released soon for PC, PlayStation 4, PS Vita, Nintendo Switch, and Xbox One.
SaGa Scarlet Grace Ambitions will be released soon for PC, PlayStation 4, and Nintendo Switch.
War of the Visions: Final Fantasy Brave Exvius is now in development.
Oninaki will be released on August 22, 2019 for PC and PlayStation 4.
Overall
The press conference might have felt a little underwhelming, but Final Fantasy VII Remake, Marvel's Avengers, Dragon Quest Builders 2, and Final Fantasy VIII Remastered are enough to make this a successful year for Square Enix. However, if you are a JRPG fan then this is the year for you. 
RELATED: Check out Geek Girl Authority's continuing coverage of E3 2019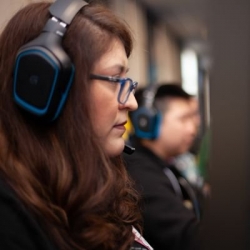 Latest posts by Renee Lopez (see all)