Indie games are the backbone of the gaming industry and every year indie developers push the bar when it comes to providing incredible gaming experiences for the players. In my hands-on demo of Desert Child publisher Akupara Games has proven once again that they know the winning formula for a superb indie game.
Desert Child is a futuristic racing RPG developed by the one-man mastermind Oscar Brittain. After a successful Kickstarter campaign, the Australian developer signed on with Akupara Games to bring his unique story to consoles and PC. The game is set on Earth at a time where the population has skyrocketed and the world has been reduced to a dust bowl. With the world on the verge of collapse, humanity's only hope is colonizing Mars. Enter the protagonist, the Rider, who must use his racing skills to win a chance at a better life.
Getting a ticket to Mars will be no easy feat for the Rider and unfortunately, he has very little time to do it. In order to earn money, he will have to win races, complete side quests, and go on hunts. For each race he wins, he will earn money and notoriety. Notoriety in this game is both a blessing and curse. High notoriety wil get him into the big races, but it also draws attention of bounty hunters who will begin looking for him. Fortunately, there are places he can go to that will protect him for a small fee. But if the bounty hunters are too much, he can up his notoriety to untouchable levels.  
The hoverbike is his salvation; therefore, he has to constantly upgrade his bike by either taking it to a shop or stealing parts from other bikes. Stealing bike parts also raises his notoriety, and successfully stealing parts will ensure that his bike will have the advantage on the race track. 
The races themselves are fast-paced, side-scrolling events. But despite the sheer speed in which the hoverbike is traveling, the racing is relatively simple. He can shoot items on the track for money, and he can shoot the competition to slow them down. A truck will randomly appear on the track that will replenish his ammo.
At the end of each race the hoverbike needs to be repaired because racing takes quite a toll on it. The Rider also has to make sure that he's well fed at all times. Ramen is the food of choice in this desert city and consuming enough of it will give you a percentage of your health back as well as provide some nice buffs. It is almost impossible to win any future races if the health is low or the bike is trashed, so you have to make sure the bike is 100% repaired and the Rider is 100% fed. 
RELATED: FALLOUT 76 Reclamation Day at E3 2018: The Power of Experience
What is really spectacular about Desert Child is the graphics. This game is an impressive call back to the older generation of games with its pixelated retro artstyle. The different camera views are a welcome change and add to the overall aesthetic. Instead of just one generic camera view of the Rider walking down the street, there will be times when you just see a close-up of his shoes walking down the street, or when he enters the market you get a rather fitting top down view. 
Overall Impression
Overall Desert Child is meant to be an incredibly chill, fun game. And it is. It's you, your bike, and the occasion bowl of ramen. The side-scrolling races are exciting, and yes, you can get a little ragey if you don't come in first, but that's what kept drawing me back in my playthrough. The interactions that you have with the NPCs range from familiar banter to dealing with the mob boss and making deals. The music absolutely compliments this game and you even have the chance to purchase the music in-game so you can create your own soundtrack.
Desert Child is a game with exciting possibilities. The story is fascinating, and you easily empathize with the Rider. It is described as a "rags to riches" story but it's a bit more than that. It's about hope and the steps we take to ensure a better life for ourselves when everything is crumbling around us. It's about chasing a dream using the skills you have to make those dreams a reality. There are serious choices that you must make in this game, but there are also some light-hearted moments and several inside jokes that only Australians would understand. But the fact that your notoriety can go from Vanilla Ice to LL Cool J just hammers home what an absolutely delight this game is. 
Desert Child is scheduled to be released in Q3 of 2018 for Xbox One, PlayStation 4, and PC. If you follow the Akupara Games' Twitch channel, you will occasionally see some gameplay, but for more information, visit the website. You can also see the E3 2018 trailer below.
Gallery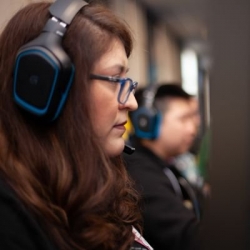 Latest posts by Renee Lopez
(see all)