All right, here we go with more E3 2018 news. Just ahead of the start of E3 we had both the Square Enix and PlayStation 4 Showcases. In case you missed the rather short presentation, here are the big announcements coming from Square Enix.
Shadow of the Tomb Raider
From Eidos Montreal and Crystal Dynamics, Shadow of the Tomb Raider is a previously announced title that was shown at the Xbox press conference. Lara Croft will be called on to prevent a Mayan apocalypse and she'll have to use her wits, her tools, and her survival skills to prevent the apocalypse from happening. In this gameplay trailer, you can get a good idea of how the combat will work in this game.
Shadow of the Tomb Raider slated to be release on September 14, 2018 for Xbox One, PS4, and PC.
Final Fantasy XIV Online Patch 4.3
In between the trailers for upcoming games, square Enix also announced Patch 4.3 for Final Fantasy XIV entitled "Under the Moonlight." Not much information was given about this patch but expect some new adventures in the land of Eorzea.
RELATED: E3 2018: Here's All the Game Trailers from Bethesda's Press Conference
Monster Hunter: World and Final Fantasy XIV Online
Along with the new patch for Final Fantasy XIV Online, players will also be able to experience the unique crossover event between the immensely popular Monster Hunter: World and FFXIV. Coming in Summer 2018, players will have the chance to go up against Rathalos, the "King of the Skies." More details will be revealed at E3.
Final Fantasy XIV Online is available on the PS4 and PC.
The Awesome Adventures of Captain Spirit
At the Xbox Press Conference, developer DONTNOD Entertainment announced a new title set in the Life is Strange universe. The Awesome Adventures of Captain Spirit follows the day in a life of a young boy named Chris. Creative Directors Michel Koch and Raoul Barbet gave us a little bit more information about the game and its connection to the Life is Strange series.
This new story will be available for download on June 26, 2018 for the Xbox One, PS4, and PC.
Dragon Quest XI
"The power of light is best unveiled in our darkest hour." After many, many months of waiting, Square Enix showed more footage of the upcoming Dragon Quest XI game. In true Dragon Quest fashion, we see a Luminary (aka a Warrior of Light) who must battle the Darkness. Along the way he meets an interesting cast of characters who will prove to be fast allies. Filled with action shots, tons of magic, and the classic Dragon Quest them, it looks like players are in for an adventure.
Dragon Quest XI: Echoes of an Elusive Age will be released on September 4, 2018 for PS4 and PC.
Babylon's Fall
In collaboration with PlatinumGames, Square Enix released the teaser trailer for Babylon's Fall. No information has been released on this game, but based on the trailer, we see a short history of humanity, with the rise of the Goddess Gaia, Soul Plagues, Judgement Day, and eventually humanity's fight against Gaia.
Babylon's Fall will be released in 2019 for PS4 and PC.
Octopath Traveler
Following the path of one of eight classes might seem easy enough, but first you have to choose. Start your journey as a Cleric, Scholar, Merchant, Warrior, Dancer, Apothecary, Thief or Hunter, and traverse the world of Osteria.
Octopath Traveler will be released on July 13, 2018 exclusively for the Nintendo Switch.
Just Cause 4
It was meant to be a big reveal, but a leaked advertisement forced the announcement of Just Cause 4 to happen a little earlier than scheduled. This game follows the story of rogue agent Rico Rodriguez as he travels to the South American country of Solis. Uncover secrets and step into danger as you deal with extreme weather, deadly militias, and unique units.
Just Cause 4 will be released on December 4, 2018 for the Xbox One, PS4, and PC.
RELATED: E3 2018: A Look at the Xbox Press Conference Game Trailers
The Quiet Man
A teaser trailer was shown for the upcoming game, The Quiet Man. According to the press release, this game promises to "takes players beyond sound and words to deliver an immersive story-driven cinematic action experience, which players can complete in one sitting, seamlessly blending high-production live action, realistic CG and pulse-pounding action gameplay."
More information will be released in August. The Quiet Man will be available for the PS4 and PC.
Kingdom Hearts III
And lastly Square Enix showed a new trailer for Kingdom Hearts III. While we have been hearing a lot about this game in the past month or so, finally seeing it at E3 and having the opportunity to demo it is a fan's dream. Showcasing the worlds of Frozen, Toy Story and Tangled, players will follow Sora, Donald Duck and Goofy on their quest to fight the darkness.
Kingdom Hearts III will be released on January 29, 2019 for Xbox One and PS4.
NieR: Automata
Previously announced at the Xbox Press Conference, NieR: Automata will be available on June 25, 2018 on the Microsoft Store.
Overall Impression
While some may think that this was the weakest Showcase at E3 this year, these were good game announcements. Personally, I cannot wait to play Dragon Quest XI, Octopath Traveler, and Babylon's Fall, so as a RPG/JRPG fan, this showcase was just fine. I know that many people were disappointed at the lack of Final Fantasy VII news, but since this game will not be released until 2020, perhaps there isn't much to show at this point. I'd rather wait for any announcement until we can see some gameplay footage. 
RELATED: Be sure to check out all our coverage of E3 2018!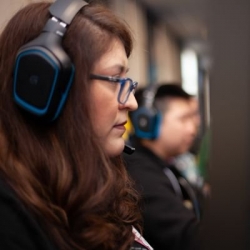 Latest posts by Renee Lopez
(see all)